Part 1: An introduction to 'FPE' Look Up Tables using Resolve's native film print LUTs
Film Print Emulation (FPE) is a hot topic in the world of color grading. More than two decades after the transition to digital, filmic looks are still common at the highest levels of production. Why is that?
What do directors, cinematographers, and colorists like about 'the film look'?
More importantly, how can you evaluate FPE LUTs and software packages to determine what they're doing to footage?
In this new series, you'll explore the myriad of film emulation techniques and products available to help build these 'film looks'. From LUTs & Resolve DCTLs to custom node structures and OFX plugins, I'm taking you on a systemic journey of evaluation and comparison. As this series progresses we'll:
Dive into the various implementations of common emulations
Compare results across a common set of images to help characterize their look and effect
Dig into the details of how these different approaches achieve their looks.
We'll use the much-loved Kodak 2383 emulation and compare the results between products.
By the end of this series, you'll have a better idea of the emulation types and techniques that might fit a certain project, or your individual style of grading. You'll also have a solid foundation for evaluating any FPE you run across, to decide if it's appropriate for the job at hand – and to communicate those results to your client.
In this Insight – Project setup and evaluating Resolve's native Kodak 2383 FPE LUT
In this first episode, we start with one of the original film emulation techniques: film print emulation Look Up Tables.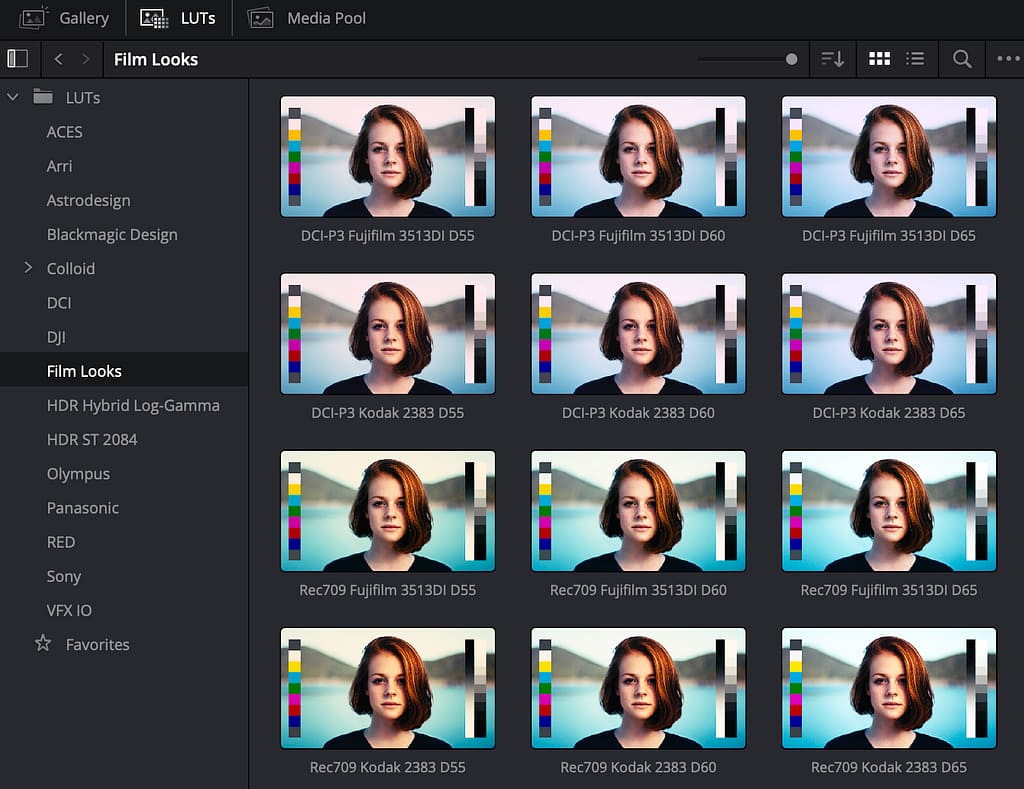 Using the highly-regarded FPE LUTs in Resolve (that ship with both the free and Studio version):
We examine how to specifically implement Resolve's native FPE LUTs – setting up the classic Kodak 2383 LUTs as our baseline for the entire series.
Discuss the proper image color space and gamma these Resolve's FPE LUTs require
Look at the significant effects an FPE has on different tonal ranges of your images
Sign up for a 7-Day Test Drive to explore these topics (and more)
This free Insight is just the tip of the iceberg! We've been teaching these topics for a decade.
---
Learning Goals
What are the specifics that members should learn from this Insight?
The provenance behind the built-in FPE LUTs in Resolve
How to set up your image pipeline to use Resolve's FPE LUTs, and (most importantly, why)?
How do you systematically identify the hallmarks of the Kodak 2383 (or any other) LUT, and how it affects different areas of the image?
By using the Kodak 2383 LUT as our baseline, you learn the skill and develop the eye to evaluate all the FPE LUTs that ship with Resolve. You also build the foundation to evaluate ANY Film Print Emulation solution that you'll come across in your career.
Feedback? Comments?
I'm really excited for this series. If there are specific packages you'd like me to consider tackling, let me know in the comments!
-peder
---