Wrangling key metadata information to enable colour management
As is often the case, there's more than one way to achieve a goal, any goal, using DaVinici Resolve. A few months ago Patrick did a great Insight about using colour management on a project, even though he had no access to the original camera files. All he had were flattened transcodes to work from.
This was perfect timing for me as I was in a similar situation – I was working on a project for someone across the Atlantic, with no practical way to ship hundreds of gigabytes of camera files over to me. I had the additional problem of not knowing exactly what cameras had been used or what camera settings had been applied.
Joey followed up Patrick's Insight with additional methods of 'slicing and dicing' rendered camera footage that has its metadata stripped from it by using EDL Clip Name on export from the non-linear editor. Both Patrick and Joey's solutions allows you to use Resolve's Preconformed EDL workflow to isolate the various camera files to enable color management practices.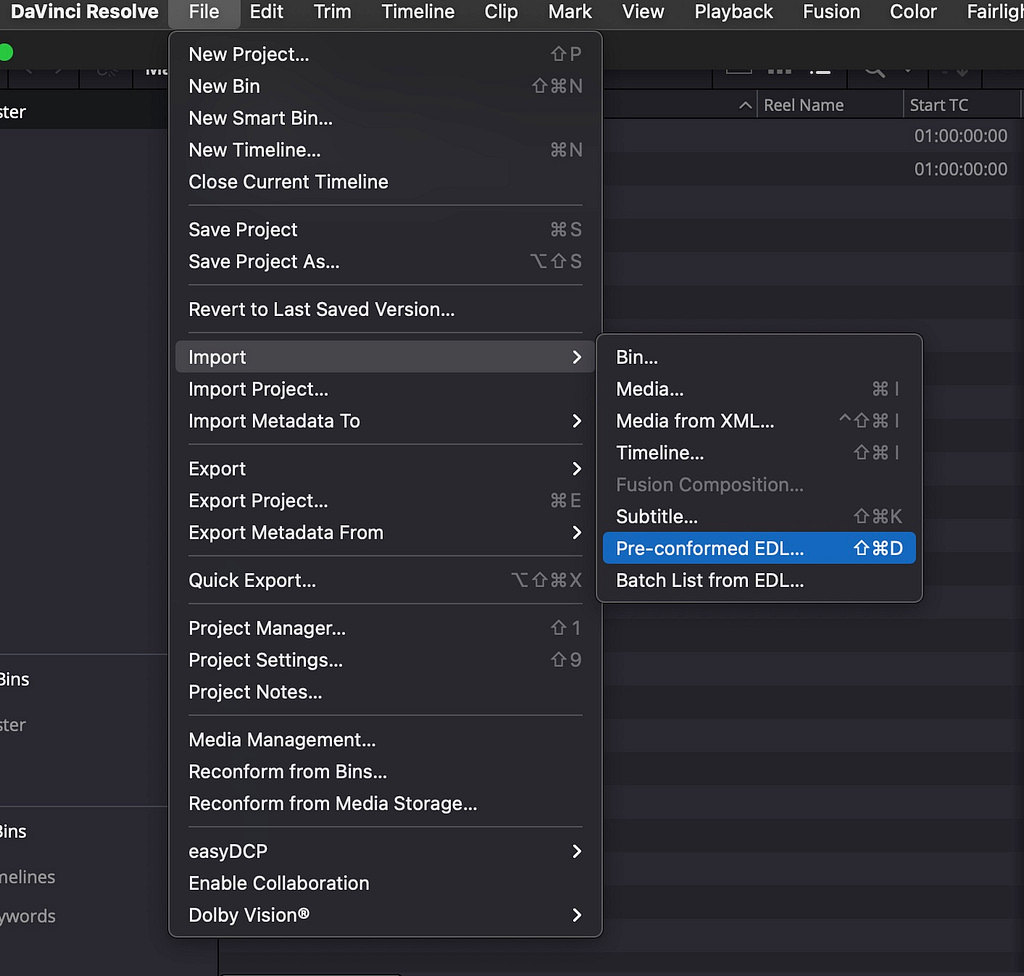 In this Insight, I'm joining the Pre-conformed EDL choir!
In this Insight I share various tips and features which helped me to organise the project for the end-goal of creating groups and colour-coding for each shot to aid with camera matching. I also explain what I needed to do to establish and apply the correct colour transforms for each shot from each camera.
If you've been watching this series then the first few minutes will be a review of ground that Patrick and Joey have covered. But stay with it! I then layer on my own tips and tricks that I think you'll find useful.
Learning Goals for this Insight
Tips for using the Pre-conformed EDL workflow in Resolve
Using Metadata Variables to display Reel Names for easy organization
Timeline Thumbnail Mode – Source (C Mode) – for quick re-sorting of shots
Grouping, assigning clip colours, creating Custom Filters
User Interface tips
Working with your client to Investigate metadata to establish the correct colour transforms for each shot/camera
Mentioned in this Insight
MediaInfo – Open source software for Mac and PC that is, "a convenient unified display of the most relevant technical and tag data for video and audio files."
Related Insights
Mixing Light has quite a few Insights and series that use EDL workflows in DaVinci Resolve:
Questions or Comments?
As always, use the comments below to share your thoughts, confusions, or add your own ideas!
-jamie
---
Member Login
Are you using our app? For the best experience, please login using the app's launch screen
---