Day 21: 25 Insights in 25 Days 2019 New Year Marathon!
From The MailBag Episode 65
Is A Single Large Format The Right Choice For Your Setup?
It's an old discussion in the color grading world – multiple monitors (reference + client) or just a single large-format monitor in the room.
For years this question was pretty easy to answer – there simply weren't many large format monitors (think 55″ or larger) that were good enough to really be considered reference monitors, so any monitor of that size was generally considered a client monitor.
Of course, that doesn't mean that people didn't attempt the single large format monitor setup, but those setups often had issues.
In the past year, that situation has changed a bit. All the major players in the world of reference monitors have released large format offerings with SDI connectivity, 3D LUT calibration, and other pro features.
While we've talked about this subject before, this week we got a question from a member that asked us to revisit this topic:
I'm an independent colorist currently working on a 24″ or 25″ (I don't remember the exact size) HD OLED and as I contemplate the move to 4k monitoring and maybe HDR down the road, I've been thinking about ditching the smaller monitor and just getting a single larger format monitor.  What do you guys think?  Is it a good time to make this move?  Any things to look out for?  In general, I'm just wondering if this is a good idea – I'd appreciate your advice, and thank you for all the great content!
Well, Mr. Anoyomus colorist (we love it when you use your real name on our contact form, please!) We have some opinions on the subject – take a listen to the Mailbag to hear what they are.
Also, as we enter the last week of our New Year marathon, we hope that you've enjoyed all the Insights, new topics, and new contributors. We're looking forward to 2019 and continuing to deliver great content to you – our amazing members.
Going Big – Some Thoughts
Recently, I went to a single monitor setup in my home set up – an FSI XM551U.
In my home setup, I'm pretty close to the monitor and as you'll hear, that has brought on several perceptual issues with brightness, noise, focus and a few other minor things. However, after getting used to it, I'm very happy with it.
UHD, HDR and 12G connectivity are all pretty amazing features and the monitor looks stunning.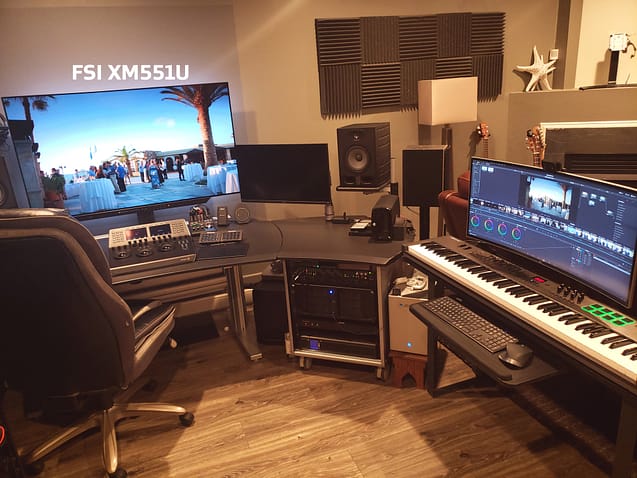 In addition to the actual large format monitor in use, in this Mailbag we discuss issues with overall suite setup if you want to configure things around a single large format monitor – we all have our own thoughts on that!
Large Format & HDR
One thing that came up in this discussion as we continued to discuss room layout with a single large format monitor was the topic of HDR.
HDR reference monitors are very expensive, very good, but also pretty small (31 inch or so).  And while larger format monitors can do HDR, they are often at lower overall peak luminance and often have more limited color volume compared to a true HDR reference monitor.
So is there a workflow where you can have a larger HDR capable client monitor and a higher luminance HDR reference monitor in the same room? We discuss some of the potential options and how these kind of setups are going to continue to be challenging.
Do You Want Team Mixing Light To Answer A Question?
Remember, if you have questions that you'd like to get an opinion on please use the contact form.
Your questions can be aesthetic, technical or even client related. We'd love to hear from you, and your question might make future episodes of From The MailBag.
Enjoy the MailBag!
-Robbie
Member Login
Are you using our app? For the best experience, please login using the app's launch screen
---