From The MailBag Episode 71
An Impressive Display From Apple – Is It A Reference Monitor?
Alongside last week's announcement from Apple of the 2019 Mac Pro – a new modular, upgradable and seemingly powerful workstation.  Apple also took the wraps off a brand new 32in HDR display called the ProDisplay XDR.  Yes, you read that right – XDR (for Xtreme of course!).
During the announcement of the display, Apple was quick to point out a problem – good HDR monitors are currently very expensive! They even brought up a picture of a Sony BVMX300 (or it might have been a BVM-HX310) comparing their display and it's (marketed) superiority to other reference displays on the market.  Even for Apple, it seemed pretty aggressive.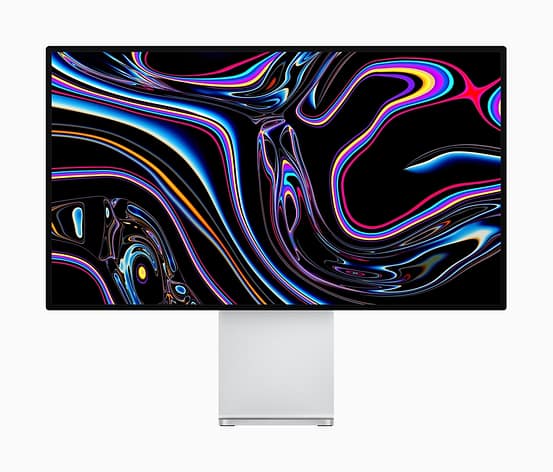 The monitor (in my opinion) does look pretty striking. Although everyone might not be a fan of the cheese grater back, it's a pretty smart way to handle the heat that so many HDR displays have in abundance.
Here are some other specs of the display:
16×9 aspect 6016 x 3384 '6k' resolution with a total of 20.4 million pixels
IPS LCD available in Standard or Nano-texture glass (supposedly better than traditional matte treatments)
1000nits full screen, 1600nit peak (not mentioned how much of screen can do 1600 nits)
10bit, P3 color with 1,000,000:1 contrast ratio
576 full-array local dimming zones
'Reference modes' – P3-ST2084, BT.709-BT.1886, P3-DCI, P3-D65, sRGB
4x Thunderbolt 3 (USB-C) ports
Depending on the variant you get the display will set you back $4999 (standard glass) or $5999 (nano-texture glass).  Apple also sells an optional stand for $999 or a matching VESA adapter for $199.
At first glance, this is one hell of a monitor given its specs and price point. But are those specs worth of being called a reference monitor? Can/will the ProDisplay XDR compete with the likes of the Sony BVM-X300 or HX310, Flanders 310k/311k, and other top end HDR reference monitors?
In this installment of From The Mailbag, Mixing Light contributor Joey D'Anna hung around after our Mac Pro discussion to discuss this monitor with Robbie, Patrick, and Dan.  In this Mailbag we cover some of the specs of the monitor, what's good, what's bad, who this monitor is for and even if the monitor isn't a reference monitor will it help push HDR to more and more content creators?
Update: After we recorded this episode Blackmagic announced a new addition to their Terranex Mini line of converters, this one called SDI > Displayport 8k.  This box will convert up to Quad 12G (8k) to USB-C style Display port to connect to displays like the ProDisplay XDR.  This is great news for those of you interested in connectivity along an SDI path.
Update: Also after we recorded, and noted by James in the comment section. BMD via their forum, product manager Peter Chamberlain announced that in a later update to Resolve, for the first time, full-screen playback will be supported from the GPU not just a BMD video I/O device. That development is clearly because of the Pro Display XDR
Have A Question For Team Mixing Light?
Remember, if you have questions that you'd like to get an opinion on please use the contact form
Your questions can be aesthetic, technical or even client related. We'd love to hear from you, and your question might make future episodes of From The MailBag.
Enjoy the MailBag!
-Robbie
---
---