What A Long, Strange, Hard Year – Say Goodbye To 2020 With Some New Gear!
There really isn't much more to say about 2020, or adjectives that I can think of, to accurately describe my feelings about it.
On one hand, this year was trying and stressful for all the reasons that have affected everyone.  On the other hand, I really have no rhyme or reason why at least from a financial perspective in 15 years in business, 2020 was my company's best year ever.  With that said, I tried to be really conservative in 2020 not knowing when the other shoe would drop and the bottom would fall out.
My financial timidness probably showed up the most when it came to new gear. My only big purchase of the year coming in prior to the pandemic setting was when I got a new Mac Pro for home (after 10 years on a Windows box!). Therefore, I've had a major gear itch needing to be scratched, but I think for safety, I'm going to stick to being financially conservative the rest of the year.
With the holiday season approaching, I thought it'd be fun to share some 'stocking stuffer' pieces of gear. Admittedly, a few of the items in this article are pushing the limits of any rational definition of a stocking stuffer, but let's just go with it!
Elecrow 2k & HD 10.1in HDMI Monitors
I guess it's just a part of getting older – being a little stiff getting out of bed in the morning and random aches and pains – but one place time has been getting the better of me is my neck and shoulders.
Like many of you, I have my main reference monitor straight ahead that keeps my head in-line with what I'm looking at the most, but of course I need to look at both my UI monitor and my scopes. At the office, I have a Resolve Advanced Panel, and at home, I have a Mini with several Streamdecks. Because of this, I don't really have to look over the UI very much but I still have to peek at my scopes all the time – maybe hundreds of times a day.
This twisting of my neck really started to add up to frequent pain – to the point where I actually had to go to physical therapy to fix a pinched nerve!  So, I decided to remedy that situation.  What I did was pick up the Elecrow 2k 10.1 HDMI monitor.
For $135 this small high-resolution monitor (2560 x1600) is perfect to place directly in front of me, right below my reference monitor. I've recently started using Time In Pixel's amazing new scope package called OmniScope and it works exceptionally well on this setup – right in front of me.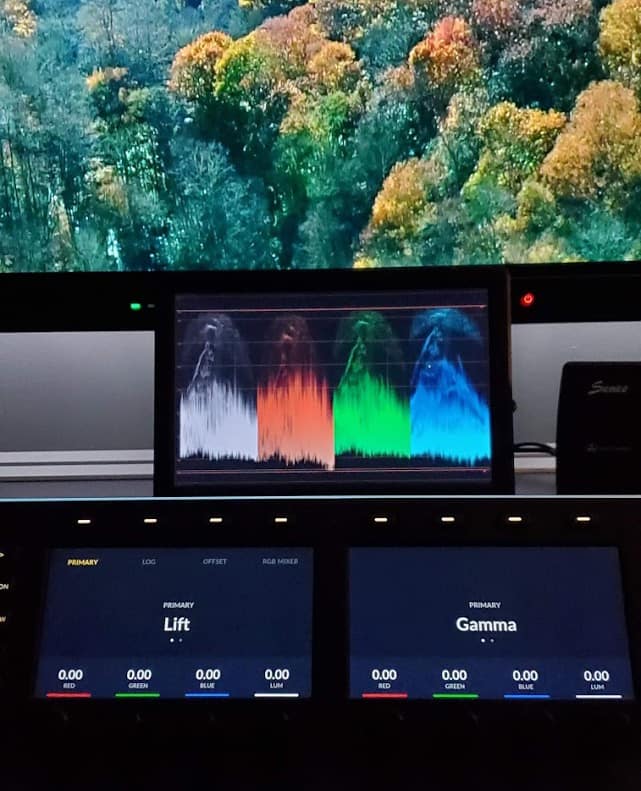 The monitor has DisplayPort, USB-C, and HDMI ports and the package includes a short HDMI cable, power adapter, and a small desktop stand. What is really cool is that the monitor can actually be powered by USB-C with a 2A power block.
While I initially used the cheap metal stand that came with the monitor, I decided soon after I got it to add a small articulating arm with a Vesa plate.  At $32 the Neewer 11in arm fit the bill nicely.  It comes with an arm, a clamp that can be used on most desks and poles, etc. All of the joints of the arm can rotate 360 degrees making it really easy to get the monitor in just the right spot.  I liked these arms so much I actually bought a bunch of them for other purposes like holding the amazing Lume Cube Panel (more on those below).
The Elecrow monitor is also available in an HD version.  I picked one of those up to be the multi-view monitor for my ATEM Mini Pro ISO which outputs 1920 x1080 (and of course I added one of the Neewer arms).  The one downside of the HD version is there is no USB-C.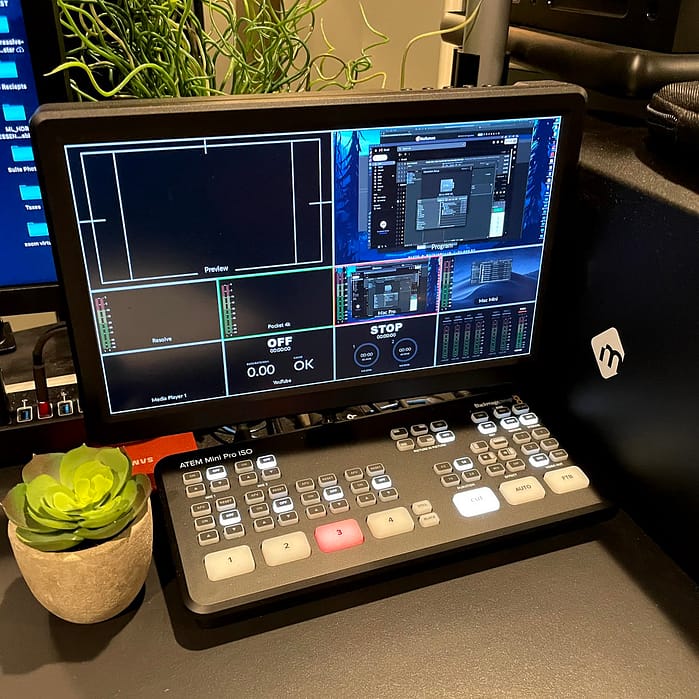 Elecrow does make a 13.3-inch version in both 2k and HD but those were a little big for my needs on my desk at home.
Member Login
Are you using our app? For the best experience, please login using the app's launch screen
---
Comments