Day 8: 25 Insights in 25 Days 2019 New Year Marathon!
Gear Head: ProRes, GPUs, HDMI Routing, Cooling, Monitoring & Storage
It's been a while since my last Color Correction Gear Head article, so let's get 2019 started off right with a new installment!
In this edition, we'll take a look at Adobe's move to bring Apple ProRes encoding to Windows, new GPUs from NVIDIA, an affordable HDMI Matrix switcher, a DIY cooling solution, an ultrawide monitor, and some ultra-fast storage.
Remember, Gear Head articles are not meant to be exhaustive reviews of any product, but rather bring to your attention some cool gear that I'm using and you may find useful.  If you have some cool gadgets, software or heavy iron hardware you're using that we haven't discussed before, please be sure to use the comments at the end of the Insight to let me know and I'll probably buy it!
Apple ProRes Comes To Adobe Windows Video Products
Windows?  ProRes?
Usually, these things don't go together. Over the years, the number one complaint from many about jumping to Windows has been the lack of ProRes encoding support.
While this is a bit of fallacy – there are apps that have official ProRes support – the fact is, there have also been several 'hack attempts' at ProRes on Windows which has muddied the waters a bit.
In other words, ProRes encoding on Windows has been a bit of a mess.
That's why Adobe's announcement this fall that Adobe video products like Premiere Pro, After Effects and Media Encoder, will support ProRes encoding on Windows is such a big deal.

That's right! Adobe now officially supports Apple ProRes encoding with no additional fees or hoops to jump thru on Windows.
In future Insights, we'll put ProRes with Adobe tools to the test, but the fact that Adobe is supporting ProRes on Windows is a huge step.
If you grade in Premiere Pro with the Lumetri Panel, this is of course great news. But even if you're a Resolve user with a Creative Cloud subscription, this gives you a viable ProRes encoding path without having to get a Mac.
Perhaps what's most encouraging, if Adobe was able to make ProRes work on Windows, how far behind are companies like Blackmagic and others?  My guess?  Not Far.
NVIDIA RTX 2080TI & NVIDIA RTX Titan
We all know that GPUs are the engines of any color correction tool.  All modern grading tools leverage GPUs to allow real-time grading. The general idea being the faster and beefier the GPU, the more you can do in real-time.
This fall, with much fanfare, NVIDIA announced its new architecture called Turing.  At the same time, the venerable GTX moniker changed to RTX.  Besides being considerably faster than the previous generation, RTX Turing cards have introduced real-time ray tracing capabilities, faster memory, and in the case of the RTX Titan, never seen before amount of VRAM on a non-Quadro GPU.
I recently ordered two RTX 2080TIs for my home system, and right around Christmas I ordered two Titan RTX cards for my main workstation at my office.
While it's a common refrain for each generation of NVIDIA cards to say that they're 'game-changing', 'much faster', etc., this generation of cards really does feel that way.
On my home system, the two 2080TI's do things dual 1080TIs never could – temporal noise reduction at best settings with 3+ frames with UHD/4k in real-time.  Spatial at better quality in combination with the temporal NR, again without caching.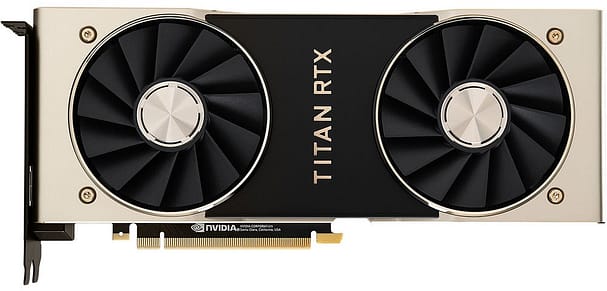 The Titan's, especially with noise reduction, are in a different class.  I had 4x Titan XPs in a Cubix and without hesitation, I can say that  2x RTX Titan's perform better across the board.  With 24GB of VRAM NR, OFX and other memory intensive things in Resolve get a huge boost.  I almost wonder if I could get away with a single RTX Titan –  it is that good.
There is no reason not to get these cards now depending on your performance needs and budget.
With that said, I have two major complaints about these cards.
Nvidia decided to go with a new reference blower system that is similar to 3rd party blower designs – blowing hot air back into your case not out the back of the card.  While it's always been important to have a case with good airflow, two of the RTX cards next to each other can cause problems.
I've experienced thermal limiting because the cards are simply getting too hot.  Spacing them out has helped, but that might not always be possible depending on your motherboard.  The 2080TI design is being produced by many NVIDIA partners including PNY that has a rear blower card.
However, the RTX Titan is only produced by NVIDIA.  If you're going after the Titan and plan on using multiple cards you need to pay special attention to cooling.
Here are some specs on the cards: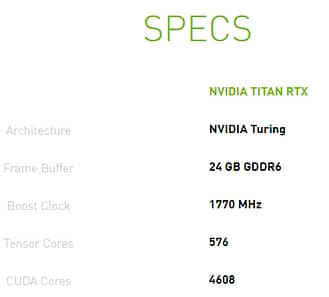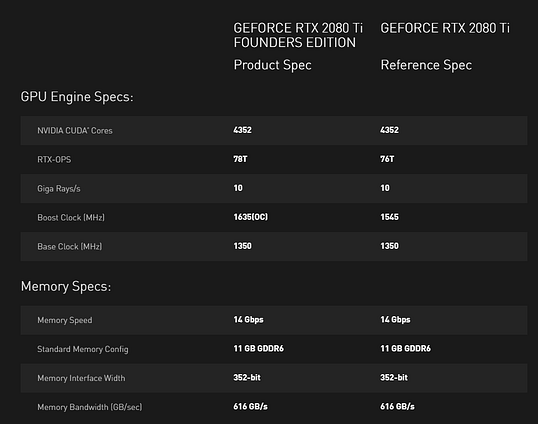 Probably the biggest things about this newest generation of cards, especially for those that work with a lot of RED media, is that RED and NVIDIA have announced a partnership that among other things means shared engineering resources for maximizing R3D performance on NVIDIA GPUs.
In plain speak, this means that even 8k R3Ds can be processed in real-time on a single RTX GPU like the 2080TI or Titan.  This is huge for a lot of people, and I'm dying to test out this new capability when it's ready. Here's a cool video explaining many of the details:
There are a ton of resources on the web reviewing these cards in detail, but from a 'feel' point of view these cards are screamers and I'm confident that's not a placebo effect.  My opinion is that RTX cards are a significant upgrade to every system that can utilize them.
Which leads me to my last point.
NVIDIA cards are not supported by Apple AT ALL in Mojave.
I have it on good authority from NVIDIA that Apple is blocking support of NVIDIA web drivers, which is previously how Mac users could utilize the latest generations of NVIDIA GPUs.  I have nothing against AMD cards, but by nearly every metric, they're not as powerful as NVIDIA cards.  The fact that Apple is blocking the use of NVIDIA cards with intent or simply ignoring some technical fix, is inexcusable to me.
If I was a Mac user, I'd let Apple know about my dissatisfaction of the issue now.  
Monoprice Blackbird 4k HDMI Matrix
You know you're a dork and have serious gear addiction issues when a video routers and matrices put a smile on your face.
SDI routing is pretty straightforward – in the previous Gear Head installment I wrote about the excellent AJA Kumo 16×16 12G SDI router, but not every monitor or device you might be using will be an SDI one.
When I was researching gear for my new facility space, I had a problem that I needed to solve – I wanted to be able to quickly route HDMI devices to various monitors around the space without having to first convert those sources to SDI to route them.
Around the space, I have 4 presentation monitors: 1 in the conference room, 1 in the reception area, 1 in the main color suite (to check Dolby Vision metadata via an eCMU using HDMI tunneling) and 1 in the VO booth.
I also have quite a few HDMI sources: Blu-ray player, XBOX, Apple TV,  Dolby eCMU (HDMI tunneling), not to mention HDMI video I/O output of our Protools and Resolve systems.
I knew that I needed a router/matrix of some sort, but wasn't really aware of HDMI Matrix hardware.  When my buddy Juan Salvo explained these devices to me I went on the hunt.  Eventually landing on the Monoprice Blackbird 4k 8X8.

If you're not aware of Monoprice, they have everything in terms of electronics. Often these items are the same as other brand names but sold without the branding for a significant discount. That was indeed the case with the Blackbird at around $900.
The design of the Matrix is pretty simple – on the back you get 8 HDMI inputs and 8 HDMI outputs. On the output side, you also get 8 SPDIF outputs if you need audio separate from the HDMI stream.
In the control section, you get an Ethernet port (more on that in a second), RS232 for remote control options, IR input and EDID control to tweak troublesome inputs.

When the matrix is connected to your network you can log into the Matrix.  Once in, you can set up saved 'scenes' or salvos on the scenes tab.  On the control tab you can manually route devices and because it's a true matrix, one input can be routed to multiple outputs at the same time.
Other configuration options included EDID options, front panel button naming, and configuration.  While the UI is not the prettiest I've seen, if you're familiar with other routers the interface will make sense.
With things set up, I can route HDMI sources to HDMI monitors in any combination that I need, which is super useful.
Semi-related: If you're looking for a UHD 4k HDMI KVM that can do 444 and 60Hz look no further than the TESmart 4×1 KVM.  I'm using this in my machine room in our new facility and it's killer; the price can't be beaten.
AC Infinity Airplate S9
If you've dealt with high-performance computing for a while, you know two things: powerful components generate a lot of heat and heat – because of thermal throttling employed by many components – is the enemy of performance and speed.
So how does one keep their computer super cool and operating a maximum performance?
Option number one is airflow with tons of fans!  While having an army of fans buzzing along at full RPM might be just fine if you're putting a computer in a machine room, if you need to put your computer in your suite and you want to maintain your sanity and not have your computer sound like it's about to take off you need to get creative.
My home system is a rackmount box that goes into a rack that's part of my desk. It's full of pretty silent fans, but after recently upgrading to 2x 2080TI I noticed that even after tweaking the fan profiles for the cards using the excellent EVGA Precision X1 utility, when I was really pushing the system hard I was still getting GPU temps in the mid-80s (Celsius).
84C is the default throttle point for the 2080TI so when the cards get to that temp, they throttle and that means less performance.
To help mitigate the throttling, I tried everything from moving PCIe slots, new fan profiles, etc.  I realized that one of the issues is that NVIDIA is now using a blower design that blows hot air back into the case not out of the back of the card (PNY and some others make rear blower type cards).
I wasn't going to replace the reference designed cards, so I need to explore other options of getting things cooler.  I eventually found the AC Infinity Airplate S9 . AC Infinity is well known in the home theater market, and the S9 is really designed as a rack/cabinet fan (other sizes are available).  The idea of the S9 is that it's three fans pull hot air out of a rack.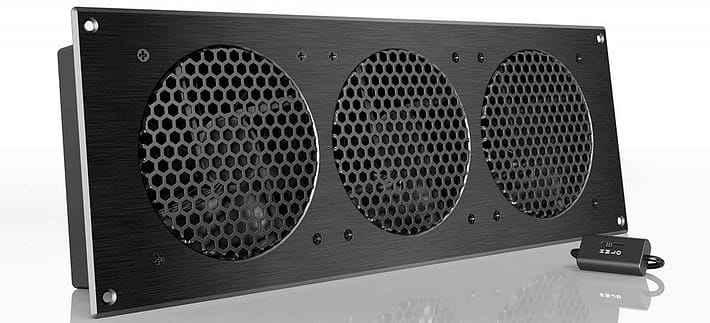 My case has a perforated top cover but no fans pulling air out on the top cover itself.  So, instead of using the S9 as it's intended, I've simply rested it on the back of the case.  AC Infinity products feature a handy remote switch to adjust fan speed, which I mounted to my desk, and the fan itself is powered via a standard USB charger block.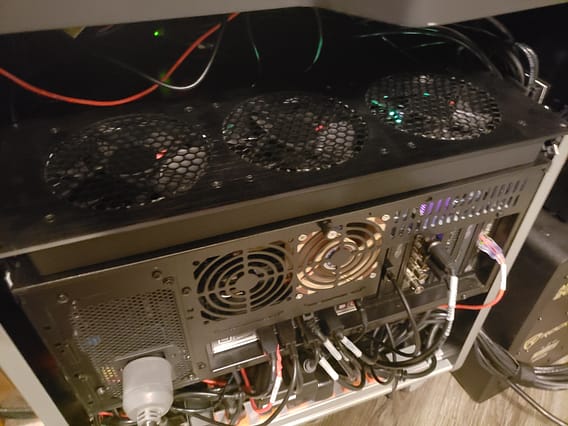 I have to say, the S9 has made a huge difference on my GPU temps. 4k timelines with plenty of noise reduction that used to quickly push the GPUs to their thermal limits are a thing of the past.  My max GPU temps are now in the low to mid 70C range.  That's 10 degrees cooler or more than I was experiencing before!
When I'm just doing normal computer tasks I can use the remote switch to turn the fans off or to a lower setting.  While this DIY setup is a little uncouth, it works really well.
If used as intended, I have no doubt that the AC Infinity products would keep hot racks and cabinets cool too.
LG 34UC80-B UltraWide Monitor
Since curved monitors and TVs came onto the scene a few years I was at best skeptical and worst would stand next to TV displays at electronics retailers and tell people not to buy them – 'you don't want that distortion, trust me!'
I still think curved TVs are stupid, and I'd never buy one myself but count me as a convert when it comes to curved computer monitors – especially the ultra wide variety.
I recently re-arranged my home setup to accommodate an FSI 551U as my main monitor.  Because of this, I had to put my main UI monitor off to the side.  If I was grading full time in this setup, it wouldn't be an issue, but the fact is I do a lot of other stuff in my home setup like record music, write, do admin work, etc.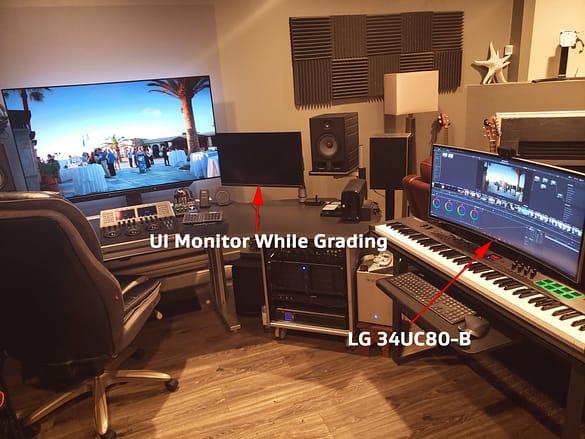 So I decided to set up a 'side desk' that I could look at the monitor head-on.  Initially, I thought I might get a standard 16×9 4k computer monitor like the excellent offerings from Dell, but one day I was talking to my pal and Mixing Light friend Bram Desmet, who suggested I consider an Ultrawide monitor.
After OCD level research that included models from Dell, Asus and others I landed on the LG 34UC80 -B.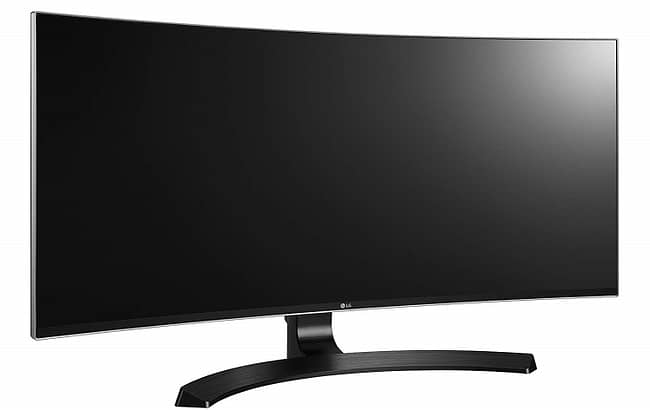 The 34UC80-B is a 34in 3440 x 1440 IPS LED Ultra Wide with a curve of 1900R. The monitor is 10 bit (8bit+FRC) and can do 99% of sRGB.  In terms of connectivity, it features two HDMI inputs, Display Port Input, one USB 3 upstream port and 2 regular USB ports (one of which is a quick charge port). The monitor can also handle two inputs at the same time splitting them on screen.
I can't believe I waited so long to get an Ultrawide!
The curve takes about a day or two to get used but after that, you don't even notice it.  On on a single input, it's like having two monitors.  You can easily have two 'full sized' windows on each side of the screen.  In Premiere Pro, Resolve and other creative apps – timelines feel great with a ton of room.
I like this monitor so much I've purchased two more of them to use in my main suite – one for Resolve UI one for Scopebox. I've not yet set those up yet, but I'm stoked to try them out.
OWC Express 4M2
Like Maverick said in Top Gun 'I feel the need, the need for speed!'
There is no doubt that M.2 NVMe SSDs are fast. Even single NVMe SSDs can push over 2000 MB/S. I've been daydreaming about NVMe RAID setups for a while now, especially if they could be external using a Thunderbolt 3 connection.
When I discovered the OWC Express 4M2 I was super excited and purchased one.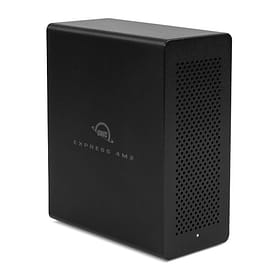 OWC is well known as a supplier of hardware focusing mainly on the Apple ecosystem, but of course, most of their products also work on Windows setups.
The Express 4M2 is a 4 bay M.2. NVMe enclosure that features 2 Thunderbolt 3 ports (nice if you are going to Daisy chain other TB 3 devices), a full-sized Display port connector and a power connector on the back.  The 4M2 is just an enclosure so you'll need to supply your own M.2s. OWC offers their own, but I've had the best luck (and fastest experience) with Samsung 970 and 970 Pro. For the 4M2 I bought 4x 1TB 970s.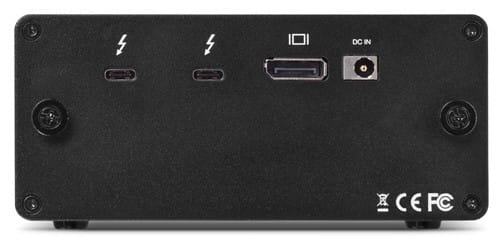 OWC offers SoftRaid for Mac, but I ended up using the built-in software RAID options in Windows Disk Management to create a RAID 0 array. This setup screams.  I'm seeing reads of just over 2800 MB/s sometimes peaking north of 3200 MB/s. Writes are slower, but not by much 1600 MB/s seems to be the average that I'm getting.
So, what am I using this setup for?  I've actually purchased two of these units and equipped them the same way.  The first travels with me as super fast external storage.  There is really no format or resolution that this thing can't handle!
My other use is as the primary storage for my companies FTP/Cloud.  I'm lucky to have a very fast connection to the Internet and I didn't want storage to be a limiting factor for serving files (although this might be overkill).
All and all I'm really happy with the OWC 4M2. As M.2 costs continue to drop, this kind small form factor, extreme speed setup would be perfect for onset colorists, DITs, and editors on the road.
In future Gear Heads
I'm in the middle of new workstation build that I think is going to be awesome.  I'm working with a custom builder who really gets the needs of a colorist and is a little OCD when it comes to cooling, airflow and speed so I'll be sharing all the details of that build.
I also anticipate it being a busy winter and early spring when it comes to gear.
Finally, my company is moving to a new facility (construction of audio and color rooms is happening now) so I'm sure I'll have a boatload of gear to talk about from simple gadgets to fix problems to some additional gear investments I've been thinking about.
As always, if you have any questions or want to add a thought or two the discussion, please use the comments below. 
-Robbie