After A Two Month Break, It's Time To Talk Gear Again!
Well, after a short break we're back to it in this installment of Color Correction Gear Head!
The two-month gap in Gear Head articles is totally my fault!
Travel, kids, and grading work all contributed to me not having enough time to play with some new toys.
Since it's still early January, I think I can still evoke New Year's resolutions right?
Regardless, I'm going to anyway… in 2017, each month there will be a Color Correction Gear Head Insight, and none of this taking two months off stuff!
This month I want to discuss a few more pieces of gear that are helping me technically update my suite – if you missed the October 2016 Edition of this series, be sure to check that out where I dive deep into gear needed to help you renovate your suite.
Specifically, in this installment, we'll take a look at the Blackmagic Smart Video Hub and a couple of Ethernet-based extenders – one for HDMI and another for USB 2 connectivity.
I also want to briefly explore a software streaming encoding solution from Streambox.
As always, if you have any questions about any of the pieces of gear I mention in this Insight just ask! Please use the comments at the end of the article.  
Blackmagic Smart Video Hub 12 x 12 (20 x 20, 40 x 40)
I remember vividly the first job I had in postproduction – an internship in the machine room at a large facility while I was still in college.
This was still in the hay day of Umatic, Beta SP, and new digital formats like Digital Betacam, and old ones like D1 & D2.
At this facility, I learned (mastered) the video patch bay, which gave me a tremendous understanding of video signal flow throughout the facility and in part, ingrained in me a love of video/facility engineering.
However, this story is not all roses. After a few months of being at the facility, a new digital router was purchased – if you remember this era, digital routers were incredibly expensive and complicated.
To make a long story short, on a key job, I not once, but twice screwed up the routing of something and felt the wrath of the colorist that was running a session and of the lead engineer.
Since that point, I've kind of been afraid of digital routers, eschewing them for more traditional patch bays.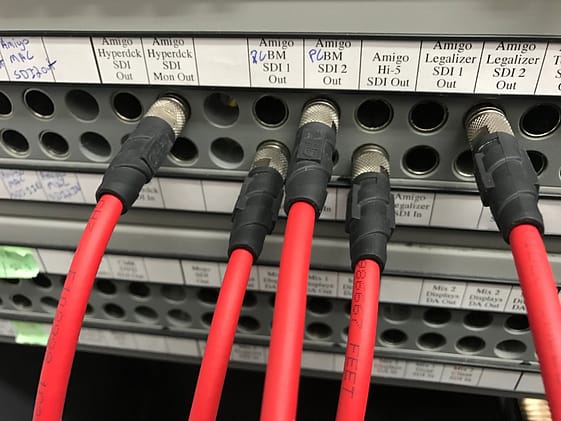 As my facility & needs have grown, the traditional video patch bay has become more of a pain in the butt.
With so many devices only offering single inputs/outputs, I've faced many patch/routing situations that have been impossible on a traditional patch bay.
Because of that, a few months ago I started looking at digital video routers and as with so many other areas of postproduction, Blackmagic products, namely the Smart Video HUB range quickly came to the top of the affordable choices.
I thought that I might need a large router like a 40 x 40 or a 20 x 20, but after considering the rooms/gear that we have, much of the patching needs are audio and control patches, not SDI video patches.
Additionally, by making a move to standardize on 6G SDI, I only needed a single connection for many devices.
So after much thought, I went with BMDs 12 x 12 Smart Video Hub.  For now, it's working great, the 20 x 20 (especially if they come out with a 12G one, might be in my future too).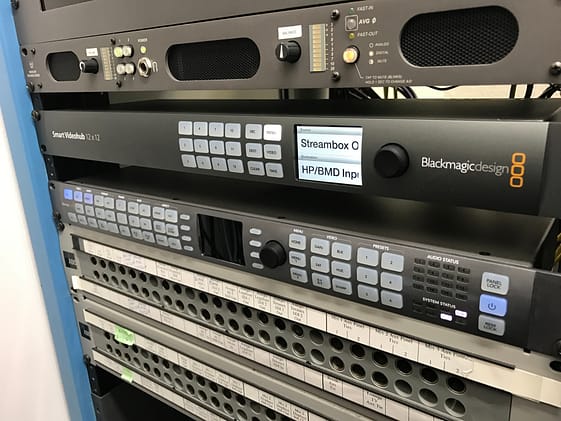 The unit itself is straight forward – push buttons on the front for manual routing, a small LCD to show you source and destination, a rotary knob for making selections and then on the back 12 6G SDI inputs, 12 6G SDI outputs plus power, reference input, network jack and a USB 2 mini port for firmware updates.
With some thinking and wireframing it was pretty easy to layout the initial design of the router & get everything connected.
The next step – getting the software setup – this is sort of two-step process.
The first steps are with the BMD Videohub Setup App.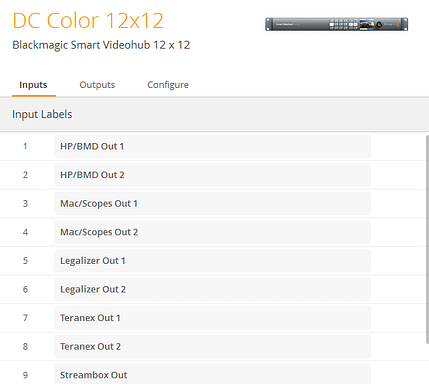 With this application (which looks just like the Desktop Video application you may already be familiar with), you can configure the Videohub so it's accessible on your network. It also allows you to label each input/output and like it's desktop counterpart – update software.
Next, you can launch the Videohub Control app – this app allows you to set icons for each input/output as well actually set the routes for each for each device.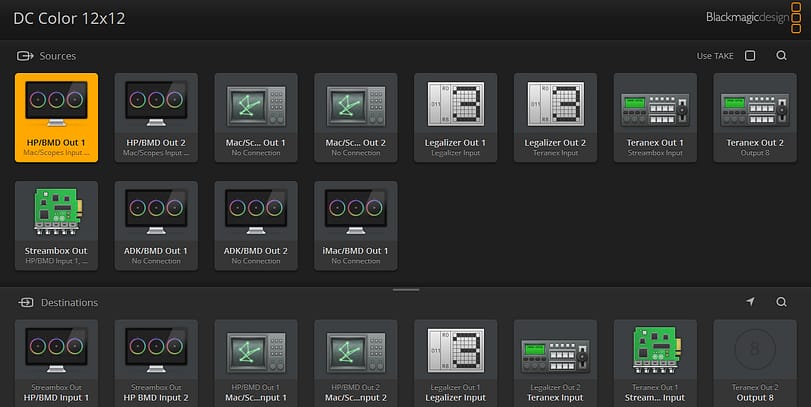 The easiest way to explain the route functionality is you click on a destination, then select a source – that's it!
If you'd like a more traditional setup, you can also force another step – TAKE.  This confirms the route.
The really awesome thing about this line of routers is that there is even an iPad app that lets you quickly route if you don't want to route on the unit or via the app.
For traditionalists, you can, of course, route on the front of the unit itself with the provided soft buttons.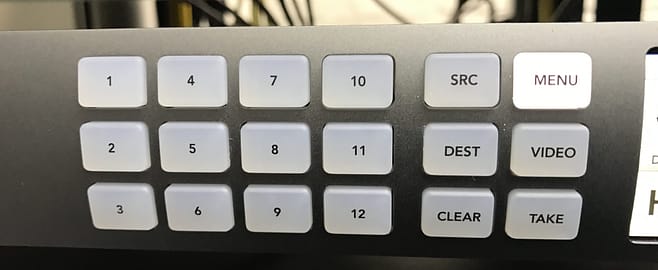 So what's the real advantage of a router vs. a patch bay?  For my needs, it's simultaneous routing – meaning with just a few clicks, I can route one source multiple places – this is often difficult with a traditional patch bay.
In the few months that I have had the router, I've ben impressed – it's never screwed up and it's super easy to configure and control.  My only advice would be to make sure that the router – just like other computer gear is on a battery backup – that way you can still work/route if power should ever be interrupted to your facility.
Member Login
Are you using our app? For the best experience, please login using the app's launch screen
---
Comments