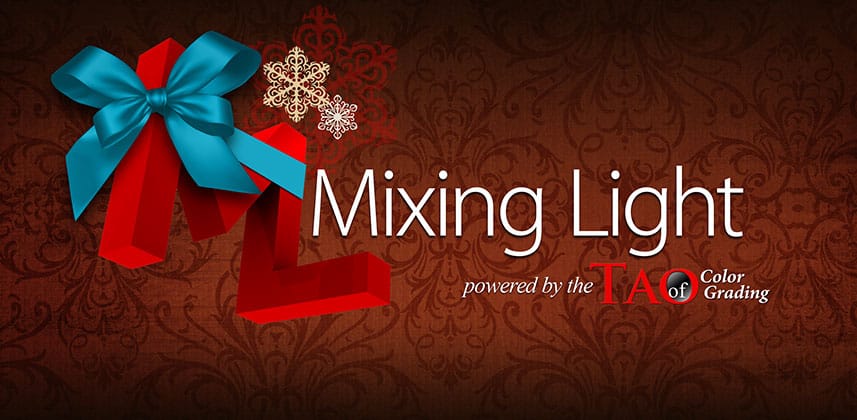 [h1_focus_heading]Holiday Marathon of Color Correction Tutorials and Insights[/h1_focus_heading]
The holiday season has arrived and Team Mixing Light is feeling festive. We've had a great year building the Insights Library and inspiring our members – so much so, that we are embracing the season of giving with a huge THANK YOU for supporting us in our first year! To celebrate we are pleased to announce :
[h2_focus_heading]The Mixing Light '20 Insights in 20 Days' Holiday Marathon![/h2_focus_heading]
For the first 20 days in December you'll get a new Insight – each and every day! Like Santa's elves, we've been busy  recording and writing a whole sleigh of Insights:
Time management tips
Plugin overviews
Building unique looks
Business tips
Grading a (fake) trailer
Grading a Dream Sequence
And many, many more
All straight from the brains of Robbie, Pat and Dan.
Special Series: Grading a (fake) trailer
Dan has been working on a new series of Insights: Grading a fake film trailer from start to finish. Using free found footage off the intertubes (properly credited) he's cut together a trailer that includes Red Dragon footage, VFX, and titles. From evaluating the source images, working with VFX, color correcting, dealing with titles and through to on-lining the project, Dan will take us through his entire process.
We think this will be a MixingLight classic! Check out Dan's intro and sneak preview below:
Credits: Red Dragon Footage – Phil Holland, Helicopter FS700 Footage – The Film Bakery , Music – Lino Rise
[spacer height="3em"]
Comments