WebCam For Remote Sessions + Keeping Your Gear Clean & More
I forgot that February was a short month!
So, while this Insight is technically coming out in March it was meant to be out in February – said slightly differently, your Gear Head author needs to learn to read a calendar!
In this installment of Color Correction Gear Head, I'm going to take a look at what's become an invaluable tool for remote grading sessions, a headset that also makes remote sessions easier and long phone calls a breeze, a super simple tool for keeping all your gear dust free and clean, a self-hosted Dropbox alternative, and finally, a USB-C portable RAID.
If there is a particular piece of gear you'd like my Gear Head thoughts on, please use the contact form and let me know!
Logitech C920 Webcam
Communication is an essential thing.
Phone calls, emails, & text messages are all important, but there is no substitute for seeing someone.
Body language, actions and the occasional hand gesture all matter!
These days I'm doing a lot of remote grading sessions, and seeing the client and interacting with them is important.
Unlike a laptop or all-in-one that usually has a built-in webcam, the monitors in my room don't have one.
Actually, I don't think I've had an external webcam since the original Apple 'iSight' camera.
After a quick search, it's easy to figure out that Logitech is the market leader for webcams. With the C920 their most popular 1080p camera.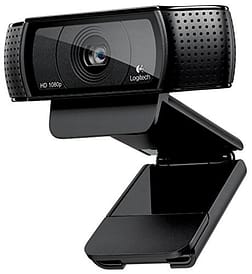 They have a couple of models (including a 4k one) above the C920 in their lineup, but for only $59 the C920 is a no brainer.
Featuring 1080p resolution and capable of taking up to 15mp photos (of course it can do video too), the unit can sit on a desk, be mounted to a tripod/boom arm or like I've done, clipped to the top of a monitor and angled as needed.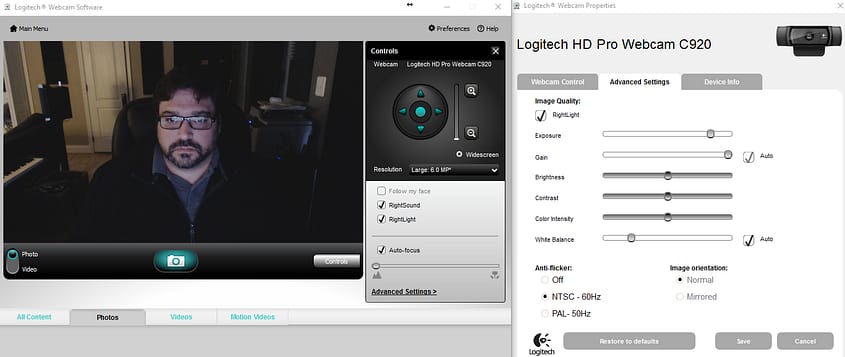 I love that Logitech gives you right out of the box a lot of control of the webcam with their included software that lets you color correct the image, and make other common adjustments.
While I tend to use an additional mic (see below), the C920 does have a pretty good internal mic.
The most surprising thing about this webcam is its low-light performance, which is a necessity in a color suite.  While monitors shining on your face help, so do the dual blue LEDs on the webcam itself.  I've found that the webcam produces 100% acceptable results in a typically dim lit color suite.
For remote sessions so far, I've been using the framing like you see above (that's my home office), but I've been considering moving the camera to my side or even behind me like a typical session.  I've caught myself several times making annoyed facial expressions or shaking my head that my client might have picked up on!
Sennheiser Game Head Set
I've never been a gamer – but this is a piece of gaming gear I can get behind.
Related to the Logitech webcam, the Sennheiser Zero Gaming headset has become a fantastic piece of gear in my suite.  Why does a gaming headset belong in a color suite?
My first use is that I'm on a lot of VOIP calls. The ability to be hands-free and still have great sounding audio (both my voice and what I'm hearing) is super important.
The Zero has a superb noise canceling microphone – I've actually used it to record several Insights on the road and they sound great.  In addition, the large circumaural headphones are very comfortable. Standard 3.5mm connectivity makes it easy to connect this headset to pretty much anything.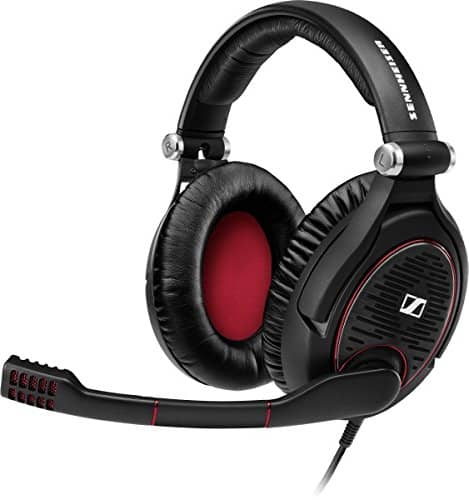 My second use is remote sessions. As I noted above, having video calls is important, but there are a lot of sessions I do these days where seeing someone is just not that necessary – especially if they're picking their nose and forget they're on a webcam! (true story)
With this headset on you probably don't want other people in your room – that's not just because you'll look like a dork, the circumaural nature of the headset provides a tremendous amount of passive noise cancellation (note: they are not noise cancelling) which can make it hard to hear others right near you.
Other features I like are a very easy to use volume control on the side of the headphones, tilting up the microphone boom arm mutes the mic and when you need to travel with them they fold up pretty small.
Don't get me wrong – these are not quite audiophile headphones and they're a bit expensive for what they are, but I've found nothing that performs as well with the trifecta of mic quality, headphone quality, and comfort.
I've found this headset to be a great tool for remote sessions & Sennheiser is an extremely trusted name in audio.
EasyGo CompuCleaner
It's not secret – I suffer/benefit from O.C.D.
Besides a totally obsessive need for perfect cable management, my other O.C.D. issue with gear is keeping it clean and dust free.
Nothing irritates me more (read disgusts me) than turning on the overhead lights in a color suite and seeing a thick layer of dust over everything.
What's more, is that dust is an electronics killer, and on cooling fans it can literally mean the difference between a piece of gear operating well or dying from overheating.
Like many of you, I have tried traditional dusting, wipes, cans of compressed air (dangerous), etc., to keep my gear clean – but none of those solutions have ever really worked great, and I've even damaged a piece of gear or two with compressed air.
Recently, I was over at a buddies studio and he had this odd looking vacuum/leaf blower looking device.  I asked what it was and he simply said 'try it out'. What ensued after turning on the power button was a bit crazy as I didn't know what it was – I knocked over some pictures and some other stuff in the studio with the amount of air coming out of the device.
The EasyGo CompuCleaner is a reverse vacuum – or in other words, it blows rather than sucks….(get your mind out of the gutter!)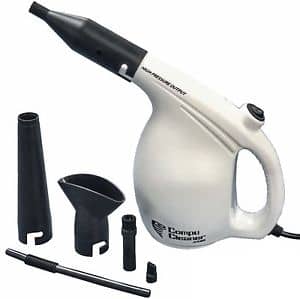 Weighing in at only 1.8lbs, featuring a very strong motor, and a lengthy 9-foot power cord, it's a great cleaning companion.  With 5 different nozzles, it can force a lot of air to a single spot or over a larger area depending on your preference. It also features two speeds – with the lower speed being perfect for inside cases or where you may have sensitive electronics.
I've been using the CompuCleaner once every other week on back and front fans on my computers, equipment racks and control surface/keyboard.  Once a month I open up my computers and blow out the internals to keep them dust free.
At only $45 this is a fantastic kit to keep all your gear dust free.
I have only one big word of advice – turn off your gear before cleaning – especially the inside of your computers!
OwnCloud
Like most of you, I often find sharing, collaborating and delivering files to be frustrating.
From Frame.io and Wipster to Dropbox, Resilo Sync, Google Drive, FTPs, there are a lot of ways to share and deliver files.
One night over drinks, friend of Mixing Light and a close collaborator of mine in the color suite Joey D'Anna and I were lamenting some of the pitfalls of services like Dropbox when Joey asked me if I had heard of ownCloud?
I hadn't.
So Joey went on to explain that ownCloud is an open source cloud service that allows one to control all aspects of sharing themselves.
Want the functionality of Dropbox but don't want to pay for a Dropbox plan? ownCloud can replicate many of the features of services like Dropbox and Google Drive.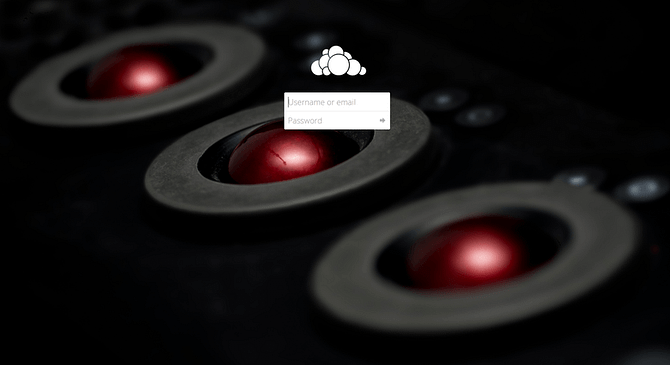 Would you like to consolidate all your various cloud services into a single cloud service?  ownCloud lets you use other cloud services as storage – meaning you can add your existing Dropbox account, or FTP server at the office into a unified cloud account.
How about integrating contact & calendars alongside all your other files?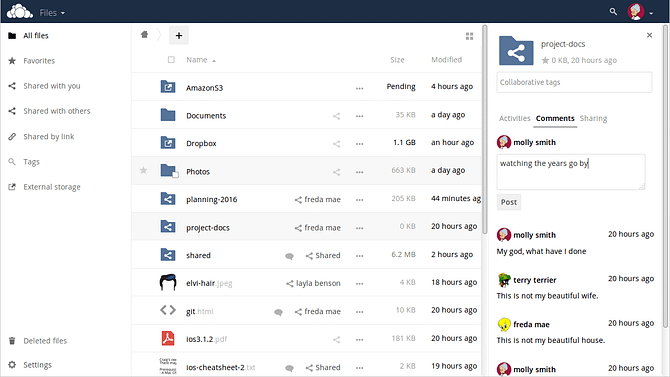 I'm planning on doing a separate Insight on ownCloud in the near future, but here are some my favorite features:
Consolidating storage/drives to a single cloud
Easy file/folder sharing (similar to Dropbox)
File commenting
Mac, Windows, Linux, iOS, Android clients
Versioning and file recovery
While I've only been using ownCloud for about 2 weeks it has a lot of promise and the open source nature of should lead to all sorts of people developing functionality and workflows for it.  Try it out its free!
Mediasonic ProRaid USB-C 2 Bay
When it comes to computer connectivity, there is no doubt that there is a strong push to smaller and smaller cable connectors.
The reasons for this are pretty obvious – thinner, lighter laptops, and greater density of connectors for workstations.
My first experience with the USB-C connector type was last year when I purchased an HP zBook Studio (it features 2x Thunderbolt 3 ports). At that time, there weren't a lot of USB-C devices.
Then, of course, Apple released the new MacBook Pro which only features Thunderbolt 3 ports – which use the USB-C connector (Thunderbolt can handle the USB protocol) and the popularity of USB-C devices, adapters & cabling has predictably risen.
Since I travel a lot, I've been looking for something that was small & superfast.  While Lacie, G-Tech and others offer turnkey solutions for this sort of thing, I didn't want to pay a premium for a portable drive, so I went looking for a case that I could populate myself.
I soon discovered the Mediasonic ProRaid 2-Bay USB C enclosure.
This nifty little enclosure features 2 bays that can be filled with regular 2.5″ mechanical drives or 7 & 9.5mm SSDs.  It features a single USB-C connector and a power connector. If a USB-C port, or in my case Thunderbolt 3 port on my zBook Studio spits out enough power, it can be bus powered with no need for external power – which is nice for a RAID.
Not wanting to break the bank, I saved $30/drive and didn't order my go to Samsung 850 SSDs, but instead ordered two 480GB PNY SSDs, which are pretty popular too.
Prior to installing the drives, I used the little dip-switches inside the case to configure the built-in RAID controller to RAID 0 – but it can also be configured as RAID 1, JBOD or Single Disk (meaning with two disks installed each will mount as a separate drive).
Oddly, my copy of this case didn't ship with directions!  But I did find them HERE.
After getting everything installed and connected up to my zBook, I formatted the drive on my PC and did some simple benchmarking with the Blackmagic speed test. The results are below – as you can see it's not blazing, but still very fast.  While it's unrealistic to expect a doubling of performance with 2xSSDs I would have been happier with reads closer to 1000 MB/s, but 880 is still pretty darn good!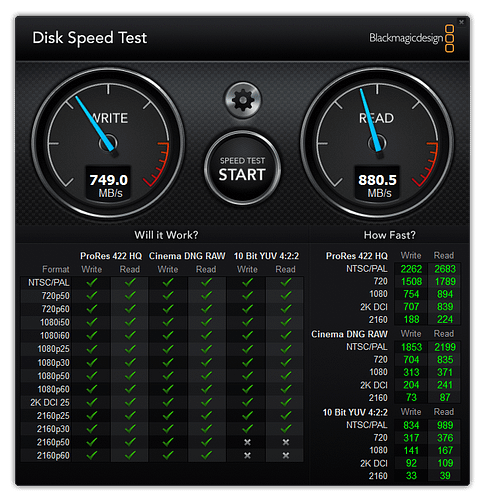 You can have nearly a TB of fast portable storage that is very convenient because it can be bus powered for not a lot of money.  I'm really happy with this setup!
Next Month….Err…This Month!
Again, my apologies for the calendar screw up.  In the next installment of Color Correction Gear Head, I have a few recently announced items to discuss (wink wink) & I want to explore some of the expansion options available from Cubix and more.  Stay tuned.
As always if you have questions or something to add to the article please use the comments below.
-Robbie
Comments