From The MailBag Episode 72
I Feel More Efficient On The Mini Panel. Should I Consider Selling The Advanced Panel?
I remember like it was yesterday…
I looked down at the dusty, stained, food-in-every-crevice DaVinci 2k panel, and flashbacked to all the foam rollers I changed on this thing. When I looked up, the engineer at the facility I was working at entered the room with a smile on her face.
In tow behind her was a brand new DaVinci Resolve Control Surface.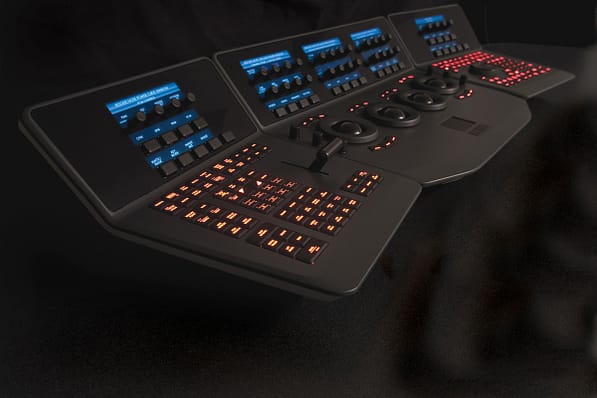 Keep in mind this was actually pre -Blackmagic days and this was the Resolve Impresario panel – similar to today's Resolve's Advanced panel but with several different features including a small mouse pad in the center of the panel – not that many Impresarios were built. I remember the feeling of satisfaction, knowing I was going to be working on the biggest, impressive looking and most full-featured panel available for Resolve
When I started my own company I saught that same satisfaction, so I purchased a Resolve Advanced panel – and for years felt the pride of using the premiere panel for Resolve. Not only did it work really well, it looked really good in the suite.
However, my love affair with the Advanced panel started to change when I bought a Resolve Mini panel for my home suite. Why? Because I know that I'm faster on the Mini vs the Advanced panel – and it looks like I'm not the only one who's been feeling this way!
To Sell Or Not To Sell?
Recently we got a question from Mixing Light member Scott A:
'Hi guys, looking for an opinion on Resolve control surfaces.  A number of years ago I bought a Resolve Advanced panel for my studio and it's been fantastic, but I couldn't afford another one for my home suite.  So, I got a Mini panel for home and I have to say I'm blown away by how much faster I am on the layout of the Mini panel.  This has got me thinking maybe I should sell the Advanced panel at the office, buy a Mini and use the extra cash for some other post toys.  What do you think?  In the back of my head, I'm just worried that ultimately that might mean less functionality, but as I said I'm faster on the Mini – help!'
Yep, right there with you Scott!  In this installment of From The Mailbag we're joined by Mixing Light contributor Joey D'Anna who's filling in for Dan, as Dan has been sequestered on a big Netflix Dolby Vision job.
In the episode, we talk about the perceptual role of a large panel, how the advanced panel could be refreshed with some new key caps, how the mini alone can't replace the Advanced panel functionality, and how it might be just a dream that BMD will come out with side panels for the current Mini panel.
Have A Question For Team Mixing Light?
Remember, if you have questions that you'd like to get an opinion on please use the contact form
Your questions can be aesthetic, technical or even client related. We'd love to hear from you, and your question might make future episodes of From The MailBag.
Enjoy the MailBag!
-Robbie
---
Member Login
Are you using our app? For the best experience, please login using the app's launch screen
---
Comments