FSI Goes Bright With A 3000 NIT HDR Mastering Monitor
Unless you've been living under a rock, you know that high dynamic range video (HDR) is here.
More and more features, television shows and yes, even a few commercials (for OTT services) are being finished in Dolby Vision, HDR-10 or HLG.
In any HDR workflow, the monitor plays the central role and this is particularly true at the finishing and color correction stage.  As I've mentioned in other Insights on HDR, an HDR pipeline can be thought of like a funnel.  For the purposes of finishing, it's always best to do that work at the wide end of the funnel, which means high peak luminance and wide color gamut.  With that master in hand, pretty much any deliverable can be derived.
It's undeniable that Dolby has pushed the research, and to a large degree the technical boundaries when it comes to HDR monitoring with their pioneering display the 4000nit Dolby Pulsar, but the Pulsar is only HD resolution, it requires 4 dedicated power plugs, and there are only 18 of them in the world!
So, for the past few years, the defacto HDR mastering monitor has been the 1000 NIT Sony X300 OLED.  This monitor has received wide acclaim, and after dozens of hours with it myself, I can concur that it's a great monitor…but it does have issues:
1000 NITs is bright, but not nearly as bright as a 4000 nit Pulsar.
Because it's a true 4k panel AND because it's OLED, almost every copy I have seen has pillar box burn-in from countless hours of monitoring UHD/HD and not true DCI 4k
It has a fan that's loud and annoying.
Its connectivity is a bit of pain – with 6G and 12G become standard on high-end gear the x300 requires 4x3G connections for maximum resolution/frame rate connectivity.
Even though the x300 is being widely used, those that are doing more and more HDR worked craved a monitor that could perform better, and while many people were hoping that Sony would deliver, or maybe Dolby would release a mass market monitor (not likely) Flanders Scientific was quietly developing the next generation HDR mastering monitor – The XM310K.
Talking To FSI's Bram Desmet About The XM310K
A few months ago, good friend of Mixing Light and FSI CEO Bram Desmet stopped by my facility and Patrick and I got to take the impressive XM650U for a spin and talk to Bram about that monitor.  What we couldn't share at the time is that FSI was hard at work on the XM310K.
Flash forward to two weeks ago – Bram stopped by the facility again, but this time to show me the finished version of the XM310K.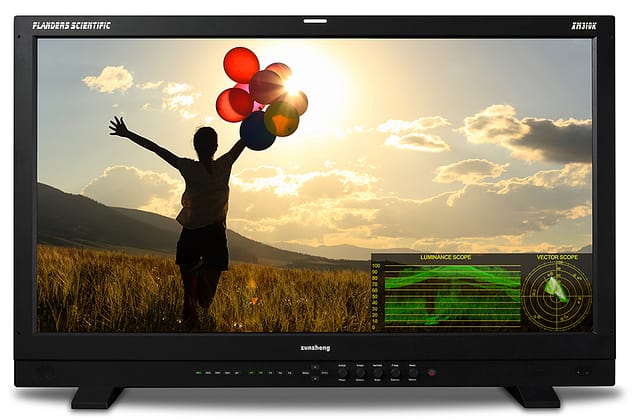 After setting up the monitor, I got straight into grading some footage that I had previously graded at 1000 NITS and some new footage that I was going to grade at 3000 NITS on the XM310k.
Even two weeks later it's still hard to put my thoughts about the XM310K into meaningful sentences, so instead how about a few bullet points:
The difference between 1000 NIT & 3000 NIT peak luminance is very noticeable
Footage really has to have the 'right information' to hit 3000 NITS (we'll talk about this in the podcast)
Yes, 3000 NITS is very bright, but you're not going to go blind
The 31in panel size is awesome, looks great on the desk and the extra size over a typical 24/25in monitor is fantastic
The DCI 4k resolution LCD panel is great – looks good for UHD and HD with no fear of burn-in
Connectivity options on the display are flexible and should meet nearly every facility need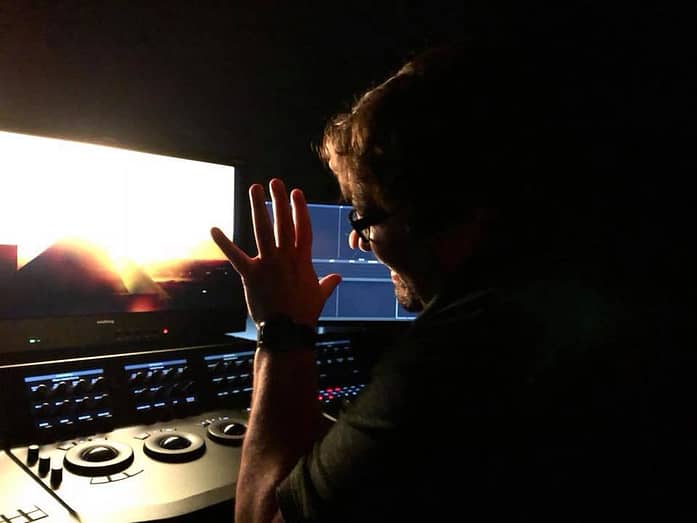 I was planning on recording an interview with Bram the day he was up at my shop with XM310K, but we simply ran out of time.  Fortunately, Bram was gracious with his time and we were able to record an interview about HDR monitoring and the XM310K this week.
As always, talking to Bram about monitors is fun as well as informative.  In this interview we discuss:
Essential HDR terminology
FSI's approach to HDR Monitoring
Technical challenges to HDR Monitoring
LCD vs. OLED for HDR
The NITS arms race
Challenges of grading at high nit values
XM310K Specs
Who's the XM310K for?
Challenges of HDR calibration
Enjoy the interview and as always, if you have something to add to the discussion or a question please use the comments below.
-Robbie
---
---
Learn More About How to Create HDR and Dolby Vision
Comments