From The MailBag Episode 78
Is Some HDR Content 'Fake'? Is The Mandalorian Another Example?
The highly anticipated launch of Disney+ about a month ago added another major player to the list of OTT services. Disney's launch of their own service brought together Pixar, Marvel, National Geographic and countless Disney classics.
But as you probably already know, Disney has the rights to all things Star Wars and one of the most anticipated new series on Disney+ was The Mandalorian, which premiered with the service launch on November 12, 2019.
Set in the Star Wars universe, the show follows a mysterious Mandalorian bounty hunter (played by Pedro Pascal) about 5 years after the events of the Return Of The Jedi. Created and executive produced by Jon Favreau along with a plethora of talented directors and producers, the show has been well received by audiences – including this Star Wars fanboy.
A highly touted feature of Disney+ is Dolby Vision & Dolby Atmos content (and of course UHD resolution) including all of the original Star Wars films, but also The Mandalorian.
Mixing Light doesn't review movies or series so why are we talking about this new show? It's because in this past week the show has received a bunch of attention for possibly being a 'fake' implementation of HDR.  But is it?  That's the subject of this installment of From The Mailbag.
Background: The Ars Technica Article & HDTVTest.co.uk
Last week, I was taking a break from a show I was grading and perusing Facebook when I noticed a link on fellow colorist and friend Darin Wooldridge's page to an article on Ars Technica with the provocative title Wasted Potential – Disney+'s The Mandalorian joins a long list of fake HDR content analysis finds. The article's subhead reads – Faux HDR is bad for the industry and bad for consumers, but it keeps happening.
Penned by Samual Axon in late November, with a title like that I just had to read it!
As the title implies, the article says:
"Based on analysis by HDTV Test's Adam Fairclough in a YouTube video from November 25th no scene in the show reaches more than 200 nits (cd/m2) and that one could infer that the show is just SDR wrapped in HDR packaging."
I know, ignore that 200nits part for a moment. FYI, HDTV Test has a similar break down on YouTube about the newly remastered original Star Wars trilogy films. That Star Wars video lays down their framework for identifying 'Fake HDR'.
As you can imagine, among serious colorists and those of us who have been grading HDR for the past few years, the Ars Technica article & HDTV Test YouTube videos started a lot of conversations on social media, forums, and blogs. Including a great blog post from Mixing Light friend, Alexis Van Hurkman.
Audience Expectations VS Creative Intent
As I started to read comments about the article and the videos, my first thought was – 'well, if it's encoded as PQ (Dolby Vision), P3D65 and has peaks around 200 NITs or so that's HDR – they must have just made a creative choice' In our discussions Patrick & Dan also agreed with this thinking.
That sentiment was also echoed by colorist/finishing artist Charles Bunnag who was actually part of the color team on the series that also included Adam Nazarenko & supervising colorist/finishing artist Steven Scott. In a Facebook comment thread on the subject Charles shared his thoughts: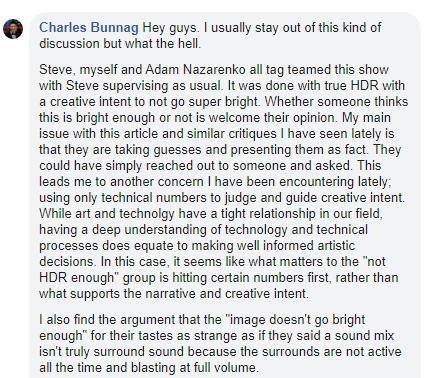 I think Charles' comments are spot on, but it got me to thinking part of the problem at play here is viewer expectation.  As you'll hear in the episode, viewers with shiny new HDR TVs want content that is nearly always pushing the edges dynamic range & gamut of their TVs (and the standards) – think the in-store HDR demo reel.  But this desire is often at odds with content creators whose job it is to serve the story of the content they're creating.
We talk a lot about this in the episode, but also explore our feelings on new standards like BT. 2408 & BT. 2390, the limitations of many consumer viewing environments and less than capable TVs (although marketed as HDR) that many consumers are basing their opinions on.  We also explore possible connections between theatrical grading tendencies brought to direct view and high-nit HDR and discuss what does creative intent really mean.
Clocking in at 42 minutes, this is one of our longer episodes recently, but we encourage you to check out the whole thing as there are a lot of interesting points discussed.
Have A Question For Team Mixing Light?
Remember, if you have questions that you'd like to get an opinion on please use the contact form
Your questions can be aesthetic, technical or even client related. We'd love to hear from you, and your question might make future episodes of From The MailBag.
Enjoy the MailBag!
-Robbie
---