Nvidia Pascal Titan X, LG B6P OLED, Logitech MX Master & Focal Alpha And CMS 65 Speakers
I get pretty excited this time of year about gear.
In just a couple days IBC starts, which is bound to bring dozens of new products for the colorists. Apple has their annual fall gadget announcement, many big companies gear up for the Christmas holiday shopping season, and rumors start flying about CES in January.
This time of year is also when I clear out gear that for whatever reason is not working for me or I want to upgrade, and I've just started that process for 2016 – so that means lots of new toys for future Gear Head Articles.
As always, if you have a piece a gear that you think would be useful to other colorists and finishers please let me know and I'll try to get my hands on it to share my thoughts.
Remember, Gear Head Articles are not meant to be detailed reviews of pieces of gear, but rather to make you aware of new gear and to provide a high-level opinion of the equipment. Like any purchase, be sure to do your own detailed research.
Nvidia Pascal Titan X
In the very first Color Correction Gear Head article, I discussed the powerful and then new GTX 1080.
The GTX 1080 has earned praise for its power from gamers and content creators alike.
Based on Nvidia's new Pascal architecture, the GTX 1080 has set a new price vs. performance benchmark.  Put simply, the GTX 1080 is a kick ass card.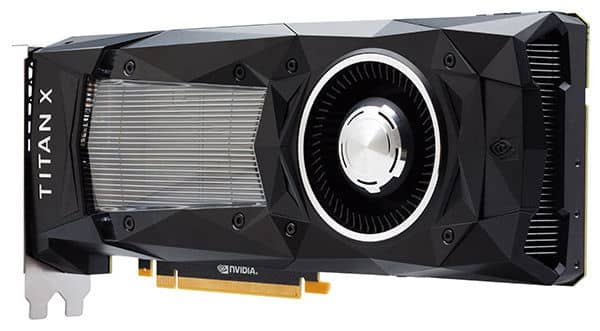 But, as I hinted in that article covering the 1080, I was pretty confident that Nvidia would be coming out with a Pascal version of the Titan X and indeed that's exactly what NVIDIA did the first week of August.
The new Pascal Titan X keeps the same name, but in terms of performance, the new card sets a new standard.
Here are some specification highlights:
New 16nm architecture vs. 28nm for older Maxwell Titan X
3584 Cuda Cores up from 3072 in Maxwell Titan X
12GB of G5X memory – same amount as the previous generation, but newer faster memory technology
Increased memory speed 10Gb/s vs. 7GBs in the previous generation, increased memory bandwidth 480 GB/s vs 336 GB/s
Much faster clock speeds – 1417MHz vs. 1000Mhz base clock and 1531MHz vs 1075MHz memory clock (this is big leap)
Pascal Titan X is capable of 11 teraflops vs. 7 in the previous generation. This is a key indication of what the Pascal Titan X is capable of.
Over the past couple weeks, I've sold my Maxwell Titan X cards and swapped those cards for Pascal versions. Many of you are probably thinking 'why, Rob?'
Well, besides being a gear addict, the performance of the Pascals is fantastic (and will probably get better as updated drivers/CUDA 8 is fully implemented).
So far there is nothing that these cards can't handle – Standard Candle Test, 6k, etc., are all handled with grace.
Using the Standard Candle Test, I've been able to get real-time with all the project versions of blur, noise reduction etc. Adding more nodes to these tests produces pretty much the same real-time results.
While I've yet to dive deep into the numbers, my initial impressions are that the Pascal Titan X cards are 25% faster/more capable than the previous generation.
Many gaming sites claim even 50 or 60% performance increases – but those are games, not grading software!
One other reason I went to the Pascal Titan X cards was to trim down on the number of cards I was using for various setups I use in my facility.
I've found that 2 Pascal Titan X cards are performing just about the same as 3 or 4 previous generation Maxwell cards – again haven't put that to a scientific test, but with 2 cards in a capable system I've been able to handle everything I do on a daily basis with ease.
Putting 1 card in a z840 and 3 into a PCIe Cubix expander, I do see some performance gain with 3 cards (especially with 6k and NoiseReduction/OFX), but I have seen little difference adding a 4th card. This makes me think the sweet spot is 2-3 cards.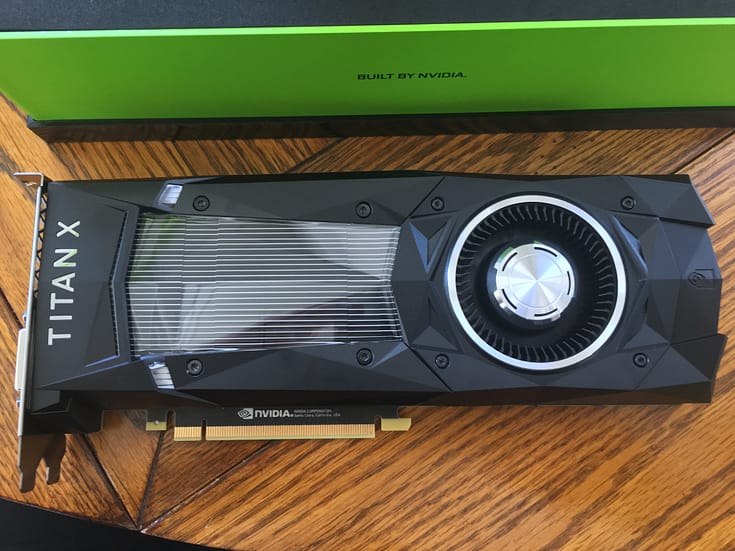 I'm sure some workflows like 8K Stereo HDR VR (is there such a thing?) might benefit from 4 or more cards, but it's hard to imagine that for the typical lifetime of a GPU of 2-3 years that the Pascal Titan X cards will be a limiting factor for most users.
The downside of these new cards?
They're expensive.
Sold only through Nvidia for $1200 (limit 2 per house) I have to admit I think that Nvidia went in the wrong direction price wise.
I was hoping they'd keep the same $1000 price as the previous generation, or maybe come in around $950 marking a healthy, but not huge price jump over the going price for a GTX 1080, but alas they didn't.
It's also unclear to me if Nvidia will let 3rd parties like EVGA, MSI, etc., build Titan X cards to utilize better cooler designs and higher overclocked card speeds.
For now, I think if you can afford it, the Titan X is an unbeatable card.
While the Nvidia P6000 with a whopping 24GB of 5X memory is officially the top consumer desktop card it's significantly more expensive.
Member Login
Are you using our app? For the best experience, please login using the app's launch screen
---
Comments