About DaVinci Resolve 15

DaVinci Resolve 15 is the free version and DaVinci Resolve 15 Studio is the paid version. It was released in August 2018. Upgrading to the paid DaVinci Resolve 15 Studio from previous Studio versions is free. The most recent release of DaVinci Resolve is version 15.3.1, updated in April 2019. On this page learn more about DaVinci Resolve 15 with curated links to Mixing Light's popular tutorials.
---
Learning DaVinci Resolve 15 with MixingLight.com
Mixing Light's Insights Color Correction Tutorial Library offers a variety of DaVinci Resolve tutorials and articles featuring DaVinci Resolve 15. Our most popular include new feature overviews, upgrading from previous versions of Resolve, getting started in the new Fusion page, removing a logo using Fusion, creating DCTs, extending Python with Resolve 15.
How is DaVinci Resolve 15 different from the paid version of DaVinci Resolve 15 Studio?
According to Blackmagic Design:
"[the free version of Resolve 15] limits project mastering and output to Ultra HD resolutions or lower. Resolve 15 only supports a single processing GPU on Windows and Linux and 2 GPUs on the latest Mac Pro.

If you need features such as support for multiple GPUs, 4K output, motion blur effects, temporal and spatial noise reduction, de-interlacing, HDR tools, camera tracker, multiple Resolve FX, 3D stereoscopic tools, remote rendering, an external database server and collaboration tools that let multiple users work on the same project at the same time, please upgrade to DaVinci Resolve 15 Studio."
What are the significant new features released with DaVinci Resolve 15?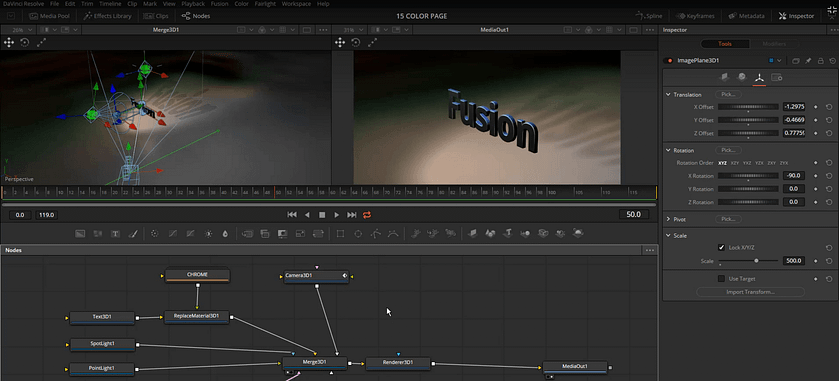 DaVinci Resolve 15 release cycle introduced many new features including:
A fully integrated Fusion visual effects compositor into DaVinci Resolve and DaVinci Resolve Studio.
High quality upscaling (Super Scaling)
Subtitling and closed captioning on the Editing and Deliver pages
Improved noise reduction
LUT browser with rapid 'Look' previewing
Simultaneous HDR/SDR previewing
Shared nodes in the Color page
Dolby Vision processing and trims
Native HDR 10+ controls
New ResolveFX plug-ins such as the dust buster, film damage, patch replacer, and lens reflections.


---
---
About Team Mixing Light
Mixing Light was founded by three colorists (Patrick Inhofer, Dan Moran, and Robbie Carman) who also enjoy teaching their craft to novices, journeymen, and experienced professionals. Between the three of them, they have color corrected television shows, local and national commercials, music videos, independent features, documentaries, museum installations, and corporate communications.
They have worked on projects for Nike, Netflix, Dolby Studios, Discovery Networks, National Geographic, HBO, ABC, NBC, Hasbro, heralded directors such as Barry Levinson and the late Bruce Sinofsky, and music videos for Radiohead and Bjork. They have taught at industry events worldwide including NAB, IBC, Interbee, Adobe Max, The Editors Retreat, and BIRTV Beijing.
The founders are joined by a growing list of Contributors, who are working professionals in this field and add valuable depth and breadth of experience – to help us all grow together in this ever-evolving craft of digital video post-production.
Learn More About Major Releases of DaVinci Resolve
Selected DaVinci Resolve 15 Tutorials
Hundreds of Tutorials
Get full access to our entire library of 1,000+ color tutorials for an entire week!
---