FSI Goes Big, Bright & High Resolution
Over the past decade, Flanders Scientific has established itself as a premier reference monitor brand trusted by DITs, DPs, colorists, and VFX artists worldwide. The quality of their monitors, calibration abilities, and exceptional customer service have earned FSI a reputation as one of, if not the top brand in the reference monitor business.
While FSI's brand has grown in the past 10 years, they've focused mainly on 25 inch and smaller HD – LCD and OLED SDR monitors (their 42in and 55in LCDs being the only large monitors they've released).
FSI has never been a company to jump on the latest technical fad just for the sake of keeping up with the Joneses. Along with their manufacturing partner, Zunzheng (based in Shenzhen, China), they've researched and plotted their product moves very carefully.
After a couple of technology previews of 4k and UHD monitors at trade shows over the past few years, this past year FSI made a big splash with the announcement of their new XM series – 4k & UHD HDR monitors. This new line up consists of the 65′ XM650U 65 inch UHD HDR OLED and the XM310K a 31in 4k HDR LCD Master Monitor.
The XML310K is still in development (expected to be released later this year) but the XM650U is just about ready to ship.
At the end of January, Bram called me to see if I wanted to take a peek at a pre-production unit – of course, I did!  So I called Patrick and invited him to come to Washington DC and together we took the XM650U for a spin. We figured while we had Bram sequestered (we did buy him some beers!), we'd also pick his brain about this new monitor and some other technical topics.
Top XM650U Features
If you've been a Mixing Light member for a while, you probably know that I have a little bit of an obsession with LG OLED TVs. For the past 3-4 years, I've literally bought the new model (or multiple copies) each year.  Why?
I love the look of OLED and I love the contrast performance. My FSI DM250 OLED reference monitor is wonderful, but it's simply too small for a room full of clients. The LG OLEDs have filled an important need for me – a high-quality client monitor.
But taking a consumer TV and attempting to get to behave like a much more expensive professional reference monitor is no easy task.  From service menu tweaks to LUT boxes and SDI > HDMI adapters, it'd be a fair statement to say using the LG OLED TVs as client monitors has been difficult.
There is another problem that a lot of people face – two monitors in the room. As I mentioned, a 24 or 25in monitor is simply too small with a room full of clients, but having multiple monitors – especially those with different display technologies introduces problems with matching them and perceptual differences that can be difficult to overcome.
Enter the FSI XM650U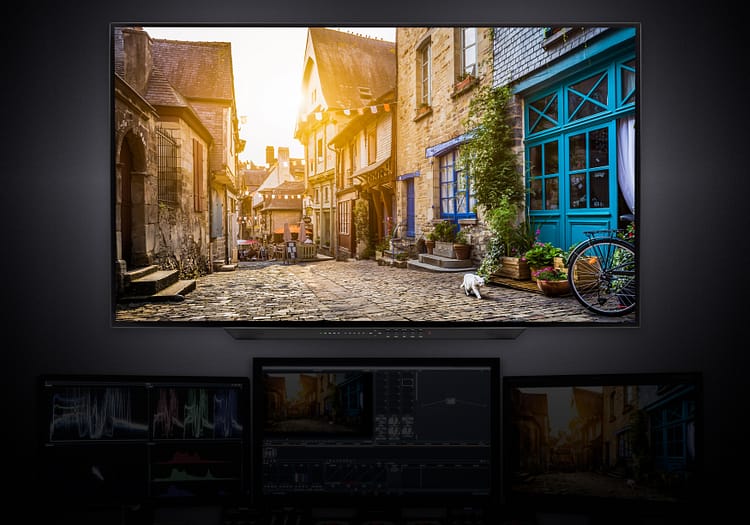 At first glance, the XM650U looks similar to an LG 65in C7 OLED TV – indeed the same panel is used and the housing is equally thin to those of LGs consumer sets. However, on closer inspection, the XM650U shows itself as a professional reference monitor.
Connectivity
Taking a peek at the back of the unit reveals USB, Ethernet, Display Port In and 12 – 12G SDI connections (4in, 4out, 4 clean monitor outs). The XM650U is the first monitor from FSI to feature 12G SDI connections, but they are multi-rate connections meaning they can be used as 12G, 6G, 3G or 1.5G SDI, allowing for a wide variety of connection options including quad 3G (4k) connectivity and when using quad 1.5G SDI allowing the monitor to run 4 separate HD quadrants.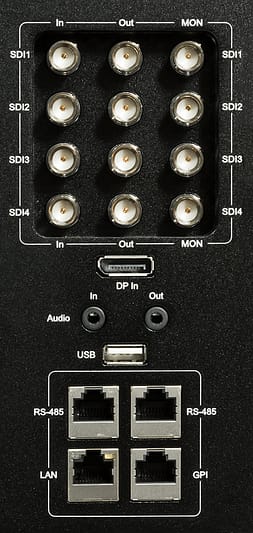 Additionally, the XM650U also lets you downconvert directly from monitor output 1 to HD (Mon 1 is automatically set to 3G/1.5G, while mon outs 2-4 are 12G), which is really nice to feed another HD monitor in the room or HD scopes for example if you've not upgraded to 4k scopes.
One great thing about the SDI connections is that they are recessed, which allows for close wall mounting using the XM650U VESA mounting system.
A familiar front panel (yes, it's on the front of the display, not the top as with previous large format FSI displays!) provides input switching, function access, and other essential controls.  The XM650U also features a revised look to the menu system – which both Patrick and I agreed looked great.
Performance
Because of its robust calibration capabilities (the same featured in other FSI monitors) and because of the absence of all the 'auto-magical' consumer settings of consumer OLED TVs, the XM650U can absolutely be considered an SDR reference monitor – it's SDR performance it's simply astounding.  Which leads to a very important point.
Because of its size and accuracy, I wouldn't hesitate to have the XM650U as the only monitor in a color suite – it's large enough for clients and an operator to view it simultaneously and its SDR performance (Both HD and UHD) is essentially perfect.
As an HDR monitor, the XM650U is also very good. Calibrated for Rec709, P3 or Rec 2020 the panel operates a max luminance of 900nits – that's very good, but not world class for a panel of this size. But that's not FSI's fault – that's just about as good as WRGB OLED at this size performs.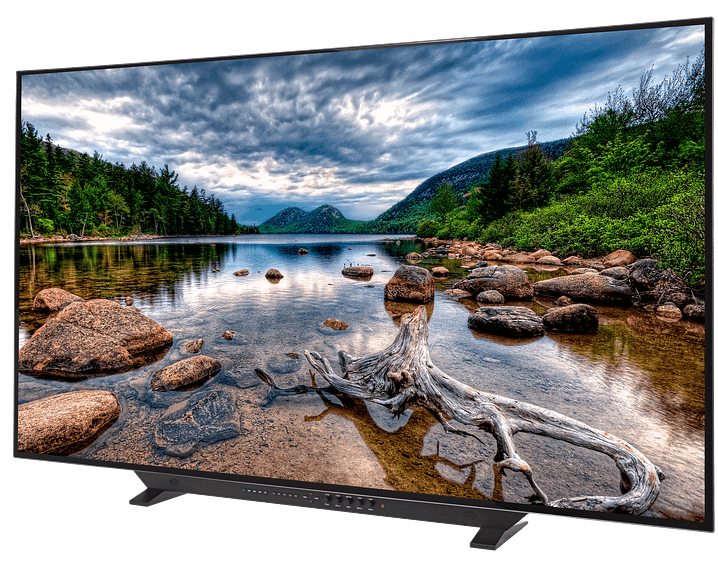 FSI is very careful to describe the XM650U's HDR capabilities as 'HDR Monitoring'. What this means is that the XM650U will not adhere to recommendations for Dolby, Netflix, Amazon, and others for an 'HDR mastering monitor', which is usually defined as 1000-nit peak luminance or greater. This doesn't mean that the XM650U can't be used for PQ (Dolby Vision, HDR10/10+) and HLG grading, but it does mean that it can't fully hit the specs of some distributors.
Used as a client monitor in combination with an HDR reference monitor (including FSI's upcoming XM310K) this is hardly a limitation – clients will just see some clipping at very high nit values. For HDR workflows where the XM650U will be used alone, strict monitoring of scopes and evaluation of clipping still allow the monitor to be used in HDR grading scenarios.  But for facilities that demand a large format monitor producing 1000-nits plus of peak luminance they'll need to look elsewhere.
In the few hours Patrick and I spent with the XM650U we both felt as an SDR monitor it rivaled other offerings FSI like the DM250, but there was something liberating using it as single large format monitor in the room. We both agreed that might need to consider a single monitor setup soon.
Using the XM650U as an HDR monitor I was immediately excited that I didn't have to contend with odd tone mapping and auto controls that you find in HDR consumer TVs. While we didn't calibrate the XM650U, Bram assured us that both the SDR and HDR calibration process is straightforward and easier to get accurate results compared to consumer OELD TVs.
Updated Calibration Program
Flanders has always been known for its calibration program – at any point if you want to get your Flanders monitor calibrated with reference level gear, all you have to do is ship your monitor back to them (covering the cost of shipping) and in a day or two they calibrate it and ship it back to you.
FSI has also been known to help customers program calibration matrices into their own lower cost colorimeters using their reference level spectroradiometer, which is awesome if you want to calibrate on your own but don't want to invest in a reference level meter.
All of that's well and good, but there is a big difference between a 24in monitor and 65in monitor!  Taking the XM650U off the wall or simply packing it back up in its box would not be an easy task every time you wanted to send it back to FSI for calibration.
I suppose you could invest thousands of dollars in reference gear, but FSI is rolling out a new program specifically for the XM650U so that you don't have to.
Once a year, FSI will ship you a Colorimetry Research CR-100 (the same colorimeter we use here at Mixing Light) programmed with matrices derived with FSI's own $15,000 CR-300 2-nanometer reference spectroradiometer specifically for the XM650U WRGB OLED panel.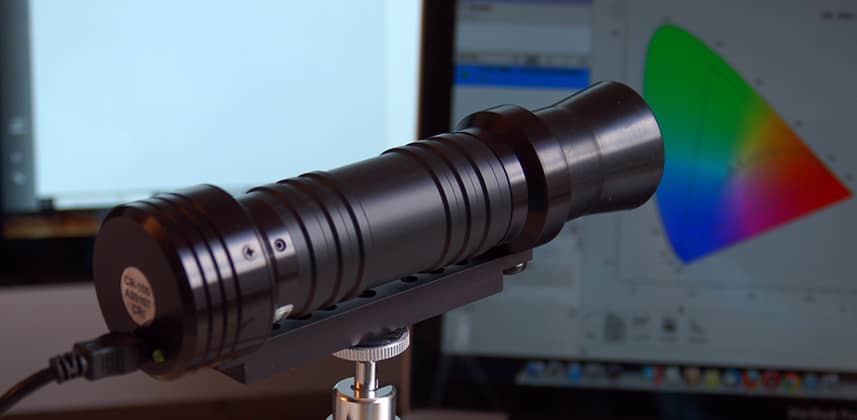 What this means is that you essentially get the use of $20,000 worth of calibration gear for free!  FSI will even pay the shipping for the CR-100.  The only catch?
You must supply your own calibration software – Calman or Lightspace. The cool thing is that there are FSI specific versions of those tools at significantly less cost than the retail versions. Don't worry!  FSI's support team is always happy to guide you through the steps of getting everything hooked up and helping you go through the calibration process. The calibration program is slated to begin in April 2018.
I must say, this new calibration program is a tremendous benefit to those who purchased an XM650U but haven't made the jump to reference level calibration gear of their own. The accuracy of any monitor is essential and this program will help ensure that you can always trust your XM650U while at the same time, providing you insight into the actual calibration process.
Video: Bram Desmet From FSI Stops By To Talk About The XM650U
As I mentioned, at the end of January, Bram stopped by my facility so that Patrick and I could take a peek at the new XM650U. While Bram was in DC we decided to record a number of Insights with him – you'll see those over the coming weeks. Bram (and in general FSI) is a tremendous resource for knowledge on all things monitors, calibration and standards.
In the video below, Bram walks us through the top new features and design of the XM650U – don't forget you can preorder the XM650U today – orders are expected to start shipping within 6 weeks.
Finally, before checking out the video below, you need to know it wasn't an easy task getting the large motorized road case FSI is shipping the XM650U around in up to my space – it turns out the elevator up to the third floor of my building is about 3 inches too small for the case!  Thanks to Adam, Bram and Bryan from FSI as well as DP and friend Joe Tyler for essentially deadlifting a 400lb case up three flights of tight stars to make this and the other videos with Bram happen!
-Robbie
---
Comments