Exploring My Approach To A Color Suite
I've been following Pat's series on how he is building his suite with great interest – because I've always really loved the topic of suite design, ergonomics, and building a workspace that is both comfortable to use and feels premium and professional. I firmly believe having a comfortable space to work that you actually enjoy being in helps you do better work. The right suite setup can go a long way towards letting you focus your energy on where it should be – on being creative.
I worked at one of the biggest post house in Washington DC for over a decade, and in that time I played various roles, from engineer to editor to colorist, so I was always heavily involved in how the suites were laid out and set up. When it came time for me to build a suite of my own, I took in the experience of all the different suites I've worked in over the years and designed a space that I truly enjoy working in.
So after watching Pat's insights, I wanted to add to the conversation that he started. So in this Insight, I'll give you a brief tour of my suite, and talk a bit about why I laid it out the way I did, and about some of the input devices, furniture, and equipment I chose.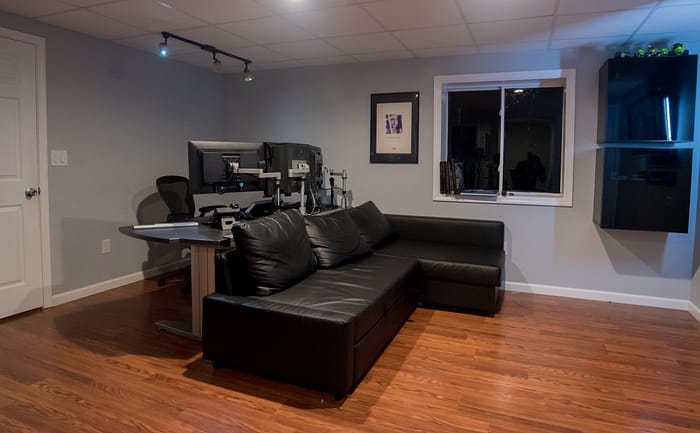 About Chairs And Desks
I talk a lot about my desk in this Insight – and with good reason. Your desk is where you interact with every tool you use during your day to day work, and if it doesn't "feel" right – it's going to be a huge pain-point.
When I first built my suite, I used a cheap off-the-shelf desk that I modified with a cheap and somewhat flimsy triple monitor arm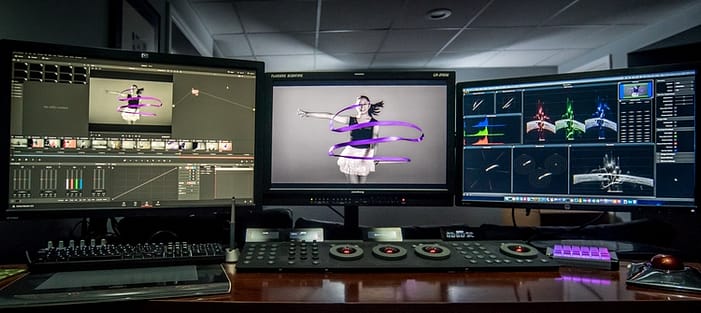 While it worked as a starting point, I was never really happy with it. The monitor arm wasn't quite the right eye-level, the desk felt cheap, and there was cabling all over the underside. I was also really cramped for space with all the stuff on my desk.
Upgrading to a Sony reference monitor was the impetus for me to seek out a much more serious solution. The Sony OLED is very heavy. I knew my home-made cheap desk/monitor arm setup wasn't up to the task of supporting it.
I decided on a purpose-built console from TBC Consoles, and it's one of the best purchases I've made. In the video, I'll explain some of the reasons why.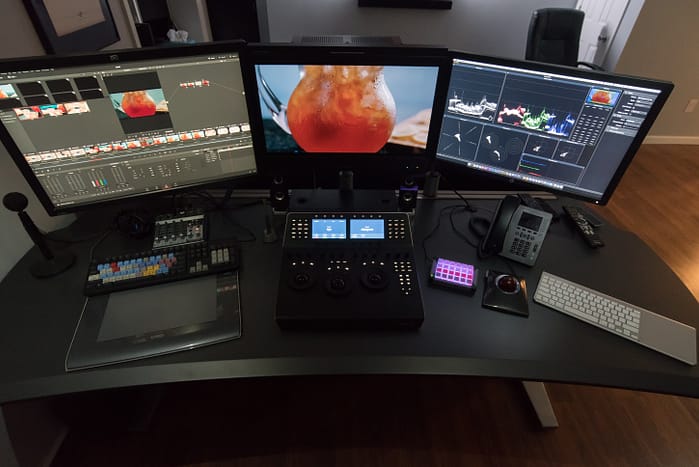 For my chair – I chose a Herman Miller Aeron (Size B, with adjustable lumbar support and armrests).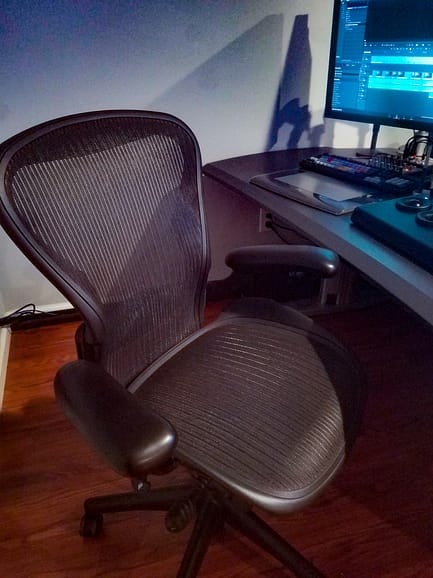 A few quick notes about the Aerons:
They are very expensive but worth it. In my view, there is no chair more comfortable. But this is deeply personal, and you should definitely see about trying out any high-priced ergonomic chair before dumping a huge amount of money on it.
They are available in multiple sizes, and Herman Miller has a chart available to help you decide (Sizing Chart)
They may be pricey, but there are deals available. Aerons are super popular in corporate offices, so very lightly used or even brand new in the box chairs are available for big discounts if you are willing to risk not keeping the original factory warranty. Keep an eye on eBay or Craigslist, my chair had a retail price of over $1,000, but I bought it brand new in the box for only $500 on eBay.
The castors that come with the Aeron do not work well on hard floors like hardwood or tile, so if you have a hardwood floor (like I do) – special hardwood floor castors are available and inexpensive. 
Links To The Products I Use In My Suite
Video
In the video below, I'll walk you through the how and why of my suite setup. I'll show a dual-purpose workflow, allowing me to easily transition between online/conform/prep work, and color grading. I'll also talk a bit about why I prefer using a trackball instead of a mouse for my UI interactions while grading, and I'll dive into the many things I love about the TBC console.
-Joey
Member Login
Are you using our app? For the best experience, please login using the app's launch screen
---
Comments