Exploring Adobe's Initial Push Into High Dynamic Range Video
It's no secret that I greatly admire the work that Adobe has been doing over the past few years when it comes to color workflows, color tools, and in general, making color grading more accessible to editors, directors, producers and others in production/postproduction pipelines who don't consider themselves dedicated colorists.
The latest Premiere Pro 2015 Release (9.1/November) introduced many new features including H.265 (HEVC) encoding, DNxHR & Open EXR support, optical flow processing for speed changes as well as Adobe's initial support for HDR workflows.
It's my opinion that over the next 12-18 months we're set to see an explosion of HDR content.  Not just from high content producers and streaming services i.e. Netflix/Amazon, but we'll start to see productions of all sorts consider finishing in HDR.
I think HDR combined with high resolution (UHD/4k) does more for overall image quality than pretty much any 'new' innovation over the past 10-15 years.
If you haven't seen high dynamic range video in person yet, do yourself a favor and find an HDR TV or monitor that is setup well and check it out – it's stunning!
In this Insight, I want to explore Adobe's initial foray into the HDR world and discuss some of the new tools found in Premiere Pro and a couple of the workflows involved in working with high dynamic range footage in Premiere.
First Steps…
The first thing to understand about HDR and Premiere Pro is that the November 2015 (9.1.) release of Premiere Pro represents Adobe's first (and small) steps into HDR workflows.
This past week I had the pleasure of talking to Dennis Weinmann who is the engineer from Adobe heading up the HDR implementation.
During our chat Dennis was careful to point out quite a few times that they have a lot more in the pipeline when it comes to HDR, color management, new and emerging workflows, and that what we're seeing now is indeed just initial support for HDR. Sadly, he declined to comment further on what may be in store!
So what do these first steps mean in practical terms?
REC 709 – there is no built-in color management system in Premiere Pro that allows you to switch between different color space/gamma options.  While REC 2020 and other wide gamut color spaces are part of emerging HDR workflows, right now all color processing in Premiere Pro happens in REC 709. Furthermore, Premiere Pro is in non-HDR workflows generally attempting to keep things in the 0-100nits range, which results in overbright information often being clipped.
HDR Only In Certain 'Containers' – As I mentioned in some of my previous Insights on HDR, many camera systems are already capable of capturing a huge amount of dynamic range information. In their initial support of HDR workflows, Adobe only supports HDR within two separate containers  – JPEG 2000 with a PQ (Dolby Vision/2084) curve –  so called Dolby Vision Mezzanine files, and Open EXR.  Combined with the fact that there is no native CMS, you can not for example, take a Red clip and just start working with it in HDR. Media must be prepared for use in an HDR workflow in Premiere Pro.  This is subject to change, but is the current state of affairs.
Lumetri Panel Limitations – when working with HDR footage, some tools, specifically LUT support (input LUTs and the Creative section), are not active.
Dolby Vision Metadata Support – no surprises here, Resolve doesn't have this natively either.  It'll be interesting over the next year to see how Dolby Vision metadata is implemented.
No HLG Support – there is no support for HLG HDR in Premiere Pro.  When I asked Dennis about HLG and was unsure if it was going to be something Adobe would support in the future.
SDR Conversion – One thing I really like about HDR in Premiere Pro, and I'll discuss in a future Insight, is the ability to apply an SDR conversion with drag and drop simplicity of a single effect. Right now this effect just does what it does with no control over how that conversion is happening.  In future releases, it's possible according to Dennis, that the SDR conversion effect will get more controls.
The other thing to remember is that successful HDR workflows are predicated on the fact that you're monitoring properly!  I was pleased to see at CES this year HDR (particularly Dolby Vision support) was being touted by nearly every television manufacturer.
It will be interesting to see how the professional market responds this year to HDR, and to see if any more affordable options will become available besides the HDR displays from Canon and Sony.
HDR New Features
As part of their initial support of HDR workflows Adobe has add new tools to support these workflows.
First up is the new HDR option for the scopes used mainly for the Luma Waveform.
When enabled, the HDR mode for the Lumetri scopes allows you to see overbright portions of the signal. Besides floating point values displayed on the right side scale (showing values above 1) is a new Nit scale. This scale goes from 0-10,000 nits.  While 10k is the proposed high-end of HDR, it's not feasible yet.  Most of us will probably work in a range of 100-1000 nits for overbright portions of the signal for the next year or two.
Last year Adobe introduced the Lumetri Color Panel. Patrick has been doing a detailed exploration of the Lumetri Panel in a new series, but it's worth mentioning that all high dynamic range grading work will happen in the Lumetri color panel.  I'd be very surprised if HDR grading tools are added to legacy color effects in Premiere Pro.
By default the high dynamic range tools are disabled in the Lumetri Color Panel, but a quick visit to the Panel menu shows the option to enable the HDR specific controls.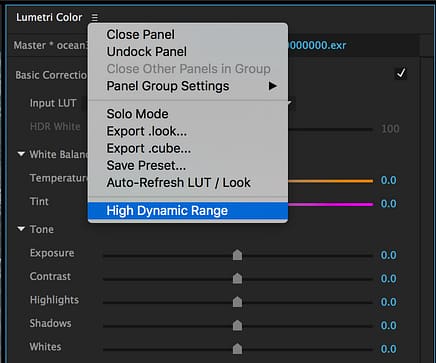 Once enabled you'll find HDR specific tools in the Basic Correction section, the Curves section, and the Color wheels section. I'll break these controls down further in the video below.
Next Steps
One thing was clear to me after my conversation with Dennis – Adobe undoubtably has a lot more up their sleeve when it comes to high dynamic range support in future versions of Premiere Pro.
While Dennis couldn't tell me specifically what these improvements might be, I think its pretty obvious that a more robust color management system or at the very least the ability to process internally as Rec2020 is probably coming in a future release.
It would also be nice to see the ability to take footage with high dynamic range and be able to simply work with as HDR without having to 'preprocess' that footage.
As a guess, I would imagine that this year's NAB will be all about HDR, and I'm sure HDR is on Adobe's mind for the show too.
Questions? Additional thoughts?  Please use the comments below.  
-Robbie
---
Learn More About How to Create HDR and Dolby Vision
Member Login
Are you using our app? For the best experience, please login using the app's launch screen
---
Comments