Monthly Spot Light On Gear For The Colorist
I'm the first to acknowledge that I have a serious problem.
Friends & family have urged me to stop; colleagues just shake their heads every time I utter the words 'have you seen this…'
My addiction?  Gear!
I lust for the latest in technology, no matter if it's something large like a new client display or something more utilitarian like an adapter or an SSD.
While it might seem like I have a secret Swiss bank account to fuel this addiction, the fact is I don't buy stuff on a whim.
I intensely research, read every review I can and more importantly return items I don't like and sell older items to finance newer pieces of kit.
While traveling recently with Patrick & FSI's Bram Desmet after quite a bit of teasing by those two about my gear addiction, I thought it was time stop simply being the butt of jokes and announced to my traveling partners that I was going to do something about my gear addiction.
Of course, that doesn't mean I'm going to stop!  But it does mean that I've decided to start a monthly article series about gear.
Every month I'll highlight 3-5 pieces of gear that I find useful in the color suite, to post workflows or of general interest to a colorist.
Some months I may only highlight a single large item – like a display or control surface.
I should mention I'm not a professional reviewer, so my goal is not to do a super in-depth review of each item I highlight, but to simply bring the item to your attention, describe why I think it's useful and how it's been helping me in the color suite.
So, let's jump in for the inaugural Color Correction Gear Head article.
Samsung 950 Pro NVMe M.2 SSD
I feel the need, the need for speed! – Maverick, Top Gun
While not everyone has Top Gun quotes memorized like I do, you can surely appreciate fast hard drives.
Like many of you, over the past few years, I've transitioned from mechanical hard drives for my OS & Cache drives to SSDs like the fantastic Samsung Evo 850 and 850 Pros. I've even built a couple 4 and 5 drive SSD only RAIDs with the 2TB version of the 850s.
While 500-600 MB/s off a single SSD and 2000 MB/S + in a RAID configuration is very impressive, traditional SSDs are limited by 6GB/s SATA III connections.
Enter NVMe M.2 SSDs.
You might have seen the M.2 form factor before – it's becoming more and more common in laptop configurations.  Allowing for super small, cool and very fast SSDs.
NVM Express (NVMe) is a newish technology that allows for super fast speeds over PCIe connections.
Combined with the M.2 form factor, an NVMe M.2 SSD like the Samsung 950 Pro, provides unbelievable speeds for laptop and supported motherboards.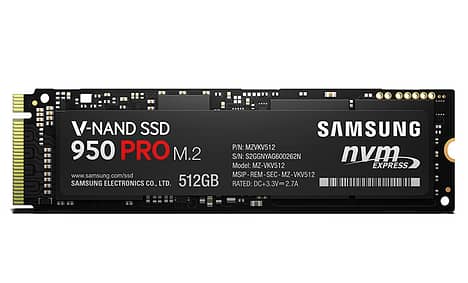 In my HP zBook Studio (which I'll highlight in next month's Gear Head article) I put in the 512GB version of the 950 Pro as a media drive (the boot drive is also NVMe M.2).
As you can see from the screenshot below, I can get read speeds in excess of 2400-2500 MB/S from a single 950 Pro!  That's fast enough to support…well any type of media out there and multiple streams! 8k EXRs anyone?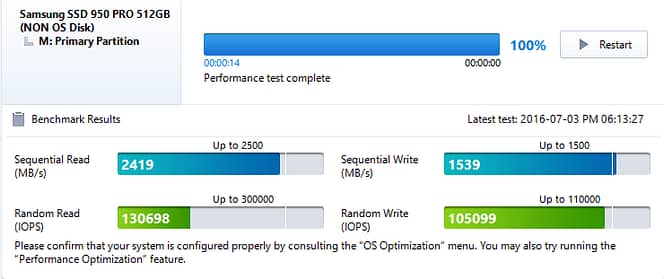 The M.2 form factor is not just for laptops.
The ASUS X99-e WS USB 3.1 motherboard I use in my home system has an M.2 slot on the motherboard.  I put in another 512GB version of the 950 and use it as super fast render cache drive.  Another use would be to use an NVMe drive as a regular render drive.
Even if you don't have an M.2 slot to put in an NVMe SSD you can still take advantage of these super high-speed drives.
Many companies make PCIe Adapters for M.2 cards like the Samsung 950 Pro. Simply pop in the M.2 NVMe SSD then install the adapter in a PCIe 3 x4 slot (for full speed performance).
If you'd like something a bit more turnkey, several companies are building NVMe PCIe SSDs.  The HP z Turbo drive is a unique setup allow for up to 4 NVMe modules for up to 2TB on a single PCIe card.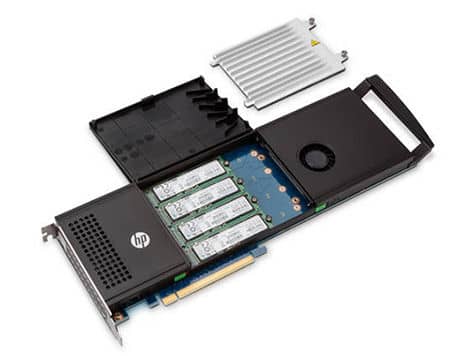 M.2 enclosures are also available. If you want the ultimate in portable speed a USB 3/3.1 NVMe M.2 setup would be hard to beat for its cost/form factor. Just be sure when picking an enclosure you get one that supports the size of the 950 pro (80mm) and matches the keying at the bottom of the M.2 card – the 950 is M keyed.
If speed is something you crave, take a serious look at the Samsung 950 Pro. While it tops out at 512GB for about $300 I would expect higher capacity sizes to not be that far off – Samsung has announced a 1TB version for later this year.
Member Login
Are you using our app? For the best experience, please login using the app's launch screen
---