Day 6: 25 Insights in 25 Days 2019 New Year Marathon!
Valuable color grading Insights that aren't on Mixing Light
---
This Insight is part of a Mixing Light series rounding up important non-Mixing Light articles, tutorials, and podcasts. They are culled from my TaoOfColor.com weekly Color Grading Newsletter (click through to read the most recent edition and subscribe). In this quarterly series I gather non-Mixing Light stories that I think our members need to see. Craft, workflow, technique, gear – if I think an item published in the Newsletter deserves special mention and recognition then I put them in this series. Enjoy!
---
The Frame.io Workflow Guide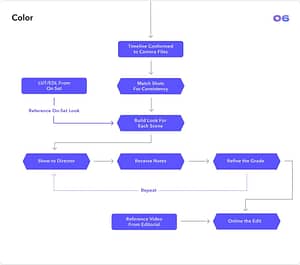 Visit the Frame.io Workflow Guide: https://workflow.frame.io/
In mid-December 2018 Frame.io released their 'Workflow Guide'. From Prep and Production through Color, Sound, and Delivery it educates and documents the entire film making pipeline. Mixing Light's Robbie Carman contributed to the section on Color Spaces with an excellent summary of the ACES pipeline. It's adapted from Robbie's Insight series on understanding and using ACES.
But the reason why I've included the Workflow Guide isn't because of our contribution to the Guide. It's because of the Guide's contribution to our industry. I think the best way for me to say it is to re-post here what I wrote in the December 16, 2018 edition of the Tao Colorist Newsletter. Enjoy my walk down memory lane. Be sure to visit and expolore the Workflow Guide. Frame.io has done a terrific job with it.
Pat's forward to the December 16, 2018 edition of the Tao Colorist Newsletter:
2018 is on the way out.

The holiday season is often a time of reflection. You look back before looking forward. I find myself measuring our past in an unexpected way. I graduated with a B.S in Film / Television Production at Hofstra University in 1988. That same year Quantel released its famous Digital Fact Book. For the next 15 years I grabbed an updated copy where ever I could find one.

Quantel's Digital Fact Book was golden.

If there was term I didn't understand; a new acronym I couldn't decipher; a new workflow that confounded me – the Digital Fact Book had me covered. Then, the Book faded away. I hadn't even noticed its absence until, after a short hiatus, with fanfare the Fact Book was updated again in 2015 and posted online.

As I write this, the server for DigitalFactBook.tv times out. I'm not surprised. After all, how can one company hope to categorize all the terms, workflows, & acronyms that has accompanied our digital video revolution? Our industry moved too far, too fast, and isn't slowing down.

But the answer to that question is revealed this week: It's in the form of a curated blog.

This week, a new Digital Fact Book rises.

30 years from now, someone will write the intro to a Newsletter like this. For an audience much like you. They will talk about how the Frame.io Workflow Guide was published in 2018, the year they graduated. How it was a handy companion for the first 15 years of their career.

That Publisher might marvel at whatever new sentient AI helper is helping a younger generation master the technology revolution that is coming!

I have no doubt they'll fondly remember this version of the Digital Fact Book – and thank all the creative men and women who shared their knowledge and wisdom. It allows others to follow in their footsteps, and keep from avoiding the same tripwires.
---
Steve Yedlin, ASC's The Resolution Myth: Parts 1 & 2
In this first video, DP Steve Yedlin ASC posits his hypothesis that pixel counts are not where we need to focus our attention for maximum perceived image quality. Where should we focus our efforts? Watch to find out. You won't be disappointed. And then think on this a bit before watching Part 2.
In Part 2, he puts his theory to the test. The videos are not embeddable, so click through to watch them both. And if Part 2 is too long for you to watch, his introduction is definitely worth your time (as he explains his evaluation methodology).
Member Login
Are you using our app? For the best experience, please login using the app's launch screen
---
Comments