X-Keys In Action: Programmable Buttons For Quicker Grading
This Insight is from Mixing Light contributor Josh Petok. You can find Josh on the web at www.joshpetok.com or on Twitter @joshpetok
---
Is your post-production software missing a keyboard shortcut or control surface shortcut for common actions?
For instance, in DaVinci Resolve, wouldn't you love a one-button push that would:
Switch you from the Edit tab to the Color tab
Switch to the 'Curves' interface (even if your Blur interface is active)
And then switch to the 'Hue vs Sat' curve?
How much time would that save you over the course of a job? A month? Your career? Mixing Light Contributor Josh Petok decided the savings would be significant. He decided to check out X-Keys, from P.I. Engineering—a bit of hardware designed to do just what we described here.
Specifically, Josh wanted to save Stills to Resolve's Memories without touching the keyboard
The problem: Team DaVinci Resolve hasn't mapped 'saving' and 'loading' Stills to the Memories (in the Gallery) to any of the 3rd-party control surfaces. And since those mappings are not user-definable, Josh had to use the keyboard shortcuts if he wanted to use Memories for one-click copying of color grades.
Then Josh heard about X-Keys and decided to try them out.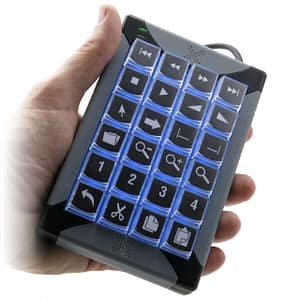 X-Keys is USB-enabled programmable buttons
You can program an X-Keys button to do anything from changing the color of its backlight, to performing a keyboard shortcut, to executing a pre-determined series of mouse moves, clicks and button actions. P.I. Engineering makes several models of the X-Keys and the model Josh is using in this Insight is the XK-24.
As you probably guessed, the hardware by itself does nothing. You need software to program an X-Key.
P.I. Engineering includes 3rd party software for programming an X-Key device
If you're on a PC then you'll be using MacroWorks 3.1 for X-Keys. If you're on a Mac then you'll be using X-Keys ControllerMate.
In this Insight Josh will talk about:
Why he decided he needed to supplement his control surface when working in DaVinci Resolve
On overview of the physical X-Keys hardware
A detailed look at X-Keys ControllerMate for OS X
Josh will walk you through using the ControllerMate software to set its initial state. You'll learn:
How to do simple programming, like executing a single keyboard shortcut
How to do advanced programming, like moving the mouse and executing mouse clicks
Team Mixing Light has known about X-Keys for a while but Josh got us to finally move on it
Both Robbie and Patrick have ordered an XK-24 to sit alongside our Tangent Elements. We'll let you know how it works out for us, as well.
Are you using X-Keys or other programmable solution?
Let's talk about it in the comments!
---