Capturing & Modeling Color in Creative Cloud 2015
*This Insight was recorded at NAB 2015  from my hotel room, so the audio quality is not as good as usual, however, I wanted to tell you about a new awesome tool from Adobe! Also, Project Candy (the tool I detail in this Insight) is NOT shipping, but I would expect it to be available later this year. What I show here is subject to change or cancelation by Adobe.  
When it comes to a grading session and dialing in a look that a client wants, color references delivered to you by a client play a huge role. From movies and TV shows to photography and magazine ads, clients can help you with look creation by giving an idea of what they like.
I don't know about you, while these references are great, often when working with a client and trying to match a reference they say "yes, that's kind of like that (insert color here) but it's a little off. I've always longed for a way for a client to show me the contrast and colors that they like, but in a more direct way than traditional references can.
Additionally, as a colorist, you are probably taking notes on contrast and color that you see in the real world all the time! From sunsets to lights, and strange color phenomena, you're at least making a mental note of what these things look like and probably even snapping a few photos for inspiration somewhere down the line.
Wouldn't it be cool if there was a tool that allowed for both client and personal color inspiration to be captured?
Well, Adobe has taken a big stab at addressing this question with Project Candy, which was announced this week. I've been playing with Project Candy for quite some time, and I have to say I haven't been this excited about a mobile app, well…ever! This app is in the early stages of development and the team at Adobe is working hard, but the potential of this app is really strong.
In this Insight, I want to share with you the basic workflow with Project Candy and what it allows you to do.
By the end of this Insight, you may agree with me that the potential for this app is enormous in not only giving you a way to capture inspiration but also streamlining the process of working with client color references.
Model A Photo's Color & Contrast
First things first, Project Candy is not an Instagram or Plastic Bullet type app. If you're looking for a tool to give you that hipster look on photos of your cat, this is not the app for you. In talking to Project Candy program manager Patrick Palmer, the idea of Adobe doing an app like that was never really in the cards. In his opinion, the market is just very saturated with look creation type apps.
I agree, but what there is not really a lot of out there, is an app that models color and contrast in an image and then allows you use that captured information in a useable way – as a LUT for example, in your grading app.
Well, that's exactly what Project Candy does.
Instead of creating old faded photos covered in light leaks, Project Candy as you'll see in the movie, allows you to use your iPhone/iPad camera to model color in real-time or you can choose an existing photo that's on your device.
Notice how I said iPhone/iPad? For right now, iOS is the only mobile environment for Project Candy. I suppose Adobe might bring the app to the Android ecosystem, but I don't know of any plans to do so.
3D Histogram & Mid-Tone Modeling
By far the coolest and most addictive part of project candy is the live 3D Histogram.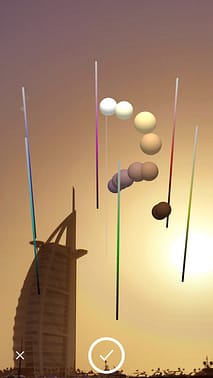 The Histogram can be configured in a few different ways in the app preferences, but when you fire up Project Candy it pops up and it's pretty straightforward to use. Built like a cylinder showing different hue angles, each hue rod goes from dark to light from the bottom to top.
The bubbles? Those are the dominant hues in the live view of your camera or in the photo you've opened up. Find a pallet you like?  Just snap a photo! After capturing a photo or loading up an existing one comes a unique way to get a little more out of the photo.
By selecting a bubble of a hue that you like, you can use the intensity slider below the 3D Histogram to punch a little more of that tone into the mid-tones of the shot. Don't worry about getting artifacts – it's a very soft adjustment. Above the histogram you can see the results of your tweaking on a few different test images. You can even load your own test images.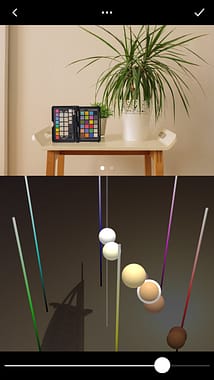 Oh yeah, you can also load in a video clip as a test image to see your results on a saved movie file in real-time!
Syncing With Creative Cloud Libraries
Project Candy would be cool on its own, but it gets cooler with the ability to sync with the forthcoming Creative Cloud library system in Adobe video apps. In After Effects, Premiere Pro, Photoshop and other Creative Cloud apps your saved looks will automatically sync and can be applied as a look to media you have in a project.
Because these features are still in development, in the video below I show this working in After Effects, but it shouldn't be too long before saved looks work with other Creative Cloud apps.
This Is Just The Start
I'm in love with this workflow, but what I'm more excited about is the future. Sure, creating a LUT pretty much in real-time and applying to shots in a project is cool.  But what about individual corrections porting over to Creative Cloud libraries?  How about secondaries? Only time will tell, but I know Team Adobe is really excited about the potential of this application and I hope they continue to pump energy into the development of Project Candy.
As always if you have questions or comments please use the comments below.  Just keep in mind I'm not privy to Adobe's future plans. 
-Robbie
Member Login
Are you using our app? For the best experience, please login using the app's launch screen
---
Comments