A Range of Power Grade Looks and Utilities
In this Insight, I'm going to review Jason Bowdach's creation, PixelTools. It's a thoughtful collection of PowerGrades that jumpstart various facets of the color grading process – for DaVinci Resolve. But to understand the value of PixelTools you need to understand PowerGrades (for more experienced Resolve colorists, I'm about to get 'back to basics' for a moment).
What are Power Grades?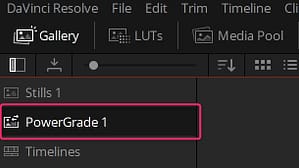 A huge productivity boost in Resolve is the PowerGrade folder. Any still saved to a PowerGrade folder is shared with EVERY project in the same database. If you start collecting your favorite stills to PowerGrade folders then eventually you build a library of stills. You can save off Looks, or fixed node trees, or tiny snippets of one of two nodes that you frequently use.
Resolve colorists call this a PowerGrade Library. But they take time to build. Time – and energy.
PixelTools: jump-start your PowerGrade Library
Jason has taken the utility of the PowerGrade and packed a collection of them into a library that you can load into Resolve and start using immediately.
PixelTools has some very nice film print emulation node trees in Volume 1. Jason, however, doesn't stop there. He also enables you to access a very wide range looks and utilities that can help speed up your workflow.
I have found some pretty striking looks digging around in Volume 1. As a result, I have been able to use looks that I might not have considered.  We all fall into ruts, and playing with PixelTools can help you explore new options.
PixelTools enables you to explore beyond your comfort zone and expand your vision about how things can look.
The Benefits of PixelTools Over Look LUTs:
You may wonder how working with PowerGrades is different than working with LUTs?
PowerGrades won't clip unless the media is clipped or you misuse the parameters within or outside the PowerGrade.
You can still use LUTs – you're not required to give them up.
You have full control over your look. You can start out with a stock PixelTools PowerGrade and then pop open the hood and make adjustments on individual nodes, save those adjustments as your own, and then begin to build your own library.
Turn each PowerGrade (look or utility) into a self-discovery tutorial. Jump into Jason's work and deconstruct how he created a bunch of different looks and utilities.
You can remove aspects of the PowerGrade you don't like. Or easily reduce the influence of a single node.
Contrast can undergo nearly unlimited modifications. With a film print emulation LUT, the characteristics of the contrast are fixed, and you don't want to mess with that.
You can combine PowerGrades. You can then adjust their respective influence.  If you like, you can section off certain features of your image with its own PowerGrade by using a power window.
In this Insight, we dive into a few PowerGrades. We dissect some of the looks and explore a few utilities.
Before I review PixelTools, disclosure is required: Jason is a friend, and I beta-tested this product. There is a little bias here, but not much.
You can download a free sample of PixelTools or purchase it.
Mixing Light Member Discount Code:
If you're an active paid member of Mixing Light, then we have exclusive discounts for you to save on PixelTools. Head over to the Steals & Deals page to reveal your discount code!
Your questions and comments are of great value; please leave them below.
Scott
Member Login
Are you using our app? For the best experience, please login using the app's launch screen
---