Learn How To Create False Perspective (And Animate The 3D Camera)
For those who used a 3D package like Maya, Cinema 4D, Blender, etc. moving around the 3D tools in BlackMagic Fusion will come as second nature. But for those who are new to this, this Insight is a good place to learn a few basic ideas useful inside Fusion. You may not think you ever need the 3D features in Fusion but they can open up all sorts of opportunities. These include 3D text, logos, camera projection, 3D particles, all kinds of motion graphics, etc.
Just to be clear, we're not talking about Stereoscopic 3D here. And we are not talking about 3D volumetric color spaces, like Rec.2020 or calibration LUTs.
You are learning about compositing in Fusion's actual (virtual) three dimensional X, Y,  Z space.
Fusion tools you learn about:
ImagePlane3D
Renderer3D
Merge3D
Camera3D
Displace3D
In this video I quickly run through how to move from the 2D tools into the 3D tools in Fusion (using an ImagePlane3D) and back out to 2D (with the all-important Renderer3D tool). We also look at heart of 3D in Fusion, the Merge3D. All objects, particles, lights and cameras need to be fed into a Merge3D to be visible.
While working through an example of adding fake perspective onto a still image, we manipulate and animate a Camera3D through 3D space. We also use the Camera Target mode and make use of the Displace3D tool.
About the displacement map you see me use:
One part of the comp I didn't go into detail about was how to create the displacement map for the Displace3D tool. I used a few different tools but one very handy feature is the Double Poly (it looks like a capital 'D' button). It enables inside/outside softness on masks shapes. Use the 'TAB' key to toggle which one you're dragging if the points are too close together to select easily.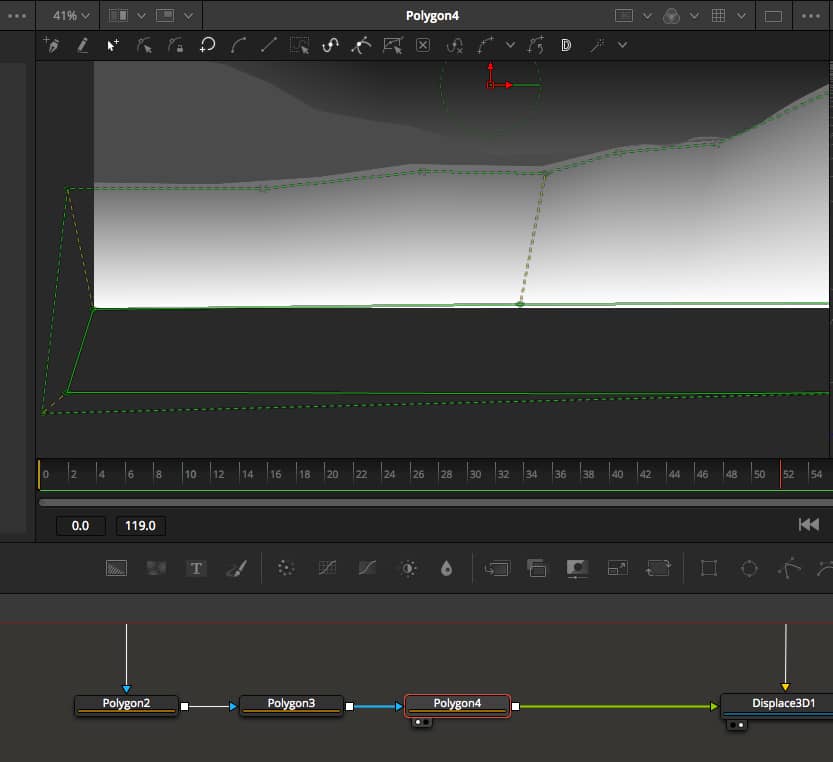 For this example I had taken it a step further by incorporating particles into the 3D scene, to add some misty clouds in front of the mountain. But particles are a whole other subject and they also tax your computer hardware very hard. I don't advise trying smoke particle on Resolve Fusion just yet. I tried this in Fusion 9 and my system still had a hard time.
You can use a simplified variation of the techniques in this example to cut out and add parallax to any still. Just build up flat layers to avoid using the Displace3D.
You also get a brief look at the Spline Editor to get you started manipulating keyframes and camera moves. Of course, the tools in the Spline Editor are useful for any keyframing – not just for a 3D based project.
Premium Members: Don't miss the additional download
If you're a Premium member of the Insights Color Library, then look for the Additional Download. It's a zipped .drp project that contains the Fusion comp demo'ed in this Insight. We don't have permission to share the source image used in this Insight. But you'll be able to examine and break down the composition you see in the video below!
Member Login
Are you using our app? For the best experience, please login using the app's launch screen
---