Getting Audio Monitoring Right
Audio monitoring isn't something we think about very often in the grading suite – but when there is a problem, clients can notice. The last thing you want during a grade review is a client asking 'is this the right mix"' or is that in sync or is it a bit off?'
Sync is especially hard to get right – as just about every monitor has a different processing delay. This means it's important to measure the delay for all your monitors and offset your playback accordingly.
Checking Sync Offsets
While there are dedicated hardware devices to measure video/audio sync, inexpensive apps on tablets and smartphones we already all own do just as good a job! Personally, I use the iOS app Catchin Sync. It makes it easy to line up audio and video test patterns and tells you the exact offset in milliseconds.
Once you know the offset, it's as simple as dropping it into your preferences to get your audio and video locked into sync.
It gets a bit more complicated with multiple monitors – so I use Keyboard Maestro to automate changing the sync offset. If you haven't used macro software before – check out my insights on AutoHotKey for Windows, and Keyboard Maestro for Mac to get up to speed.
B-Chain Tools In Fairlight
What if a simple delay isn't enough? What about more complicated surround systems? That's where Fairlight's B-Chain tools come in. You can use the B-Chain to set up complex monitoring configurations and quickly switch between them.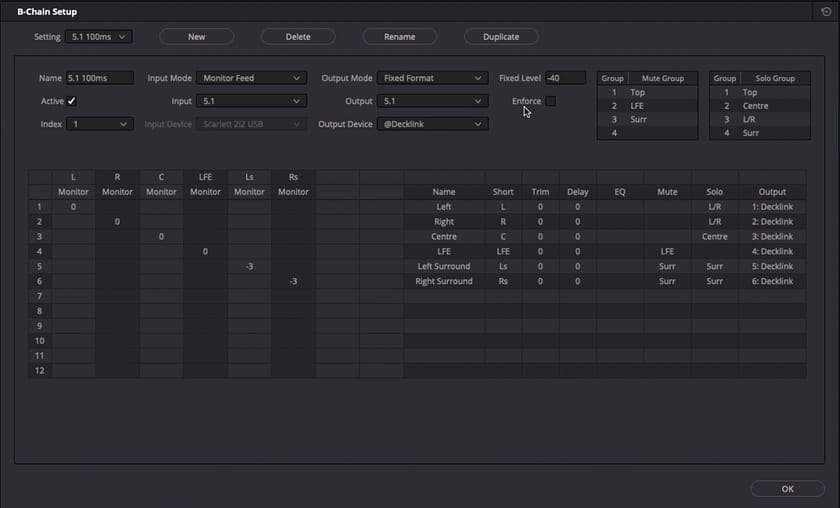 In this Insight – i'll walk you through:
Setting up a test pattern to measure sync, including patching Fairlight's builtin oscillator
Measuring sync offsets using an iOS app
Switching different sync offsets
Creating B-Chain monitoring presets for various formats and delays
As always – leave me any comments or questions below!
-Joey
UPDATE
Hi everyone, just a quick update since this Insight was released. In current versions of Resolve 17, B-Chain now works great in flexbus projects. No need to use fixed bus mapping. Just set the B-Chain input mode to "monitor feed" instead of "fixed format" – and you should be able to route your bus out to the B-Chain setup.
---
Member Login
Are you using our app? For the best experience, please login using the app's launch screen
---