The BoxIO – Flanders Scientific's Take On The LUT Box
Color management is something that's on the mind of anyone in production or postproduction.
Over the past few years, sophisticated on-set and in studio monitoring approaches have become the norm.
Indeed, in my facility, we depend on LUT boxes for calibration to store 3D LUTs for client monitors and other monitors that don't support direct LUT upload.
While color management was maybe once thought of as something mainly needed in postproduction, these days, DITs and on-set colorists are becoming more common of productions of all sizes.
These folks also need the ability to properly manage color and often do so while grading for multiple screens and for different production operators.
While many companies have released LUT boxes with varying levels of capabilities, there have been compromises made on many, if not most of them.
Well known for their high-end monitors, Flanders Scientific recently released the BoxIO family of LUT box products that offer a number of compelling features and they address many of the shortcomings of competing products.
In this Insight, I'll start out by exploring the basics of the BoxIO, but I also had the opportunity to chat recently with Flanders Scientific's General Manager & CEO Bram Desmet about the BoxIO family and how FSI is really excited about the possibilities of the hardware.
Be sure to check out the very informative audio clip at the end of the article.
The BoxIO Family
The first thing you notice when you pick up a BoxIO is that it's a solid well-built device (2.2lbs) that feels like it is designed for the rigors of being on set and repeated bashing around. This design also has some functionality – the solid metal construction helps dissipate heat, while the lack of holes, vents, etc., helps keep the internals nice and clean.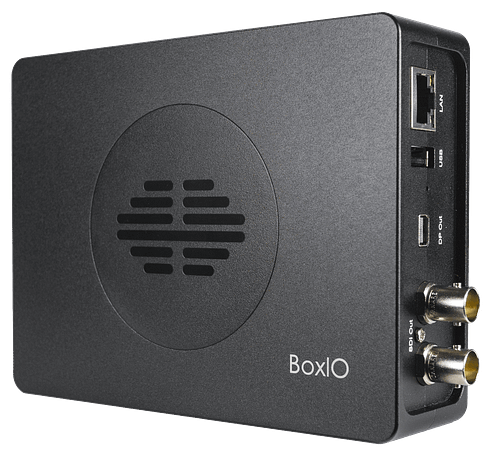 The first thing to understand is that BoxIO not only refers to an actual model from FSI, but also refers to a family of products.
Let's break them down:
BoxIO – This is the dual channel flagship model of the BOX IO. It features 2 x 3Gbps SDI inputs, 2 x 3Gbps SDI Outputs, 2 x 3 Gbps SDI Clean loop-throughs, a Mini Display Port Out, a USB port & a Lan port and can broadcast an ad-hoc Wifi network. The unit is powered by a 4pin mini XLR adapter.  Up to 4k 30p 4:2:2 is supported with a single unit; 4k 30P 4:4:4 requires two units.  Two units are also required for 4k 60p 4:2:2.
BoxIO Lite SDI – This SDI only model sports one less SDI input and one less SDI loop-through. Since its SDI only, it also loses the DP port out.  However, the unit can still run in dual-channel output mode (more on that in a moment). This unit does not have 4k/UHD signal support.
BoxIO Lite DP – Similar to the Lite SDI version, this unit gains Display port out, but loses dual SDI output. Like its SDI cousin, the Lite DP doesn't have 4k signal support.
Additional Connectivity
All BoxIO models have a built-in WiFi (currently only ad-hoc network creation is supported), a LAN port as well as USB port.
The network connections can be used to control a BoxIO unit with the BoxIO software utility. FSI recommends using WiFi for quick configuration checks of BoxIO and Ethernet when live grading or performing a frame capture.
If you need to adapt Display port to HDMI those converters are readily available and very cheap (just keep in mind the BoxIO is HDMI 1.3 compatible).
Every BoxIO is power by a 4pin mini XLR it includes a wall-wort adapter but can also be powered via DC sources like battery packs.
Dual Channel Vs. Single Channel
One thing that makes the BoxIO special is that it's essentially two LUT boxes in one!
In single channel mode, you can switch between either incoming SDI channel and apply a LUT, and then output the processed signal on both SDI (DP mirrors SDI 1) outputs. When operating in this mode you can store up to 16 33x33x33 sized 3D LUTs and switch between them.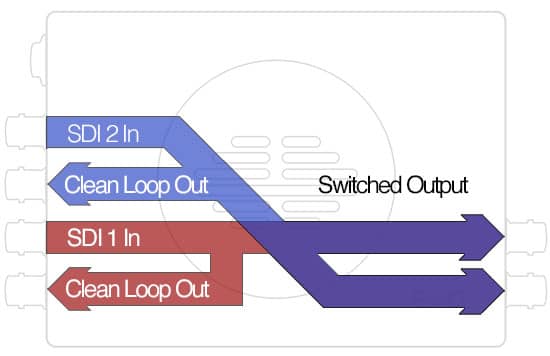 In dual channel mode, each input can be processed independently (2 LUT boxes in one). In this mode, you can store up to 32 (16 per channel) 17x17x17 size 3D LUTs.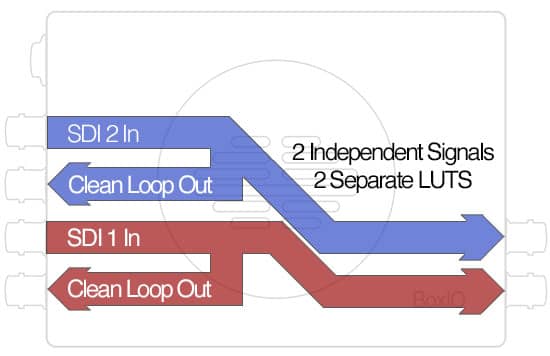 The Lite boxes work in similar fashion.
For the BoxIO Lite SDI, in single channel mode, a LUT is applied to the incoming signal and both SDI outputs get the same processed signal.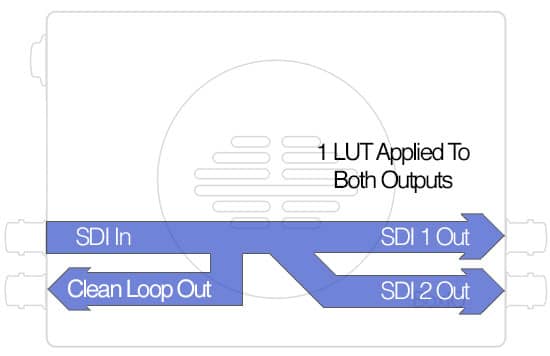 In dual channel mode, you can apply two different LUTs so each SDI output carries a different processed signal.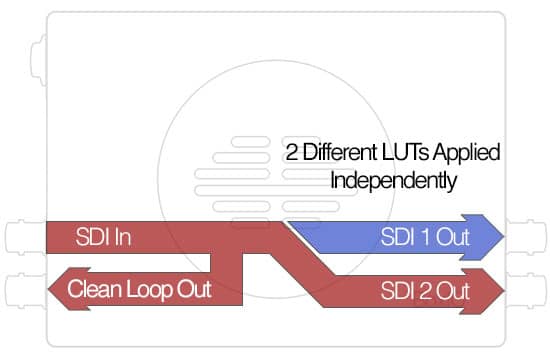 For the BoxIO Lite DP, since there are no SDI outputs, the box operates in single channel mode just like the SDI Lite version, but output is obviously via Display Port.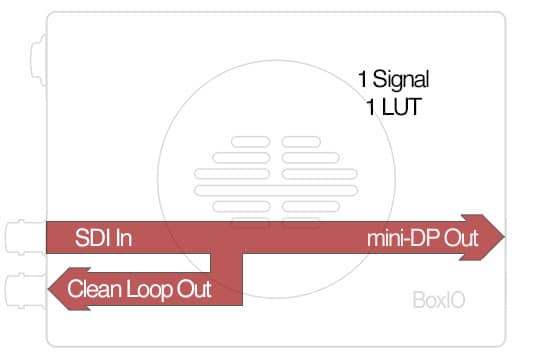 When it comes to UHD/4k support, you'll need the full version of BoxIO.
A single unit can support up to UHD/4k 30p 4:2:2.  If you require UHD/4k 30p 4:4:4 or UHD/4k 60p 4:2:2, you'll need two BoxIO units.
UHD/4k connectivity is simple –  since inputs/outputs are 3G, attach 2 SDI cables (two get the equivalent of 6G SDI) from your source (I/O interface) to the 2 inputs on the Box I/O.
Then take the two 3G SDI outputs to your monitor (or other downstream device).  If you're working with 4:4:4 or 60p, you'd simply double up so 4 cables in and 4 out.
If you need to get HDMI to a large UHD client monitor, for example, you'll need an additional piece of hardware to process the SDI outputs to HDMI – the AJA Hi-5 4k  or 4k Plus work well.
BoxIO Utility & Software Integration
As I mentioned, the BoxIO is controllable over IP (Wifi or Ethernet) with the free BoxIO utility which allows you to control many key features like LUT loading and toggling LUTs on/off, firmware updates, frame capture, and network connectivity.
In addition to this basic level of control, BoxIO is supported for real-time grading with popular on-set tools like Pomfort LiveGrade & QTAKE HD.
But even cooler to those not on-set is that BoxIO will soon integrate Lightspace & Calman for direct LUT loading and it'll even be able to be used as a pattern generator.
Talking To FSI's Bram Desmet About BoxIO
A couple months ago, Patrick and I were traveling with FSI's Bram Desmet in China, and over beers one afternoon we started talking about BoxIO. About 10 minutes into the discussion, Patrick said:
'Guys! You should you really record this conversation and release it as an audio post on MixingLight!'
Taking Patrick up on his suggestion Bram and I recently connected over Skype to talk BoxIO.
In this chat, we go into a lot of detail about the BoxIO and as always, Bram is clear with his explanations so the discussion below should really help you get to know BoxIO.
Here are some of the things we talk about:
Why did FSI decide to make a LUT Box?
What problems does the BoxIO family help to solve?
Is the BoxIO geared towards on-set workflows, post or both?
The different models of BoxIO
Dual channel & signal channel possibilities
Can the BoxIO be used for UHD/4k?
If you have any additional questions for Bram, please use the comments below and I'll ask Bram to jump in and address them.
-Robbie
P.S. Sorry about the occasional audio dropouts on Bram's side.  Skype can be a little finicky sometimes.
Comments