QD-OLED: The next generation of reference-level mastering displays offers hope for colorists!
In our Post-NAB 2023 Office Hours, we discussed the dismal reference display landscape for HDR 4K mastering. There weren't any promising technologies at NAB 2023 for HDR reference displays priced under $30,000US. MicroLEDs seem many years from having reference grade displays that can be used in the color grading suite.
Quantum Dot? It has barely hit the consumer market, with the first QD-OLED released in 2022. Plus, 'quantum dot' sounds more like a marketing term than a physical 'thing' that makes a meaningful difference for video displays.
It turns out – Quantum Dots are real.
After seeing the new FSI QD-OLED in person at the end of May 2023, I immediately starting researching the technology. One of my first stops? ChatGPT, of course! Here's what it said about Quantum Dots:
"Quantum dots" are indeed a real thing, and they represent an important area of nanotechnology and quantum physics. In the simplest terms, a quantum dot is a tiny semiconductor particle, only a few nanometers in size, which is small enough to exhibit quantum mechanical properties.

Specifically, the "quantum" in quantum dot refers to the fact that these particles can only emit or absorb specific, discrete (or "quantized") amounts of energy. When a quantum dot is excited by light or electricity, it can absorb that energy and then re-emit it as light of a specific color. The exact color of the light emitted by a quantum dot depends on the size of the dot. Larger quantum dots emit light that's more toward the red end of the spectrum, while smaller dots emit light more toward the blue end …

… So, while 'Quantum Dot OLED' can indeed be used as a marketing term for certain display technologies, it's rooted in real, tangible science. These technologies are still being developed and refined, with the goal of producing higher-quality, more energy-efficient displays.

ChatGPT v4
Here's a graphic from Nanosys.com, the company that developed quantum dots, to help explain how they work: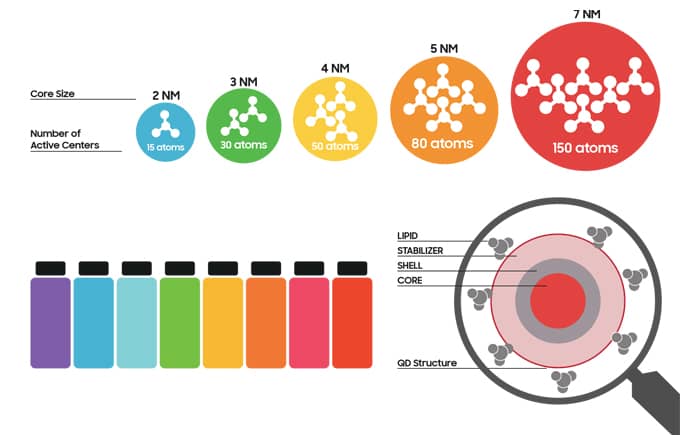 If you click the link in the caption, Nanosys has a variety of simple graphics and explanations to help the non-scientific among us understand this new technology.
If our members would like, I can put together a more detailed Insight on how QD-OLEDs differ from traditional LCD and OLED panels. In the meantime, visit this conversation I had with ChatGPT that does an great job explaining the differences between QD-OLED, OLED, and LCD displays.
Flanders Scientific (FSI) introduces the industry's first reference grade QD-OLED mastering display: XMP550
I was excited to be invited up the FSI's global HQ by their CEO, Bram Desmet. Bram was VERY jazzed when he called me and said he had something new to announce. The panel is being unveiled at Cinegear 2023 in Los Angeles. But I felt honored to be the first non-FSI employee to evaluate the display in person.
Bram also agreed to an on-camera interview – which I've embedded into this Insight.
My quick takeaway
The XMP550 represents the first panel technology in years that may bring down the price of legitimate HDR UHD mastering displays to the sub-$10,000US price point. Currently only offered at a 55″ size, if you look at the consumer market, a few QD-OLED gaming monitors have rolled off Samsung Display's production lines in the 34″ range, for colorists who want to color grade in smaller suites. Some other observations of mine:
Off-axis viewing is as good as we discussed in the video and is specified at 179º.
It's astonishing to see how much detail this panel holds in the highlights, especially compared to Full Array Local Dimming displays currently dominating the sub-$10,000 market.
Bright pixels AND colorful? Yup.
There are moments in the video interview where you can get a sense of just how bright, contrasty, and colorful the images are. But really, you have to see it in person to get a true sense of its performance.
Contrast ratio: >2,000,000:1
Additional Links and Information
Mixing Light's First Look with Bram Desmet about the new Flanders Scientific XMP550 2,000nit QD-OLED mastering display
Comments