Day 21: 24 Insights In 24 Days – 2020 New Year Marathon!
Quick Export? I thought that was just for YouTube!
When Blackmagic released Resolve 16 – they included a really cool new Quick Export dialog. This was an easy way to output your sequence, from any page in the software, without having to build a render job in the deliver page.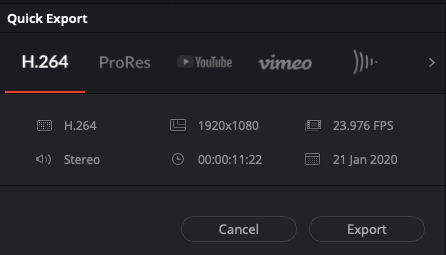 The only issue? At first glance, it looks like the options are entirely too limited to be of any real use for client-driven colorists or editors. I think a lot of people (myself included) wrote the feature off as 'not for my workflow', and just continued using the Deliver page.
The key is in the presets
What most people missed, however, is that you can actually take deliver page presets – and save them for use in Quick Export. This completely changes the level of usefulness, as you can build a library of presets you use often – and then have instant access to them anywhere in Resolve.
These presets will respect all the options you set on the deliver page – including resolution and naming options, so it's worth taking some time to set up different presets for all the various formats you regularly use. Having those options at your fingertips will save you time in your day to day work.
In this Insight I'll show you how to:
Map quick export to a hotkey for faster access
Build various render presets
Assign and use those render presets in quick exports
As always – leave any comments or questions below!
-Joey
Member Login
Are you using our app? For the best experience, please login using the app's launch screen
---
Comments