Cost-Effective, Powerful Scopes Also Double as a Digital Recorder
Pat, Dan and I have expressed our love of Divergent Media's ScopeBox A LOT over the years.
In a world of high-cost hardware scopes and rasterizers, ScopeBox is an amazingly flexible and powerful tool.
Factor in some specialized scope options like HML Balance, Channel Plots, a great implementation of Alexis Van Hurkman's Hue Vectors Graticule for the Vectorscope, and ScopeLink for integrating with Adobe Creative Cloud and Final Cut Pro X, there is no doubt that if you have a Mac and an extra $99 USD, ScopeBox is a no brainer purchase.
In this Insight, I want to share with you another way of using ScopeBox  – as a digital recorder.
While I always knew about this functionality, it wasn't until a recent hardware failure that I put it to the test, and I'm glad I did.
ScopeBox as A Hardware Legalizer? Sort of.
I haven't recorded with my trusty Sony 5500 HDCAM SR deck in a few months.
Why?
Almost all of the projects I work on –  both broadcast and non-broadcast – are being delivered digitally.
While that can mean a few things – like on LTO tape, SSD or as an upload – I'm not doing nearly as many tape laybacks as I once did.
Instead, I'm delivering ProRes and DNxHD files either as QuickTime or in the case of DNxHD as MXF wrapped files.
So, that workflow sounds simple enough and you're probably thinking – "you just export from Resolve or an NLE right?"  Well… not quite.
The reason I can't just export from my color grading app is that I need to take advantage of outboard hardware legalization.  Back in Insight 150 we took a look at using the trusty Harris DL-860 to do just this.
Unfortunately, there is no way with the DL-860 to record the files we feed it. We must pipe video into it as SDI – but how the heck do we record the final legalized video from the SDI output of the DL-860?
That's where the digital recorder comes in.
Pick A Recorder, Any Recorder!
Over the years I've tried quite a few recorders out there from AJA, Blackmagic, CineDeck and others.
Ultimately, for cost and feature reasons I settled on a HyperDeck Studio Pro.  For the past year or two, I've fed this device from the output of the DL-860 to record the legalized content.
The signal path usually looks like this:
Resolve/NLE > Legalizer > (Terranex Standards Conversion if Needed) > Hyper Deck Studio Pro
Recently, I saw that a firmware update was available for the HyperDeck and performed the update.
Bad idea!
The update bricked the HyperDeck Pro, making it useless  – I've lost serial control, I can't record anything (regardless of SSD) without dropping frames and the unit frequently power cycles itself.
Yikes!
I've been in touch with BlackMagic and they're taking care of me, but I still have shows to get out the door!
I was starting to panic when my buddy Joey D'Anna reminded me of the recording functionality of ScopeBox.
Well, I'm glad he did!
In the past 2 weeks, I've been using ScopeBox as a digital recorder, and it's worked out really well.
The graphic below shows you how I have things (in a general sense) wired up: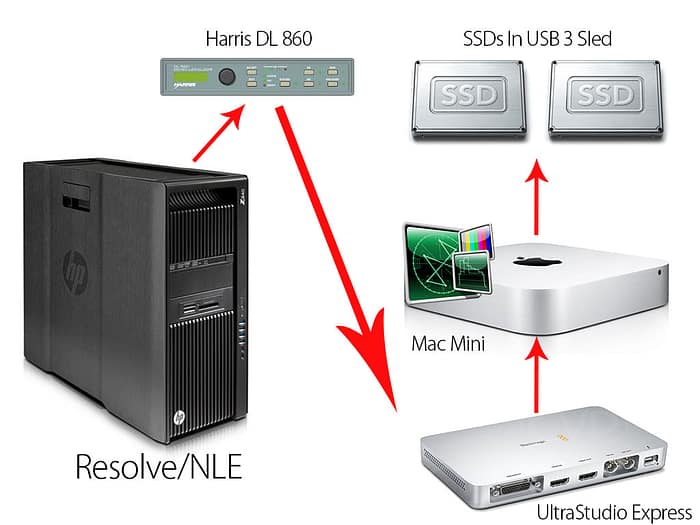 In my facility there is a little more "routing" going on with a patch panel but this gives a pretty good idea of the signal path.
Scope Box as a Recorder – Essential Steps
The first thing that strikes me about using ScopeBox as a recorder is that if you didn't read the manual – it would probably take a you a little while to figure out how to set up a recording!  But I think you can boil it down to a few steps.
1. Hide scopes/pallets if you're on an underpowered system – in my experience, this helps prevent against dropped frames, etc.
2. You can only make recordings from live sources like an I/O device or a camera.  If you're using a movie file or a ScopeLink source you can't make a recording.
3. Here's the big one – you must select the top bar of the clip list window ( cmd + } ) when you do if you're in the palette settings area ( cmd + \ ) – you'll see options for recording. This one is confusing, just watch the video Insight at the end of this article and it'll be 100% clear to you.
4. Enable your recording options including choosing what tracks you want to record, recording alerts and your transcoding options.
5. Finally, make sure that you've enabled source recording for your selected source.
I know that sounds like several steps, but you'll become pretty quick with it once you start using custom layouts (for hiding other scopes) and understand the behavior of selecting the top bar of the clip list window.
Scope Box as a Recorder – Pros & Cons
Now that I've had a couple of weeks to bang on using ScopeBox as my principle recorder I've discovered some things I really like, and some things that I hope will see some improvement in the next version.
Pros
Cost – for $99 you get amazing scopes, recording, and QC reporting.  No brainer.
Simple setup – After adding a couple of high-speed SSDs to a USB 3 sled on the Mac Mini I use for ScopeBox, and of course configuring my I/O devices, besides a couple of options its configuration is simple.
Fail-Safe Recording – One awesome thing about using ScopeBox as a recorder is if you drop frames in the source area you'll get a warning – this allows you to stop the recording and start over and not waste time with an hour-long play out. In addition, if a recording gets interrupted you don't lose what you've already recorded.
Common Codecs – since you're on a Mac with ScopeBox – download ProRes codecs for free and while you're at it install Avid DNxHD codecs to get DNxHD QuickTime recording.
Cons
No MXF recording– as a QuickTime based application I get why, but these days I deliver A LOT of content to DNxHD MXF.  It'd be nice to have this ability.
Built-In Recording Preset – Small Gripe, but it'd be nice to have a quick built-in preset for optimizing the interface for recording.
Pseudo Device Control – One of the things I miss about the HyperDeck Pro is traditional device control.  I know that's sort of hard with an application on another computer (i.e. crash record) but some control via a network connection would be awesome.
As I dive more into using ScopeBox as a recorder I'm sure there will be more that I find that I love and more that wish could be better.
With that said, for right now I'm not missing my HyperDeck Studio Pro all that much and with exception of MXF recording, and I think that ScopeBox could take the place of that stand-alone unit.
-Robbie
Member Login
Are you using our app? For the best experience, please login using the app's launch screen
---
Comments