A powerful stand-alone alternative for upscaling, retiming, and sharpening video images
Unless you've been living under a rock, you've certainly heard about the recent Machine Learning revolution (marketed as Artificial Intelligence) – from ChatGPT and Google Bard for text, to Midjourney and Stable Diffusion for images. If you're still feeling a bit hazy, Mixing Light contributor and industry rockstar Katie Hinsen created a fantastic introduction to Machine Learning when it took over NAB almost five years ago in 2018. Rereading that article in 2023, my main takeaway is that we've come a long way, but the general concepts have not changed much – we just have more computing power.
By the end of this Insight, you should understand:
What is Topaz Video AI?
Its main features and how it differs from the tools in Resolve (or other NLEs).
Whether you want to try this technology/application within your workflow or business.
I don't think Topaz Video AI is for everyone – but it's tech we all need to watch. It's also a good tool to learn how different machine learning models can be used to solve a single problem – with differing results.
Introduction to Topaz Video AI
Topaz Video AI is a 3rd party stand-alone software application for Windows and MacOS that uses machine learning (ML), or, if you believe the hype, artificial intelligence (AI). Topaz Labs also has a less expensive application for still images, Topaz Photo AI – which I won't be covering in this Insight. At the time of publication, both applications include one year of software updates in the purchase price. Annual (optional) upgrades are currently priced at a 50% discount on the initial purchase price.
The main features of Topaz Video AI include:
Upscale/enhance videos to higher resolutions, making them appear sharper and more detailed (similar to Resolve's SuperScale, which requires a Studio license, but has additional features)
Retiming (Optical Flow style slow motion, a paid Resolve Studio feature)
Deinterlacing (also a DaVinci Resolve Studio paid feature)
Most "AI-assisted" applications like Topaz Video AI (TVAI) employ a collection of predefined algorithms (typically called "models) which are constructed using Generative Adversarial Network algorithms (GAN) to recognize specific patterns (interlacing, video noise, human faces, skin tone, etc.) and respond. Applications using GAN tend to have several "models" you can choose from, representing various datasets (situations) used to train the model.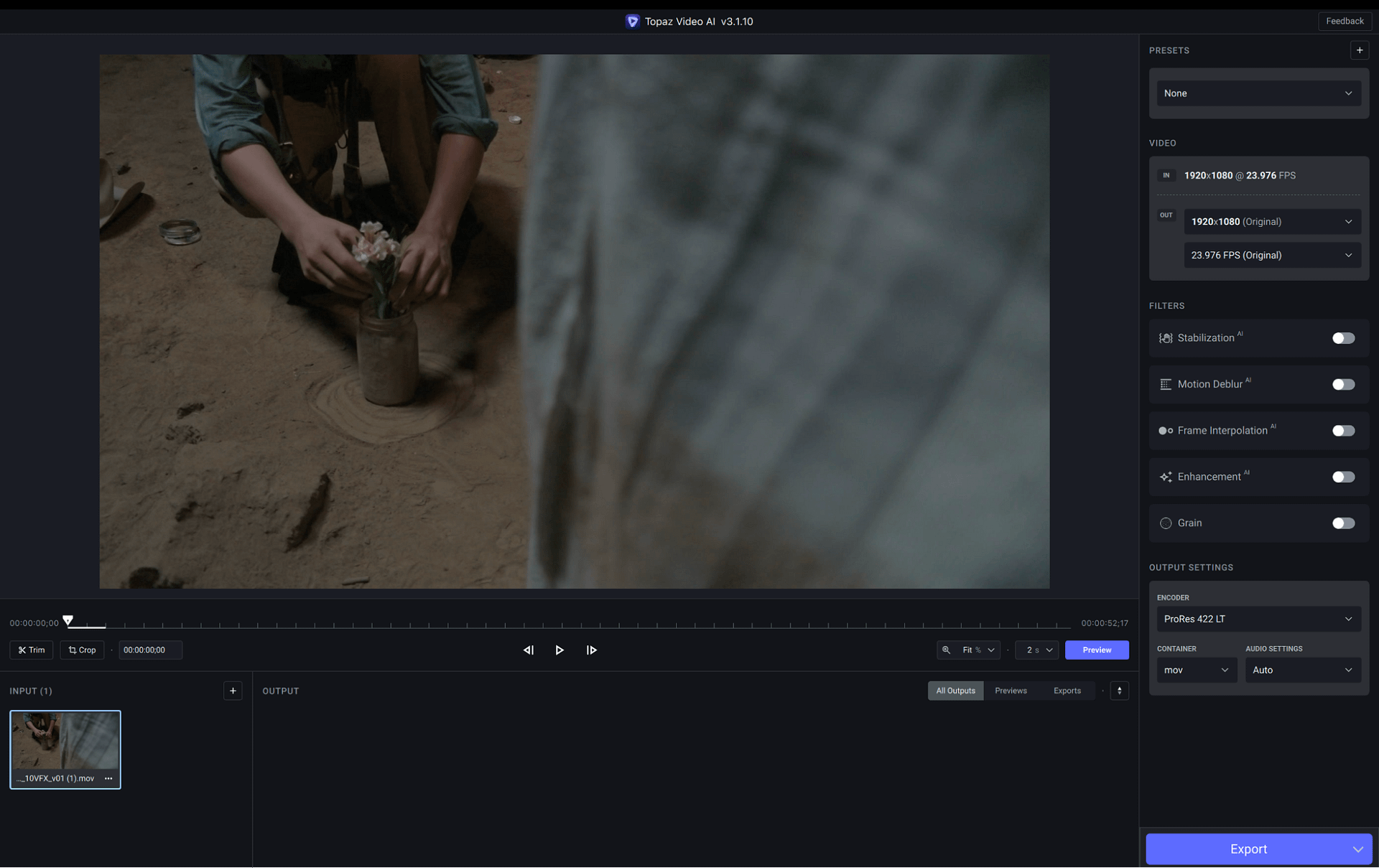 The software uses various machine-learning algorithms to analyze and understand the content of a video, including motion, texture, and color. Then it applies sophisticated ML models to increase the perceived resolution. Its goal is to improve the motion and detail of the video. The result should be a higher-quality video that may look better than the original source.
Getting started with the included presets
Member Login
Are you using our app? For the best experience, please login using the app's launch screen
---
Comments