Making The Hardest Part Of DCP Drive Delivery Easy
Years ago making DCPs was a dark art.
Facilities charged an arm and a leg for DCP services, in part, because DCP creation software was so expensive. The actual authoring process was complicated and in general, out of reach for the solo operator, small facility or production company.
Things slowly got better with the introduction of affordable (relatively) stand-alone authoring applications like Easy DCP Creator, Final DCP and others plus a plethora of cheap or free solutions like DCP-O-Matic. Most recently, we have native DCP authoring capabilities in tools like DaVinci Resolve Studio.
These days, DCP authoring is accessible, accurate and really fool-proof for all but the most complicated authoring situations or projects that are pushing the bleeding edge (Dolby Vision, Atmos support, etc).
For most users, creating a DCP is not an issue anymore – delivering a DCP using a standard DCP delivery setup – hard drive/SSD, CRU sled, and Pelican case is the hard part.  What's hard about that you might be wondering?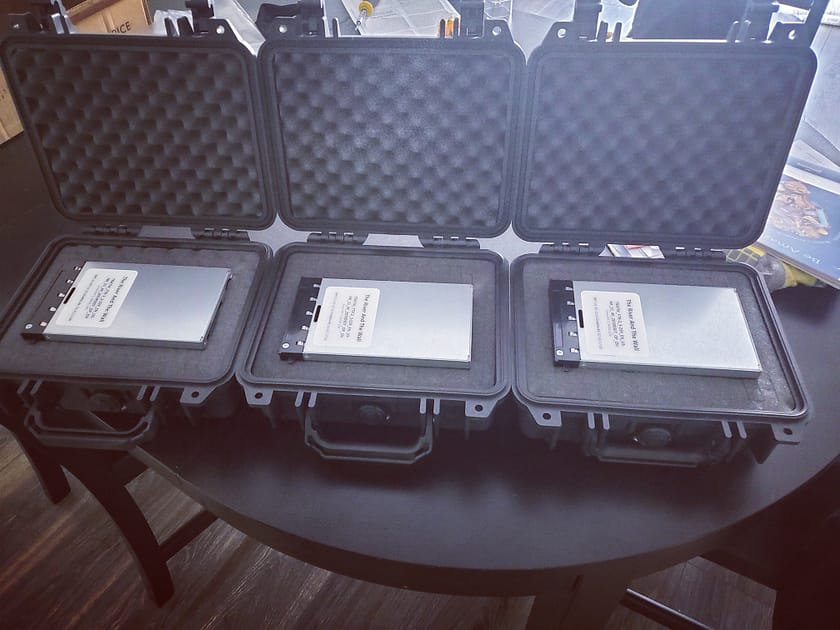 While some festivals and theaters will accept NTFS or exFAT formatted USB external hard drives, the vast majority will want a standard DCP delivery setup – the thing is, the drives in those setups are formatted as Linux EXT2 (inode 128) as this is generally accepted as the most universal formating for cinema servers around the world.  On Mac and PC systems you can't natively format drives like that (or even read them).
The most straightforward situation is to format drives for DCP delivery on a Linux computer.  In our most recent re-visit of DCP authoring, contributor Joey D'Anna helped me document EXT 2 formatting on Linux in a detailed step by step guide.
Sure, with practice, you can get the hang of all the Terminal steps, but I have a confession to make….I still ask Joey to format all our drives for DCPs!  I'm just so paranoid of screwing it up!
What do you do if you don't have a Joey?
Or perhaps most importantly a Linux computer and Terminal chops? In this Insight, you learn about my experience with DCP Transfer from Cinematiq  I had some problems with the machine we usually format EXT 2 DCP drives on, so I decided to re(re)-visit the DCP Transfer app, which I first mentioned it in my previous DCP Insight.
About DCP Transfer
Based in San Francisco, Cinematiq has been a DCP authoring company for years.  They've been a trusted facility for countless filmmakers & festivals.  With that experience, they decided to fix a problem that many filmmakers and operators were having with DCP delivery – Linux EXT 2 formatting.  Keep in mind, for some time, companies like Paragon have made tools for reading EXT2,3,4 on Mac and Windows, in fact, DCP Transfer uses Paragon (which leverages FUSE) to provide EXT file system support on the Mac and Windows.
That's an important point!  Right now, DCP transfer is only available on Mac. There are plans for a Windows version, but at the time of this Insight, that version is not available.
Of course, there is more to DCP transfer than just access to and formatting of EXT volumes, but for most users, that is the biggest hurdle.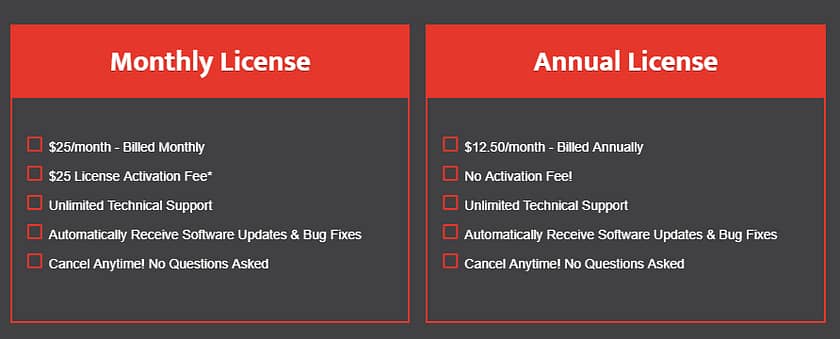 DCP transfer is available as a subscription – you can purchase a monthly license for $25/month with a one time $25 activation fee. There is also an Annual License for $150 ($12.50/month). The annual license doesn't have an activation fee.  In my opinion, the annual option makes a bit more sense – as it can pay for itself in a project or two.
Formatting, Transfer & Validation
After installing DCP transfer and restarting your system, you'll now have the ability to access previously formatted EXT drives just like any other drive, but opening up DCP Transfer is where this application comes into its own.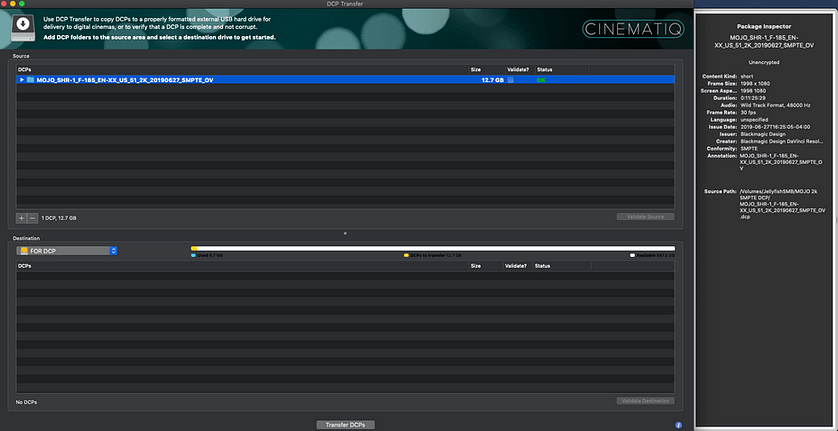 The DCP Transfer UI is intuitive and easy to use:
Source Section – Here you can add DCPs you wish to transfer to a formatted drive.  You can add multiple DCPs and you can choose to checksum/validate the structure of the DCP package.
Destination Section –  In this section, you can choose the drive(s) you want to use to move a DCP too.  It's in this section that you can also format a drive and verify formatting, as well as checksum/validate a DCP after it's transferred to the drive.
Package Inspector – Opening up this section reveals essential metadata about the DCP including its content type, frame size/aspect, audio configuration, package type and more.
Transfer DCP – This is the go button. If you haven't previously formatted/validated as separate steps, you can do everything in one go from the dialog that pops up.
It's important to be clear about what DCP Transfer is not.  This application does NOT create DCPs, it does NOT play DCPs (you can use Resolve Studio for that – for unencrypted ones at least), and it does NOT let you edit DCP data in any way.  It's a straightforward tool to access the EXT file system and create properly formatted drives, checksum/validate DCPs and transfer for DCPs to formatted drives.
DCP Transfer In Action
In the video below, I'll put DCP Transfer into action to show you how it works and how straight forward the application is.  In addition, I'll show you how because DCP Transfer installed Paragon/FUSE you can access any EXT drive and even format them in Apple's Disk Utility.
If you have any questions or anything to add to the conversation please use the comments below.
-Robbie
Member Login
Are you using our app? For the best experience, please login using the app's launch screen
---