OWC's ThunderBay Flex 8 – What is it and who's it good for?
It's no secret, I'm a gear-head when it comes to post production, computers, and workflow. I love new equipment and coming up with ways of working faster. When OWC reached out to Mixing Light to review their new ThunderBay Flex 8 – I was excited to try to push it to its limits. I wanted to see how I can use it in my workflow as a colorist and figure out other use cases for our business.
---
FCC Disclosure: Mixing Light is an affiliate of OWC and affiliate links appear throughout this article (which help support Mixing Light, at no cost to our members). OWC provided Mixing Light and me, Joey D'Anna, a Flex 8 populated with drives for the purposes of review, testing, and writing this article.
---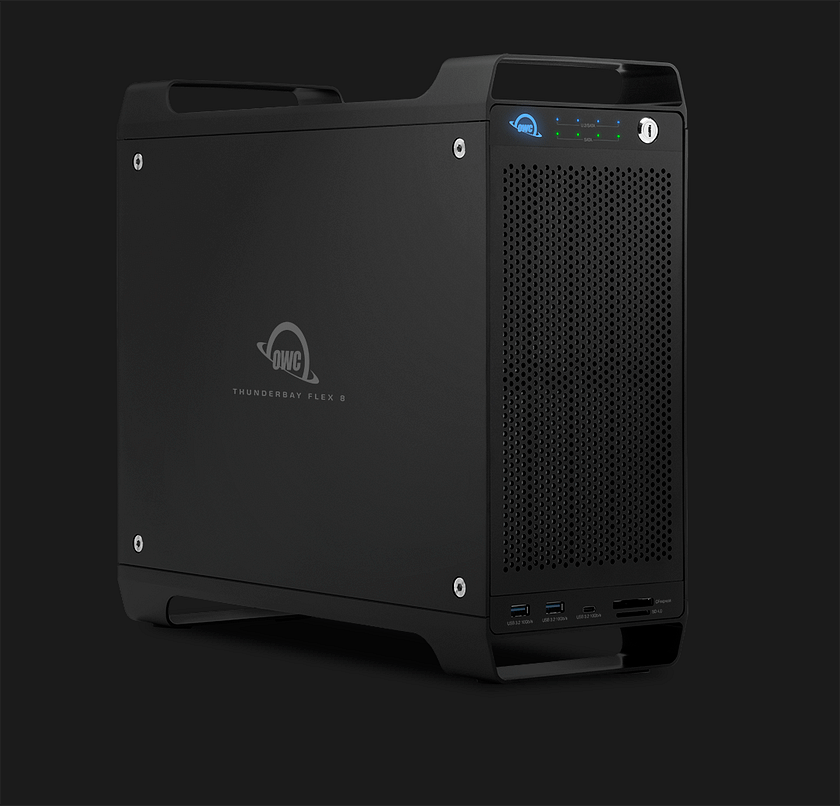 In this review, you learn the hardware options the Flex 8 offers and then you see the results of its real-world performance and how I am utilizing it in my suite.
ThunderBay Flex 8: Hardware Overview
The ThunderBay Flex 8 is, at its core, a direct-attached Thunderbolt-3 RAID chassis (click through for current pricing and its product page). It contains eight drive bays and is built for high-speed local storage on a Thunderbolt capable Mac or PC. What makes the Flex 8 different is that it's more than just a drive chassis. In addition to the eight drive slots, the Flex 8 includes:
A multi-port dock, adding USB 3.1 and USB-C ports to the front of the unit
A built-in high-speed card reader for SD and CFexpress cards
(2) PCI-e slots
An 85w powered Thunderbolt3 port – capable of connecting additional peripherals or charging a laptop
An additional 15w Thunderbolt3 port for powering lower watt peripherals, keeping them from monopolizing the 85w port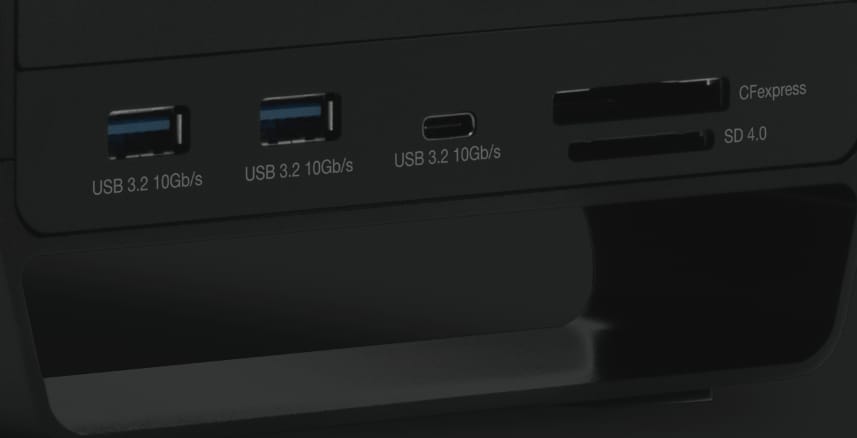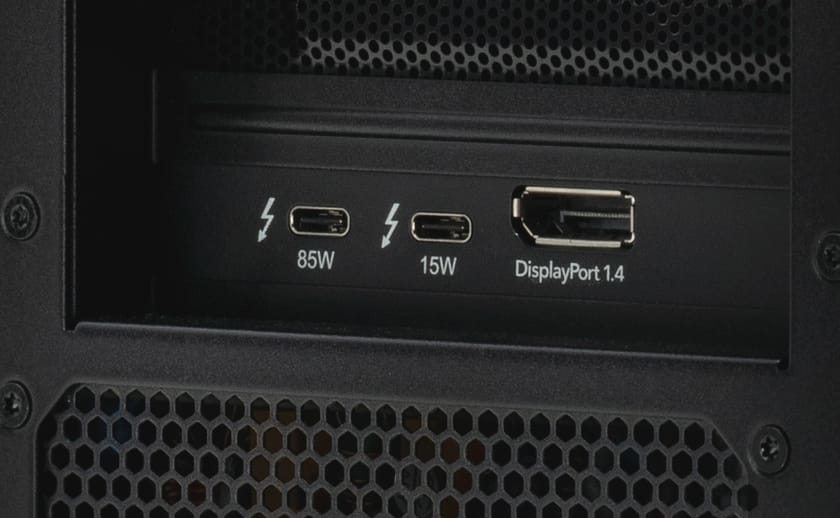 U.2 SSD: Reconfiguring the top four slots
One cool thing about the Flex 8 is that unlike other SATA/SAS drive solutions; the top 4 drive bays are U.2 capable. U.2 SSDs may look like a typical SATA SSD, but they connect over high-speed PCI-e lanes, giving them incredible performance. Even a single U.2 SSD provides a massively fast cache drive, and combining multiple into a RAID0 will yield tremendous speeds.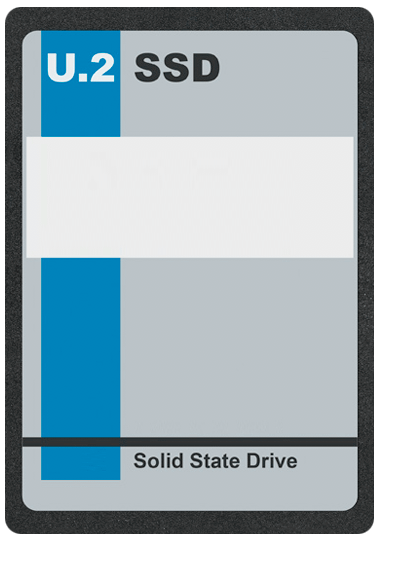 Flexibility – It's Right in the Name!
Totaling up all these features and you have a system allowing a slew of different workflows. A few examples include:
Utilizing the (4) U.2 slots – the top row in the unit – for creating a super-high-speed SSD RAID0 for cache
Using the built-in card reader to copy client media quickly
Leveraging the open PCI-e slot to add additional storage or video capability
The PCI slot is probably my favorite part. It's a great place to add 10 Gigabit ethernet for connecting to shared storage – or to add a DeckLink card to a machine without PCI slots (like a Mac Mini, Macbook Pro, or iMac.)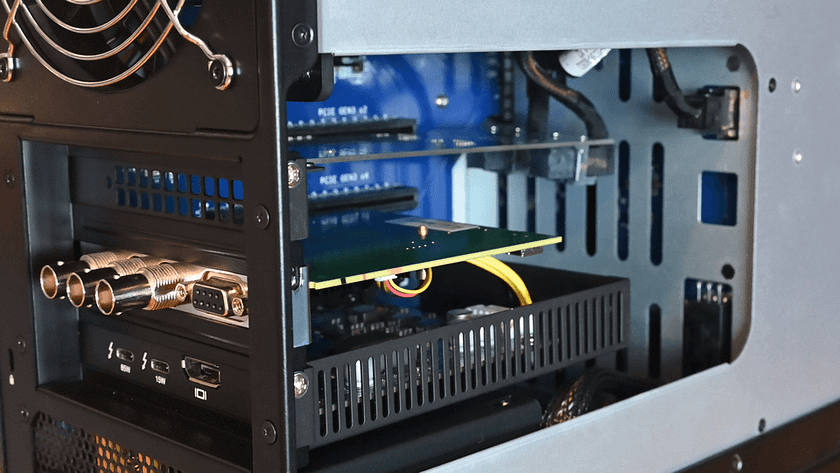 To SoftRAID or not to SoftRAID?
It is worth mentioning that the Flex 8 is not a hardware RAID. Running it in a RAID5 configuration requires a RAID solution.
The Flex 8 comes with a license for OWC's SoftRAID software, which is a powerful software RAID system for Windows and macOS. Here's the thing – the SoftRAID driver is included in default macOS installations, so if you buy a Flex 8 preconfigured in RAID5 – you can just plug it into any Mac and see the volume instantly! If you are on a PC – OWC offers SoftRAID that works in RAID0 and RAID1 (mirror), with support for RAID5 coming soon. Windows 10 also has built-in software RAID0 and RAID5, which you can configure using the disks in the Flex 8.
But another cool option – the Flex 8 lets you install a dedicated hardware RAID card.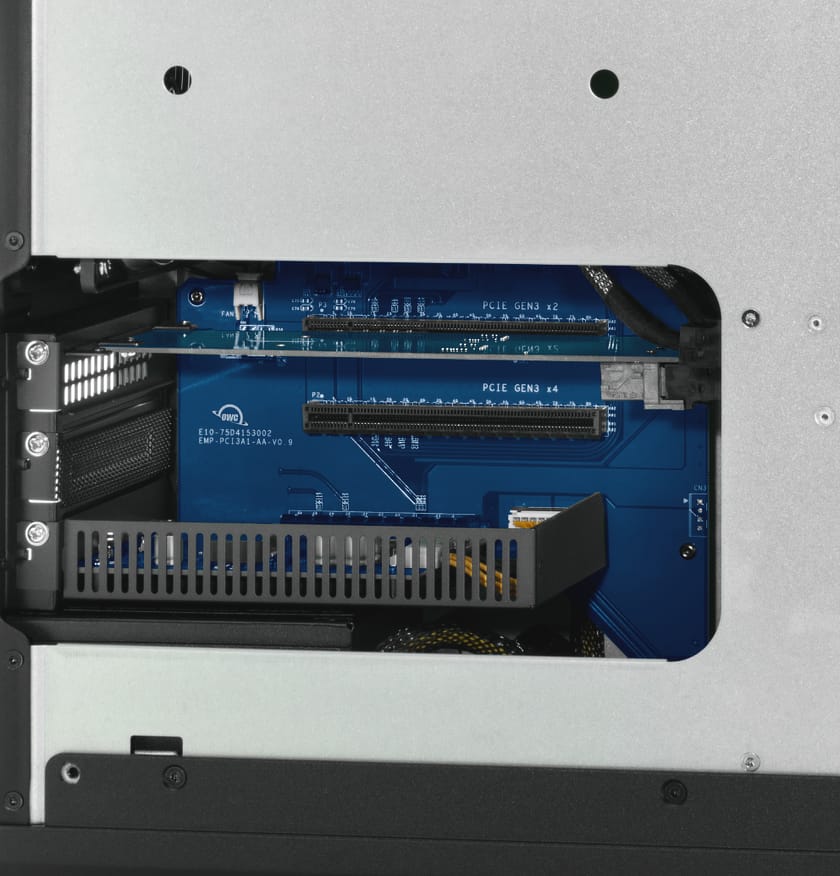 I mentioned earlier that the Flex 8 has two built-in PCI slots. In the default configuration, a SATA controller occupies one position – connected to the drive bays. You can replace this controller with either a SAS controller (if you want to utilize SAS disks) or a SATA or SAS hardware RAID controller. The latter configuration is powerful if you're using the Flex 8 for cross-platform mobile storage. You just format the hardware RAID volume in HFS+ and access it on either Mac or a PC (with software like MacDrive) – without worrying about the type of software RAID being used.
SIP, Secure Boot, and installing the SoftRAID driver
The SoftRAID driver installed with the macOS isn't usually the most current version. If you want the latest and greatest SoftRAID driver, you'll need to follow a few steps to install it. If your Mac has a T2 security chip, this involves adjusting some boot security permissions – which warrants a short discussion.
To install the latest SoftRAID driver – you need to disable Apple's Secure Boot. There are a few essential things to know about this (it's not as bad as it sounds):
You do not have to install the latest SoftRAID driver. Currently, SoftRaid 5.8.1 is shipping with macOS and it's perfectly capable, performs well, and is reliable. If it weren't – Apple wouldn't include it in shipping versions of their operating system. Personally, I've been running the Apple-shipping version of SoftRAID for both the Flex 8 and the older ThunderBay4 I've used for years without concern.
There is a BIG difference between disabling Apple's Secure Boot for a RAID driver and disabling Apple's SIP (System Integrity Protection). SIP is a feature introduced in OSX 10.11 that continually monitors all system files, making sure no software (malicious or not) messes up your OS installation. Disabling Secure Boot allows essential 3rd party software to load up in the first few minutes after power-up; but SIP is still in the background protecting your operating system.
I've seen quite a few pieces of post-production software that do not work unless you permanently disable SIP – and I always recommend avoiding that software. SIP's only job is protecting your Mac. If a developer is doing something that requires a SIP disable – this is very likely from bad programming on their end. Consider that requirement as a warning bell.
OWC's SoftRAID drivers do not require disabling SIP – so I wouldn't fear in following OWC's instructions for installation. However, if you are like me – and like to keep things as close to factory as possible – I'm sure Apple will eventually include newer versions of SoftRAID in future OS releases. I'm happy to wait on Apple to install those drivers in a future OS update.
For more information, OWC has published a blog post with more detailed information on the SIP and Secure Boot topic.
ThunderBay Flex 8: By-The-Numbers Performance
So – how does the Flex 8 perform? In my configuration, I have a single high-speed U.2 SSD for fast caching of things like image sequences, and I have a seven disk RAID5 for backup storage of larger client media files.
Flex 8's performance is impressive. Editing and grading off of the spinning disk RAID is consistently real-time, with no hiccups or issues. Grading from image sequences, or from caches on the U.2 SSD, also performs well.
Blackmagic Design Disk Speed Test
While benchmarking the Flex 8 – I found some interesting things about doing disk speed tests. Even on the same machine – the type of test, and how it reports speed – can be wildly different. Personally – I don't think disk speed tests are the be-all end-all measure of performance. But they do give us a clue as to how much data can move through both a RAID – and your individual system.
First – the BMD speed test. The single U.2 SSD pulled over 2300MB/s read speed. A RAID0 of more U.2s would be even faster. The seven disk RAID5 also performed well, getting over 650MB/s write and 510MB/s read speeds. More than fast enough for almost any modern post-production media format, and this is in a redundant RAID5 configuration. Configuring disks in a RAID0 will net even faster speeds.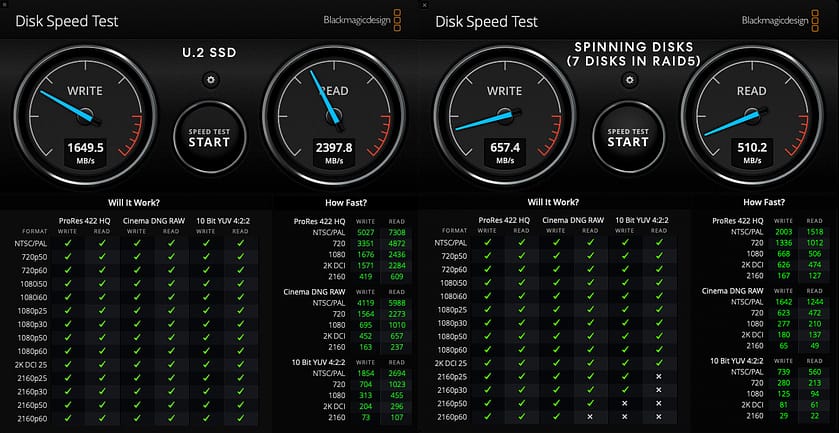 But after doing some math and talking to the folks at OWC – I found that while excellent, these numbers didn't seem to fully reflect what the system was capable of. So I looked a bit deeper, and while the BMD speed test was reporting a 510MB/s read, the Mac's Activity Monitor (with nothing else running or happening on the system) was reporting much more bandwidth: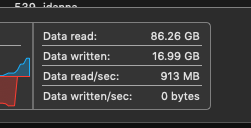 AJA System Test
So I decided to try a different test. Using the AJA System Test, with the image frame size set to UHD (a typical workload for my projects) – I consistently get much higher speeds:

So at the end of the day – there is no question, the Flex 8 performs very fast. Different workloads and different tests with different apps running will yield varying results (even on the same system!) but in actual, real-world use, the performance is excellent.
And the PCI slot? It is capable of 4 PCI lanes (the maximum possible with Thunderbolt3). I'm using it to host a DeckLink 4k card – and it works perfectly, even in 10 bit, 4K Resolutions. It's functioning seamlessly as if the card was inside the computer, and has never had any issues dropping frames or hanging up. I really can't tell the difference between the DeckLink inside the Flex 8 and a DeckLink inside the computer directly.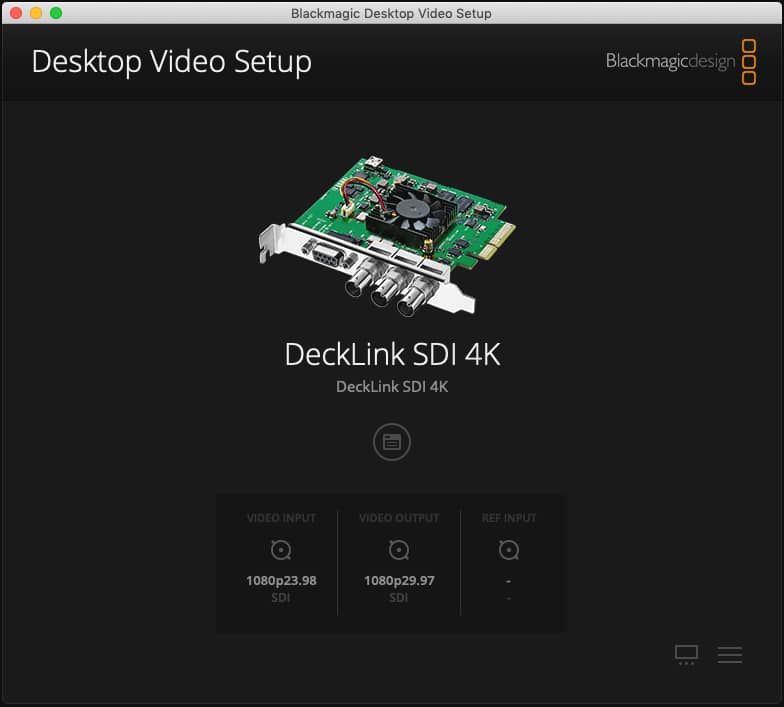 Is OWC's Flex 8 the right solution for you?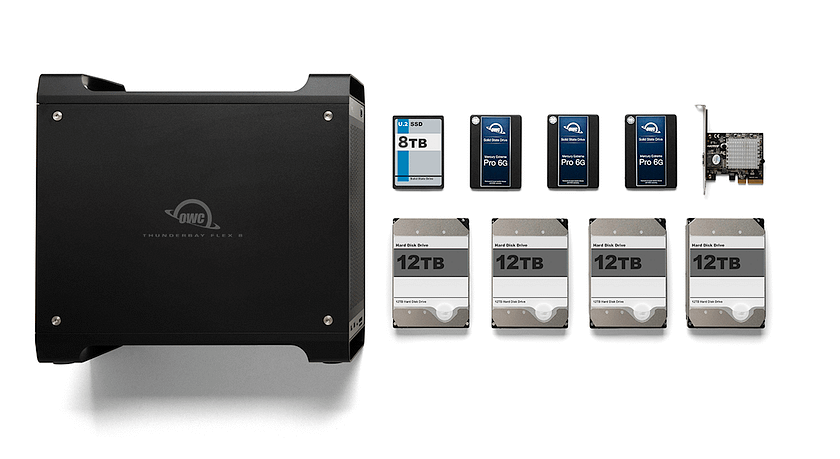 I'm laying out three different example configurations for three different workflows (including my own). I think you'll see that the configurability of the Flex 8 is it's greatest strength; it has multiple use-cases. These use-cases should help you decide if it's right for you.
Configuration 1: A solo colorist's primary workstation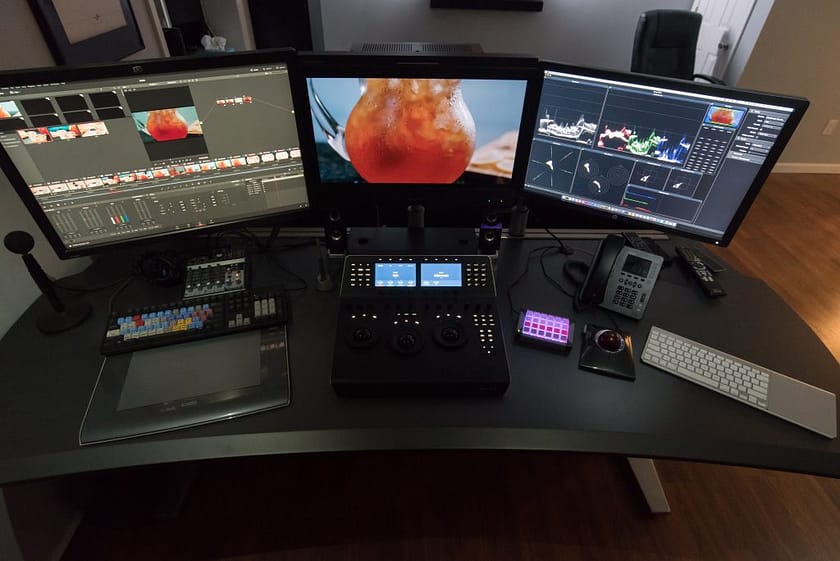 If you are a solo colorist, editor, or a bit of both – the Flex 8 is a fantastic option for direct-attached storage. Let's configure one for use with a beefy iMac or iMac Pro setup:
In this configuration – you have a massive 60TB, high speed, fault-tolerant RAID5 storage. It's fast enough for most client work – but for heavier raw or image sequence workflows, you also have a 16TB super high speed U.2 RAID0.
For most clients, you store your media on the fault-tolerant RAID5 volume – and cache to the SSD RAID0 for performance.
Utilizing the Flex 8's PCI slot for a DeckLink Mini Monitor 4k – the solo colorist/editor gets a full 4k SDI output at a reasonable cost of $200. A similar, standalone thunderbolt box for SDI output costs over twice that. The Flex 8 also offers a second thunderbolt port – so if you need more GPU performance in the future, you can add an eGPU chassis.
As a bonus, you get the easily accessible front-mounted USB ports and a high-speed card reader for connecting client drives/media.
Configuration 2: A Colorist Assist Station
This configuration is how I am using the Flex 8. Let's say you are a colorist, with a high spec'ed workstation, connecting to existing high speed shared storage. Assist stations are a great way to offload non-color tasks like conform/editorial/graphics/email/etc., and make a fantastic platform for running software scopes like ScopeBox or the upcoming/new OmniScope.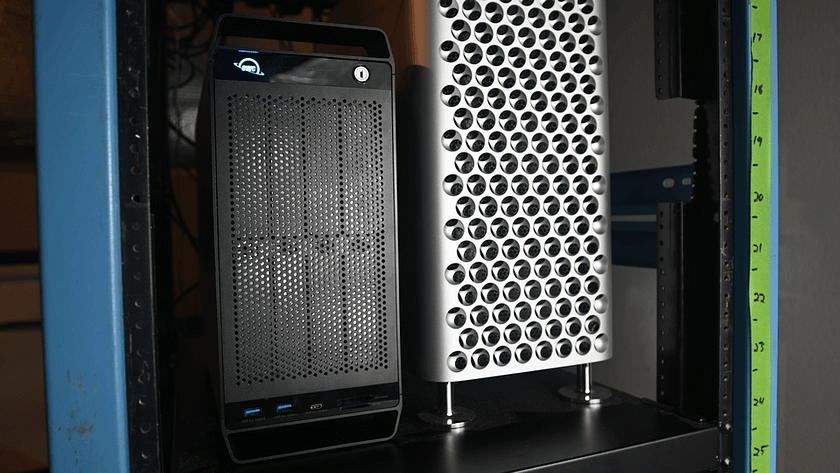 For an assist station configuration, I prefer the most recent generation Thunderbolt3 capable Mac Mini, and add:
A Flex 8 with (8) 12TB spinning disks
A Decklink SDI 4k
Just like the configuration above, you are saving a good amount of money by using a much cheaper PCI card for SDI I/O. I've chosen a card with inputs as well as outputs since this configuration runs my software scopes.
But why so much disk space? Because an assist station is a perfect tool to do regular backups of your current project media! I use the Mac Mini's built-in 10G ethernet to connect to my shared storage – and then I use rsync or Carbon Copy Cloner to make nightly backups of all my current projects' media.
This configuration gives me a great level of disaster recovery.
If I suffer a major failure on my shared storage system and I'm on a tight deadline, I can simply unplug the Flex 8 from my assist station, plug it into my main Mac Pro, and continue working with no interruption! That's a great fall-back plan in case if a big failure, and since the Flex 8 is fast enough to work off of directly – I can transition to it at a moment's notice.
Configuration 3: DIT or on-set Storage Solution
The Flex 8 is also an ideal solution for on-set storage and media transfer. Since it has an 85W Thunderbolt port, you can connect it to a modern Macbook pro – using it for both storage and powering the laptop.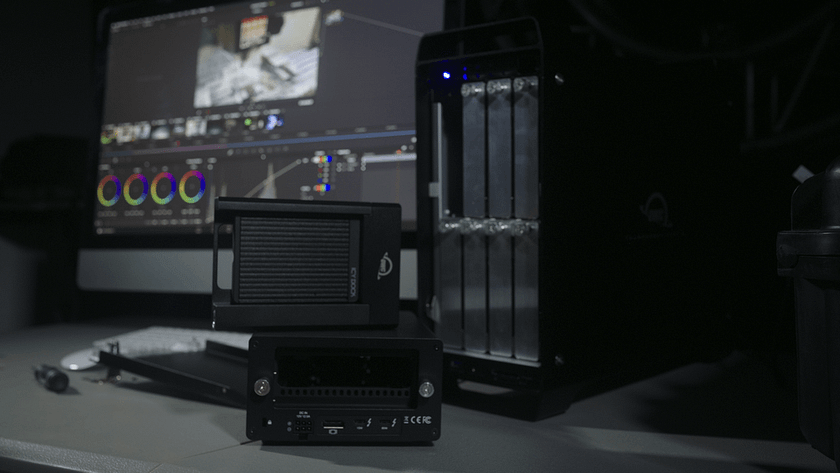 An example on-set configuration includes:
(4) 12TB spinning disks
(4) 8TB U.2 SSDs
The OWC U.2 Interchange System, with multiple U.2 sleds
A DeckLink Mini Monitor 4K
Optionally – a hardware RAID card, making connections between Macs and PCs easier
Again, I'm choosing to populate the PCI slot with a DeckLink card for the video I/O – and similar to my colorist/editor configuration – I'm opting for a cheaper, output-only card, as a DIT needing an SDI input is unlikely.
Leveraging OWC's interchange system for on-set media management
One great use for the Flex 8 on-set is that you can combine it with OWC's U.2 Interchange System, smoothly moving SSD's between systems. This system allows you to put removable SSDs into the Flex 8's top 4 slots, copy media to them from the main RAID5, and then pull them out to hand them off to clients, editors, graphic artists, etc. – after a swift copy.
The U.2 interchange system is pretty cool on its own. It consists of a special sled, and a PCI dock to convert a small Thunderbolt3 PCI chassis called the Helios 3S into a system for exchange U.2 SSDs over Thunderbolt 3.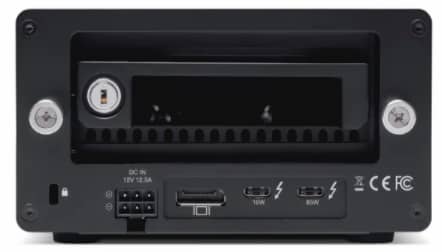 Operationally, this means for a DIT to hand off an SSD:
Copy media from their main RAID5 to one of 4 U.2 SSDs in the top row.
Use the OWC Dock Ejector software to eject the SSD from the OS
Remove that SSD from the chassis
Remove the SSD from the Flex 8's drive rails
Handoff the SSD sled to anyone else with a Helios chassis and dock, for quick access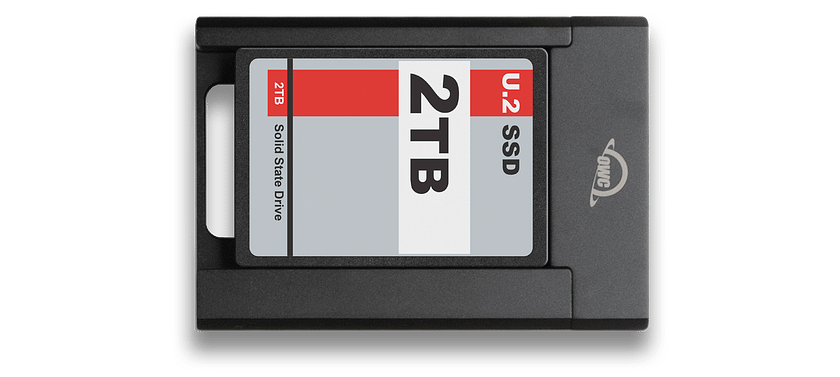 Honestly, having to remove the Flex 8 rails is a bit of a hassle, but it is only four screws. However, a more advanced configuration is:
Add a Helios dock connected to the Flex 8's second Thunderbolt port and copy to SSD's via Thunderbolt. Plus, a slot opens up in the Flex 8 for additional disk storage.
Final Thoughts and Conclusion
As you can see – Flex 8's greatest strength is its configurability. You can build anywhere from mild to wild for multiple workflow needs. I've only scratched the surface here with my three example configurations, as you can use the PCI slot to add tons of different workflow-specific tools, like storage interfaces, specialized audio cards, and more.
From a cost standpoint – I think Flex 8 is a fantastic deal. For me – a single Flex 8 has replaced three different dedicated devices on my assist station:
A card reader for copying client media
A Thunderbolt SDI I/O device
A Thunderbolt direct attach RAID for media backup
The Flex 8 is less expensive and easily customizable. Plus, if your needs change in 12 months, it's easily reconfigured – extending its useful life.
If you'd like more details on the ThunderBay Flex 8 check out its product page.
Comments