EDITORS NOTE: This article was updated 3/13 to provide additional clarification on client and encoder side network configuration as well as added information about the Streambox Cloud service.
The Technical Side Of Getting Setup For Remote Grading
In part 1 of this series, we looked at many of the 'soft' issues that go into getting up and running with a remote grading solution.
While understanding who, and more importantly, where remote clients might be located and how to market to them is very important, the technical part of making a remote session happen is also important.
In this Insight, I'd like to talk about the solution that I've been using for my remote grading needs, which is made by a company called Streambox.
There are other solutions on the market and if you're using some of those I'd love to hear from you in the comments at the end of the article – but I have the most experience with the hardware and hybrid encoders from Streambox so please understand that I'll make those solutions the focal point of this article.
Finally, before we begin, just keep in mind that many of screenshots in this article are from a Windows platform. The overall appearance of Streambox differs slightly from Mac to PC and not all options are in the exact same place between different platforms.
Fat Pipe, Ports & Static IPs
The largest determining factor for getting an experience for a client similar to being in your color suite is having a fast, low latency dependable connection  – and this is both on your end the client's.
While Streambox hardware & software encoders can be configured to create a stream that can be optimized even down to a super small old school flip phone screen, obviously for purposes of a remote or review session having imagery on the client's end that approaches the quality they might see in your color suite is important.
At my office, I have a 150mpbs up/down connection, and although that's not super fast, I've yet to have a problem streaming high-quality content.
On the client's side, I've been recommending 50mpbs down as a good starting point. This gives plenty of overhead for the stream I usually output (typically 4-6mpbs) and other general network activity.
A related issue for connection stability is static IPs on your end and the client's.  For optimal performance having static IP the client's end allows you to target Streambox to the client's IP.  I say optimal because many ISPs provide exceptionally long leases on IPs – if that the case on your end or your client's, simply having a stable public IP might be good enough.
Because you'll want your gear behind your public facing network, you'll most likely need to point the static external IP to an internal static IP – this can be handled easily on most routers with NAT (Network Address Translation). The same is true on the client's end.  (Remember if your public IP address does change, you'll need to redo the internal routing.)
On both your end and the client's end you'll need to make sure that UDP Port 1770 is open on routers and firewalls on both networks – this is the port that carries the Streambox proprietary ACT-L3 content stream and that port forwarding is setup to forward to the internal static IP.
Hardware vs. Software/Hybrid Encoder
Streambox makes several products that can facilitate remote grading – put simply, these products can be put into the general categories of hardware or software.
The 9200, 9300, 9400, and now the 4k Rackmount unit are all hardware units.
These boxes having varying video/audio connections but the biggest determining factor between then is if they function has half or full duplex – meaning does the unit operate as an encoder or a decoder (half duplex) or can it do both at the same time (full duplex)?
For me, being able to decode (incoming signal) while at the same time encoding outgoing signal was just not important, but I can see how for a large facility or for something like a news truck this functionality could be vital.
The hardware units are totally self-contained and perfect for many situations.

The downside?  They're pretty pricey.
Streambox also produces Enterprise (read even more pricey) servers that do even more, but for most in small facilities, those units can be overkill.
A few years ago, Streambox announced their software encoder – what they call a hybrid encoder. It's a hybrid because the hardware part of the setup is all on you – the computer, video I/O, network, etc, access control etc.
This is the solution that I've gone with and the good news is not counting the computer (which I had on hand) the price is significantly less than a hardware unit.
The minimum requirements that Streambox specs for the hybrid encoder are actually pretty low.  Pretty much any off the shelf Windows/Mac these days could handle being the platform for the encoder and when combined with a BMD video I/O device (including Thunderbolt ones) you can have a computer that's suitable for encoding for a pretty low cost (note: the BMD line is widely supported, but there is some support for AJA, and Matrox devices).
In my machine room, I had an ADK computer that I was using a spare Resolve Linux Advanced dongle on so the computer could be a ProRes 'dongle' for our Windows systems.  I simply popped in another SSD, installed Windows 10 and then installed the Streambox Hybrid Encoder software. I switch between the Windows/Linux sides as needed.
I'm using Decklink 4k Mini Recorder SDI card (via SDI) for the video I/O.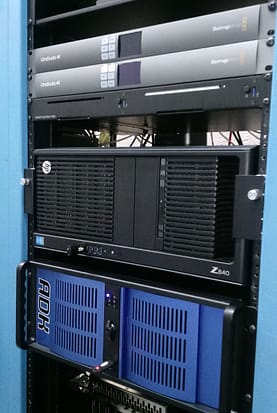 The computer I'm using is overkill for what's really needed, but it's also been rock-solid and robust.  In combination with my pretty quick network,  I can do real-time encoding with minimal delay and create high-quality streams.
Member Login
Are you using our app? For the best experience, please login using the app's launch screen
---
Comments