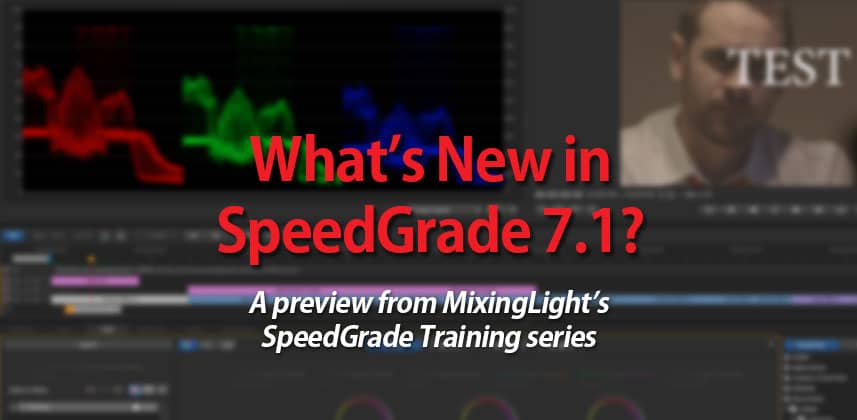 SpeedGrade CC 7.1 Update: A Preview
It's possible  you've been so absorbed in Adobe's fiasco regarding the massive theft of poorly encrypted data of over 100 million users (yikes!), that you've been unable to hear anything else Adobe-related… like the big rollout of it's 7.1 update for a large number of its Creative Cloud apps.
For readers of MixingLight.com, the biggest news in this software update is SpeedGrade CC 7.1 and Premiere Pro CC 7.1 now 'talking' directly to each other via 'Direct Link'.
As Adobe says on it's blog here, Direct Link is different than Dynamic Link. Also – it's not the only new feature in SpeedGrade CC 7.1. SpeedGrade has completely overhauled how it handles mask shapes.
As a result of these two major feature enhancements, here at MixingLight we've been updating our SpeedGrade Training title. Out of the 4+ hours of training, we've re-recorded elements in 7 (or so) of our videos and are recording another 9 completely new movies to deal with Direct Link and the new mask behaviors.
The video below is our 'What's New in SpeedGrade CC 7.1' video… it's a preview of what's to come when the title gets updated in the next week or so.
Of course, at the bottom of this page we have free previews of 7 other videos in our SpeedGrade CC training.
And if you're wondering, anyone who buys our training… gets full access to all the new material – plus any future updates in SpeedGrade CC version 7.
And if you have any questions… the comments are open!
Enjoy this Free Preview!
– patrick
Comments