How To Easily Track Your Time, Invoice Clients and Have A Happy Accountant
(move from Stressful to Stress-Free Billing)
Panera Bread Co. is supposed to be a 'higher end' sandwich food chain here in the U.S. Except as more Americans start seeing bread, grain and artificial sweeteners as being 'unhealthy'—Panera Bread has a potential long-term disaster on their hands. How have they responded? Panera announced it has "committed itself to removing at least 150 artificial sweeteners, colors, flavors and preservatives from its menu by the end of next year",  according to the Wall Street Journal.
In other words: They are streamlining their ingredients (and presumably their supply chain) by getting back to the basics of their business. That's what this Insight is about.
Today, let's get back to the basics of what it is most of us are doing: Running businesses
Like Panera, everyone running a business as freelancers, solo-entrepenuaers or small shops need to take time and re-evaluate the fundamentals of your operations. And there's nothing more fundamental that re-evaluating your entire billing system—from quoting to time tracking to invoicing to collections and then capturing all that data into an accounting system.
For a decade I've been struggling to find a cost-effective, easy to implement accounting system that:
Generates handsome quotes but plugs into the accounting system
Tracks time easily, seamlessly and across multiple locations wherever I'm working
Turns the tracked time into good-looking Invoices that are easy to design and revise
As more of my clients are willing to pay me online, those Invoices need to offer online payment options
If a client pays online, the payment gets automatically applied back in the Accounting software and the money put in my bank account
Doesn't cost a fortune for a solo-prenuer to implement
That my accountant also knows, understands and approves.
If you parse this list carefully, you'll see that I want comprehensive time tracking integrated into billing, collections and reporting that I can easily hand off to my Accountant. Until now, I've only ever been able to find software that meets, at best, two or three of these criteria. And the lack of this integration has cost me time and money while adding to my overall stress levels.
Early this year I was finally able to streamline my Accounting pipeline and meet all of the above criteria
Mixing Light co-founder Robbie Carman introduced me to a time tracking app while we were creating our Resolve 11 Deep Insights title… and to call it a 'time tracking app' is doing this software an extreme disservice. It is a tool has become central to a brand-new accounting workflow that I absolutely love.
I want to share that workflow with you and it revolves around three different services that all perfectly integrate with each other:
Harvest: Time management and invoicing on steroids
Xero: Next generation accounting
Stripe: Online order processing and bank deposits
Service #1: Harvest: Starting with the glue that holds everything together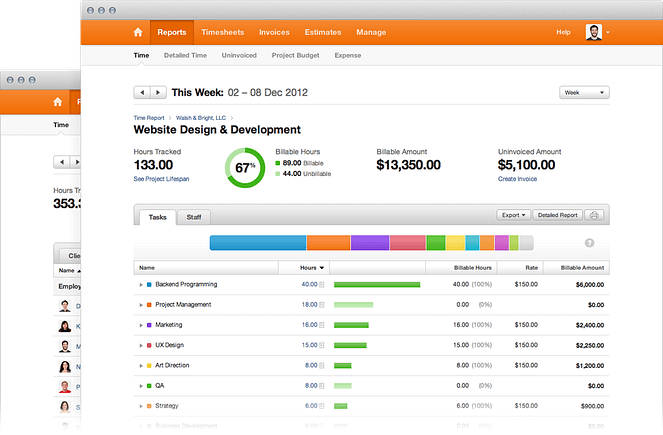 If it's possible to feel romantic about software then I am head-over-heels for Harvest. At its core, Harvest is a time tracker. It has a website component that allows you to set up Projects, Clients and Tasks. Once a project is set up, it appears on any device where you've installed their free app. I've got it installed on my Laptop, desktop Mac, iPhone and iPad. It also has an Android app.
How well does the Harvest app work?
Time tracking with Harvest is simply brilliant
I can start a timer on one device, and it seamlessly appears on all my devices. If I jump into the web interface to modify an existing project and add a new task? 30 seconds later I can start a timer on any of my devices with that new task. Of course, the hard part is getting into the habit of starting and stopping your tasks.
But Harvest helps you manage your forgetfulness. If it detects no action on the device that started a timer, Harvest will ask, "do you want to remove 22 minutes of inactivity?" If you forgot to start a timer, just start it when you remember and add the number of minutes you've already been working on that task, and Harvest will add on to that total. Or course, if all Harvest did was track my time, it wouldn't be useful. No, it goes two steps further.
How Harvest goes beyond time tracking to help us turn time into money
Harvest has a full-blown Quote and Invoicing system, allowing you to send Quotes for approval (and get notification if a Quote has been Accepted or Declined) and then turn your tracked time into an Invoice. This, for me, has been a huge workflow enhancement. And it's useful to go over the 'declined' quotes, see how they were revised and see if they ever got turned into Invoices.
Harvest also allows you to track expenses and to categorize individual tasks and expenses as Billable or Non-billable at either a Project rate or a per-item rate. And at the Invoice creation stage you can:
Override your presets
Control the amount of detail you want on the invoice
if it's an on-going project, Harvest will create new Invoices of time that hasn't previously been invoiced
Don't many other time tracking apps allow you to create invoices?
Sure… but almost none of them (on the Mac) allow you to export and import those Invoices to your accounting app. In fact, the accounting software I've been using for a decade (AccountEdge) also makes a gorgeous time-tracking and Invoicing app… but in 4 years they've never bothered to integrate it with AccountEdge.
Instead, AccountEdge forces you to manually re-enter those Invoices for the pure joy of doing a tedious task you should never have to do more than once! Talk about a lost opportunity, an opportunity that the folks at Harvest have grabbed with gusto by integrating with Xero, cloud-based accounting software.
Service #2: Xero: Deep integration with Harvest
In fact, Harvest integrates with many other platforms but for accounting, I've chosen Xero.It's easy to set up. I can export out the complete database for use in a different accounting app, should I choose to do so. And… my accountant is using it with a multi-national client who has completely migrated to this service giving me the confidence I need to switch software packages.
Xero: Near-perfect integration with Harvest
The Harvest <—> Xero integration is seamless. The moment I send an Invoice to a client in Harvest, that invoice shows up in Xero. When the client pays online, both Xero and Harvest are updated immediately. If I manually enter a payment? Both are updated automatically.
It. Just. Works.
And this brings us to the final piece of the puzzle, getting paid online.
Service #3: Stripe—Getting paid online
Stripe provides merchant services for credit and debit cards. Unlike most players in this space (and I've used MANY of them over the past 5 years), they are a non-greasy operation. It's easy to open an account. I've not had a fraud problem with them. They automatically deposit funds into my bank account at the end of every business day. And I can close my relationship with them with the click of a button (a frustrating process with almost any other merchant account provider I've tried).
Both Xero and Harvest integrate with Stripe. When I send a client an invoice from Harvest, they're sent to a link that displays the Invoice as a web page. The invoice can be downloaded as a PDF or they can click on a link that allows them to pay… using Stripe. It's seamless and totally professional looking.
I've even had clients call me asking me how the heck am I doing this? Do I have developers on staff? And that's what I like, using these three services, I look (and act) bigger than I am. AND I spend half the time I used to on back-office tasks that turn my time into money.
But isn't it dangerous to rely on these cloud services?
If you are afraid to do online banking then this solution may not be for you. But if you're comfortable checking balances and paying a few bills using your bank… then this is a terrific solution.
Of course, you'll want to have a terrific password management app to make it hard for hackers to crack your account passwords. And you'll want to update those passwords frequently. You'll also want to create a weekly Export routine to be sure if they get hacked, you'll have all your records preserved.
But those archive operations, performed weekly, take less time than it used to take re-writing a single invoice from my Time Tracker into my Accounting software. It's a small price to pay for all the other stresses this workflow has removed from my life.
These 3 Services Have Simplified My Business
Harvest, Xero and Stripe—individually, they're each interesting. It's their integration with one another, each doing what they do best, that has been a real revolution in how I run my business. Just like Panera Bread, which is completely re-evaluating the core ingredients consumed by their customers… this workflow is a complete re-evaluation of two of the three major 'touch points' when working with clients: Bidding on a job and then getting paid for the job.
If you find your acquisition, time tracking and billing operations have lots of duplicate actions requiring re-entering the same information in more than one place—you'll want to take a long hard look at the Harvest, Xero and Stripe workflow.
– pat
Comments