Updated Forums lay the foundation for the upcoming Mixing Light mobile app
Earlier this year, we introduced Forums for Mixing Light members. The goal was to centralize all Mixing Light discussion threads in the Insights Library. If a member posts a question to a 5-year-old Insight, we want not just the Author to see (and respond) to the question. We want the entire community to see the question and have an opportunity to re-discover this content and provide their comments and insights.
As I said in that announcement – the initial Forum release was merely v1.0. I'm pleased to announce that the first significant upgrade to Mixing Light's forums was rolled out this week! Not only does it improve the usability of the forums, it lays the foundation for many new future improvements.
Watch the video below for a complete walk-through. Also, check out my recommended 'do this now' checklist of customizations for this new system.
What's new in Mixing Light Forums v2.0?
Profile photos
The most prominent feature is also the simplest: Every member can now upload their Profile photos, which display alongside their discussion comments – both on individual Insights and within the forums themselves. This feature has been a long time coming!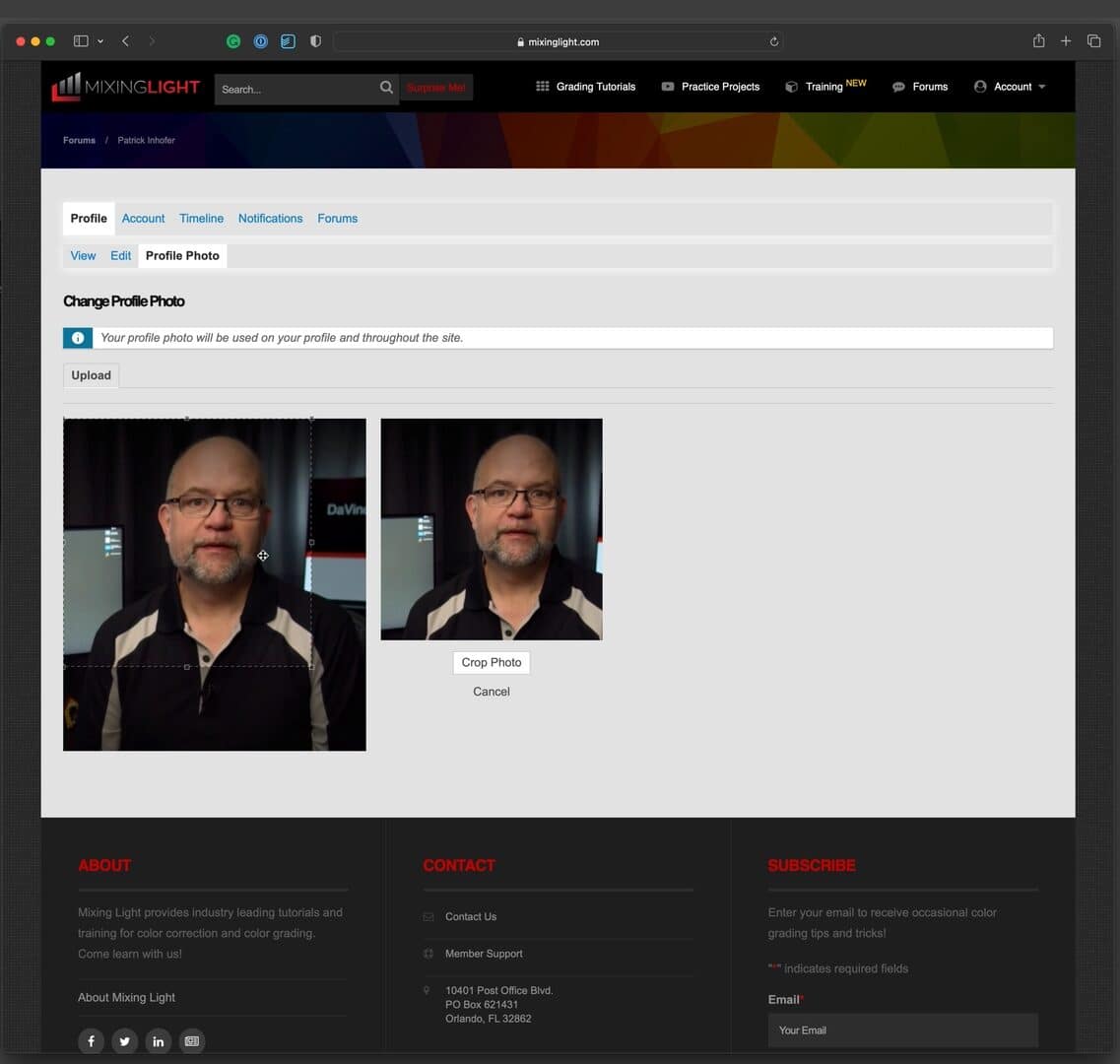 Mixing Light on iOS and Android – with new notification system
The backend tech that drives this forum upgrade allows our discussions and forums to go mobile! You'll soon be able to download an iOS or Android app, allowing you to read, reply, and create forum discussion topics, including those on individual Insights, in a dedicated members-only mobile app.
This update includes a new notification system for web browsers, email, and (when released) mobile
You can now tailor Mixing Light notifications for your browser or email – or turn them off completely. When the mobile app is released, you'll also have independent control of your mobile notifications. Currently, you can tailor notifications to alert you if:
You're mentioned in a thread using your @ handle, Twitter-style
A member replies to one of your comments
A new discussion is created in a forum you've subscribed
A new reply is posted in a discussion you've subscribed
Note: Core membership emails (such as emails related to account security and billing) can not be disabled.
Subscribe to forums and discussion threads
As mentioned above, you can get automatic notifications to entire forums or the comments threads for individual Insights or forum discussions. Look for the 'Subscribe' link at the top of any forum or discussion.
You can also 'favorite' any discussion/comment thread using the 'Favorite' link. This favorite button will replace the current 'favorite' system for Insights (which will be depreciated and eliminated in a few months – but your current Playlist functionality will remain in place).
Centrally manage Discussions, Comments, Favorites, and Subscriptions
All your subscriptions and favorites can be managed from a single page in the Your Social Profile page under the Forums tab.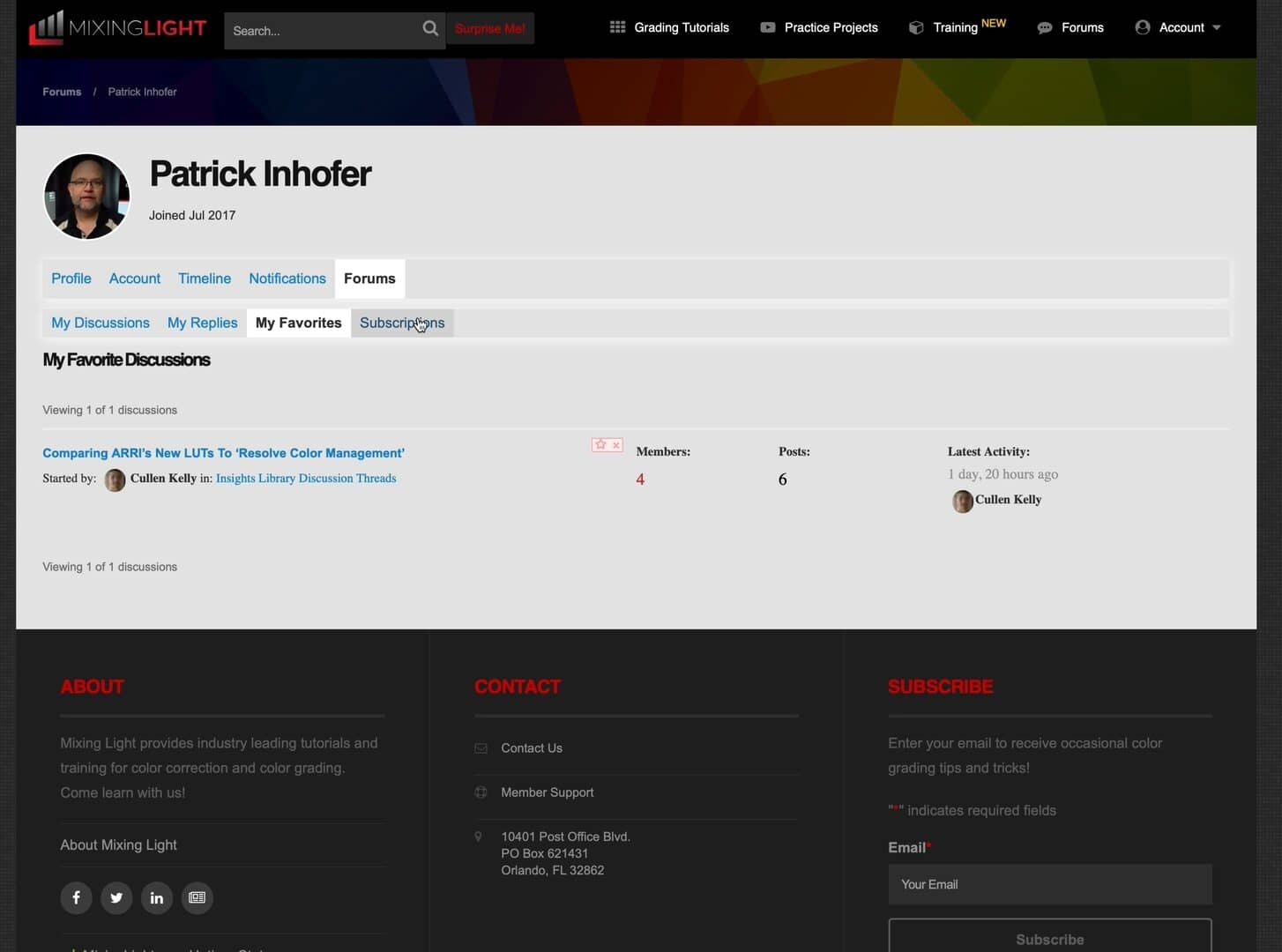 Fine-tune the display of your name
In your Account > Privacy settings of the Your Social Profile page, you can now opt to have your last name hidden from logged-out website readers! As a website dedicated to professional development, you may not want your clients stumbling upon your Insight discussions when they search Google.
Over the years, we've chosen to keep our Insight discussions public because it's a strong social signal to Google and potential new members about the quality of our content. Yet, I've always felt tension with that decision since we should all feel comfortable having open and honest discussions. Not every discussion is one we want our clients to stumble upon.
This new privacy enhancement solves that dilemma!
Do This Now checklist for setting your Profile, Privacy, and Notifications
From the navigation pull-down menu, go to "My Social Settings" and then the indicated submenus"
What do you think? Let me know!
This is the first of many new features I expect Mixing Light will roll out in the coming months. Please share your thoughts and questions.
In anticipation of this question: Some of you may wonder how the Slack notification system fits into all this. The answer is: This forum update marks the beginning of the end for the Slack notifications. Shortly after the app rolls out and we confirm that notifications are working for everyone, it will be phased out.
– Patrick
---
Member Login
Are you using our app? For the best experience, please login using the app's launch screen
---