Red Giant Universe: The OpenFX Version
Just a short time ago we posted a free Insight over in our Library about Red Giant Link – and how it finally allows you to keep track (and up-to-date with) all your potentially fallow Red Giant plug-ins. We also mentioned that Red Giant Universe (a mix of free and paid visual effects plug-ins and transitions) is coming soon to DaVinci Resolve.
Guess what?
That day is here.
Red Giant Universe 1.3 Update adds compatibility with DaVinci Resolve 11.1
It does so by adding the OpenFX architecture, which Resolve has supported for over a year.
The only requirement is that you have (or create) an account at RedGiant.com. Once you do so and install Red Giant Link, the free Universe plug-ins will get installed.
In addition, you can install the Premium plug-ins and you'll be able to use them for 30 days, without a watermark. Once the free trial period expires, you'll still have access to the Premium plug-ins but the watermark will render into your footage.
How to install Red Giant Universe 1.3 in DaVinci Resolve
First, you need to download and install Red Giant Link.
Again, if you don't have an account with Red Giant, you'll need to create one.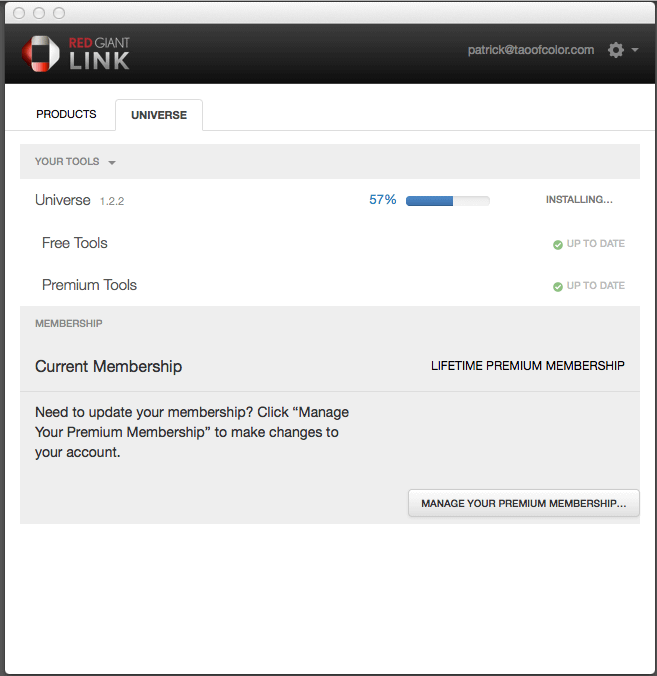 Universe: Free vs Premium
While you're at their website – it's a good time to explore their pricing model. Besides Free, the Premium plug-ins can be renewed Annually, 'bought out' with a one-time 'Lifetime' license, or renewed as-needed using the monthly subscription model.
Which of their over 80 plug-ins is Free or Premium? Visit their Gallery page and sort by Free or Premium. You'll see examples of each plug-in.
Universe in Resolve: The 'Classes' of Tools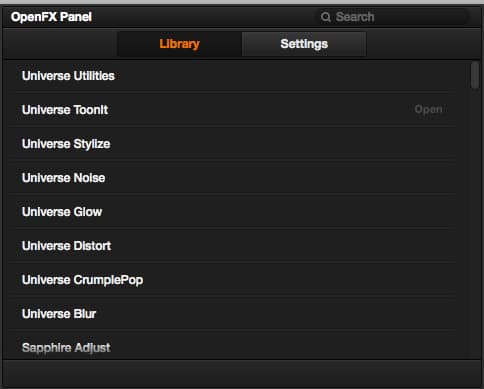 Once Universe is installed via Red Giant Link, just launch DaVinci Resolve (the earliest supported version is Resolve 11.1) and open the OpenFX panel in the Color tab.
Similar to GenArts' Sapphire suite of plug-ins, the Universe plug-ins are sorted into 'classes' of plug-ins.
Here's my quick take of these filter classes:
Glow, Distort & Blur
About what you'd expect from these three classes of filters.
Directional / radial blurs are a nice option when you don't want the clean uniformity of Resolve's blur tool—or just want a stylized blur.
Distort has some handy specialty effects: Chromatic Abberation, Camera Shake, Mosiac (though Mosiac has a Mask tool that's redundant with the easy power of Power Windows).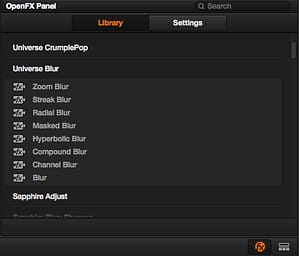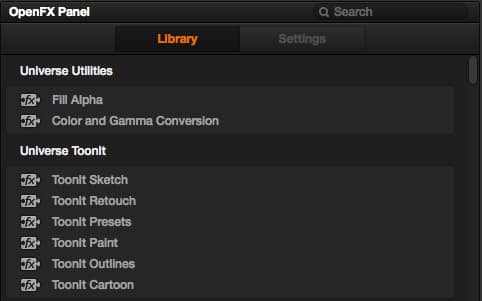 Utilities, Noise, CrumplePop & Toon-It
The colorist in me says, 'eh' to these filters.
Utilities doesn't bring much that can't already be done in Resolve. What I'd like to see is a simple Channel viewer so I can see a single channel of the selected color space of the active node… something still missing from Resolve.
Toon-It? Might work for motion graphics designers… I just don't see myself ever grabbing one of those filters.
Noise? I prefer using Quicktime collections of scans of film grain and dust that give me fine-tuned control while maintaining a sense of authenticity. Maybe it's just me, but I've never found a noise filter I prefer over the real thing.
CrumplePop: I love CrumplePop—if I'm in Final Cut or Premiere Pro. Here in Resolve? It doesn't add much value to the types of things clients ask me to do or I'd like to offer to them. So… not really a selling point on Universe for this colorist.
Stylize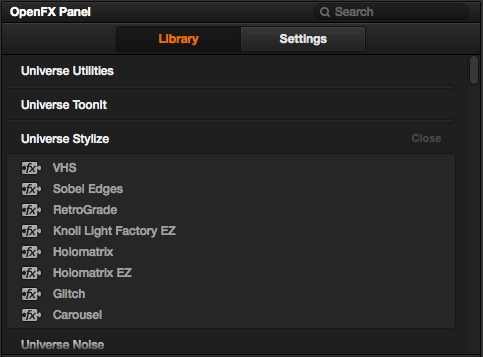 These, as a collection, are my favorite filters worth the price of admission since most of them are also Premium filters:
VHS: A look that is time-consuming to create using pure color grading tools… and it has a ton of controls, most of which are useful. I LOVE the 'Tape Wrinkle' option, which could also double as a 'clogged head' effect.
Retrograde: A set of 8mm and 16mm presets. Controls include:
• Edge styles (my favorite of the variables)
• Aspect ratios
• Blur
• Flicker
• Grime (dust, hair, splotch) controls: Given their heavy-handedness, I found the Grime settings the hardest to work with – especially the Dust sub-control. With a slider from 0 – 100, I doubt I'd ever push past 3—unless I was trying to parody these types of Looks.
Holomatrix: If you've got to quickly simulate a Terminator Point of View? Or maybe a heat signature effect on a retro CRT… this plug-in is for you. If I use this three times in my career I'd be surprised… but if I'm ever pulled into compositing duties, it's a Look I can see being called for one day that I couldn't easily simulate otherwise. Nice to have.
Carousel: If you've ever wanted to deconstruct how to create a faded look? Start with the presets on this filter. As you'd expect in a set of filters that are geared to creating 'Looks', it adds Light Leak and Flicker controls that can't be readily duplicated using Resolve's toolset.
Knoll Light Factory EZ: I saved the best for last. EZ means you don't have the control over the Lens flare that you'd find with Sapphire Lens Flare (watch this Insight for a demo). I'd pay $99 / year for this, year after year… making the $399 Lifetime access price very easy to justify. The Preset Browser for quick visualization is something I'd like see throughout the Universe plug-ins. Especially if they could pre-visualize on the current frame, like Magic Bullet Looks or the Sapphire preset browser. It's the one plug-in that completely justifies the cost of the entire Universe package – since I know I'll use it all the time.
Conclusion
The Shadows
• Some 'classes' of Universe plug-ins are more for graphic artists than colorists. To my mind they clutter the OpenFX interface. But this is true of other OpenFX plug-in sets as well, which tend to be sold for use in multiple different host apps… not just color grading applications.
• It's not clear which plug-ins are Free and which are Premium from within Resolve. If your 30 day 'no watermark trial' is over… you'll be hard pressed to know if a plug-in is free unless you apply it to the footage. And if a client is sitting in the room, would you want to explain why they keep seeing watermarks?
• Some controls have their text truncated (I'm looking at you Holomatrix), and while you can guess at their nature – it's annoying. Again, I'm thinking that's because these plug-ins are written to a general OpenFX standard, rather than Davinci Resolve's specific implementation of it.
• In some host apps, a plug-in with extensive Mask controls is nice to have. In DaVinci Resolve, it's a waste of real estate and the Universe plug-ins aren't optimized for DaVinci Resolve. If I had a choice… nixie on the maskie to help reduce long scrolling lists of controls.
The Highlights
• Red Giant Link is terrific. Universe is super easy to install and super easy to keep up-to-date.
• The Stylize set of Premium filters are worth the Annual or Lifetime subscriptions. Their power is in the 'effect-y' type controls that just don't exist in DaVinci Resolve… which is exactly the kind of extension I'm looking for in a 3rd party set of filters.
• Render times are reasonable. Knoll Light Factory, which I've used for years in Final Cut Pro and After Effects, were always slower than a two-legged dog on a sled with square wheels. Not so now. But if you've got a client in the room they are still likely to hurt your real-time playback capabilities, so be sure you understand Resolve's new Render Cache system for efficient use while in-session.
• High-quality Lens Flares inside Davinci Resolve at 1/5th the price of the next best option (assuming you compare the Lifetime 'buy out' options). Hands down, I'd pay the Lifetime price just to access the Knoll Light Factory EZ filter. Frankly, I'd also pay an additional price to access the full version of Knoll Light Factory 3.0 in DaVinci Resolve (which currently only runs in After Effects and Premiere Pro).
Final Grade
If you use DaVinci Resolve 11, then the price of Red Giant Universe (free) makes it a no-brainer as an add-on. Given the 30-day free trail, it might make sense to wait installing the Premium filters until just before a gig where you think you'll use it.
The tools I like most are those that I can't really replicate with the tools found inside DaVinci Resolve. And of those tools – of course, my favorite are also the ones that require a Premium account. And are those Premium filters worthy he purchase price? Yup. This colorist thinks they're worth the price if you're ever creating dream sequences, flashbacks, adding flickers or tasked with creating 'something no one has ever seen before'.
Plus, the monthly subscription option allows you to activate the Premium filters just when you need them – on a job-by-job basis… though for me, the Annual price is very reasonable.
And while Universe plug-ins often have film grain controls—I think I prefer the quicktime overlays you'd find from Cinegrain or Gorilla Grain, when designing a Look with film grain and film dirt.
I'm a big fan of Red Giant tools. I always have been. I suspect I always will be. Universe is a nice gateway into their offerings.