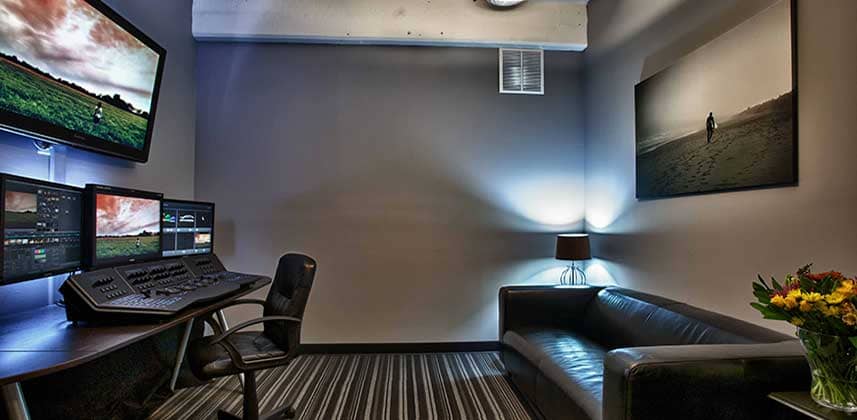 About year ago, after 3 successive weekends (yep both Saturday and Sunday) of going to the office to work on projects, I asked myself – could I build a home suite so I didn't have to go the office on the weekends? Could I replicate the suite I've spent tens of thousands of dollars on at the office at home?  Well, a year later and dozens of weekends spent in the office and away from my family, I'm ready to make the home suite happen.
For some background, I live almost 30 miles from my company's studio in Silver Spring, MD.  The reason our offices are there, is because Silver Spring, MD is the heart of the DC production and post community. In fact, our studio is directly across the street from the Discovery Channel Tech Center (DCTC).  Now, I guess I could move closer to my office, but my wife and our 4 year old love living where we do. My commute is ok during the week, but doing it twice on a weekend – well that stinks.
Now, you might be thinking what about budget?  Well, thats a great question.  I'm financing this all through my company and while that gives me some "extra" ability to get it right, I don't have an unlimited budget.  For this project, I want to spend as little as possible while replicating 60% of the performance of my office system. In other words, I'd like to build a DaVinci Resolve setup that is functional and pretty well equipped. To be clear, I'm willing to make sacrifices in monitoring quality, video I/O and of course the computer I use, but I want something I can trust so I know that when I take projects back to the office they will translate well.
So, I'm embarking on a journey of researching how to make the home suite happen.  If you're a monthly member of Mixing Light, be sure to check out my series of articles in the Insights Library, exploring the components and decisions I make in trying to bring a pro level grading suite home.
-Robbie
Comments