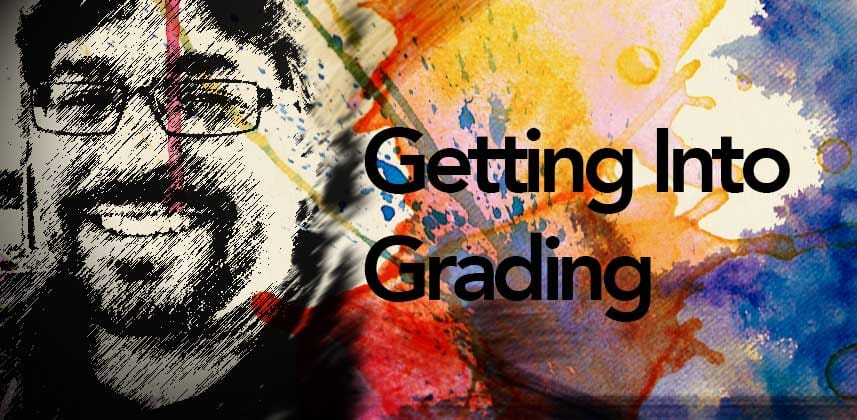 How we find our calling, is a funny thing. I thought I'd share a little bit about my road to becoming a colorist.
A Change Of Focus
Many moons ago, I had plans to be a rock star. I've played guitar since I was 10 years old. I was nurtured by my parents, family and friends to take my skills with the guitar as far as I could. I played in bands thru middle school, high school and college. In fact, in college I studied music and was pretty sure by that time, that music and performance was going to be my thing.
When I got to college something interesting happened, I discovered two things – there were a lot of players WAY better than I was, and I found that I actually liked recording other's people's music far more than I liked recording my own or even performing on my own. Countless hours behind the recoding console taught me how fun and inspiring it could be to shape other peoples work into something even better.
In the summer between my freshman and sophomore years, I was recording a group that I really liked and one of the members of the band mentioned they wanted to shoot a "music video". I was intrigued so I asked what I could do. The band asked if I might be able to edit the video. Please understand, that this was the early to mid-ninties so the camera that the band had was a "DV" camera i.e. a Sony Handycam. It was a single chip monster that produced an image somewhere between crappy and even more crappy. But, as young blokes who thought we were awesome, any image at all, made us feel like we were pros.
The music video was cut on a Media 100 system and to be honest looking back on it now, I'm slightly embarrassed to say that I cut it and colored it -but hey, you've got start somewhere! One interesting thing that came out of this process was that I learned that I really hated creative editorial.  Don't get me wrong – I really appreciate the art of the editorial craft but I'm just not a story editor.  What I did really enjoy was the technical process of digitizing, adding effects, reframing, and of course doing basic color correction.
After spending nearly 3 weeks on the video and getting paid $50 and a case of beer, the band broke up 2 weeks after we finished the video. Sigh…
That experience of cutting and doing a basic grade on that music video got me hooked. Through the rest of college I focused on learning as much as I could about film, video, and both production and postproduction.
Online Editing and Developing A Love Of Color
After college, I got a job with a post house and eventually got into the position of doing a lot of online editing – conforming shows, fixing problems and yes, color correcting and grading. Remember, story editing is not my thing, so I was glad to be doing something technical. It was this experience as an online editor that got me hooked on grading. Clients would often come into my room, and ask me to grade their projects instead of doing the grading in much more expensive suites around town. Without hesitation, I'd always say "Sure I Can Do Color! The tools at my disposal were less sophisticated than the million dollar grading suites but the clients were happy and I was discovering a love of color.
During off time or at night, I was spending time with colorists that I looked up to, learning the "heavy iron" of the day like the DaVinci 888 and then the lovely DaVinci 2k as well as researching and reading about color theory.
Time To Move On
Like many postproduction companies, the one I was working for eventually went bankrupt!  By this point, I had a ton of experience as an online editor and budding colorist.  Instead of trying to get a job with another post house I made a decision – well, two.  I wanted to be my own boss and own my own company and I wanted to do nothing but color.  So, in 2005 with my business partner Jason Osder we started Amigo Media.  With Amigo, our goal was to provide top notch color services at an approachable and affordable price.
The problem we had though, was the tools.  This was before Black Magic Design bought DaVinci, or Adobe bought SpeedGrade.  The "professional" grading systems like those and systems from Quantel, Baselight, etc., were still at a minimum, in the 100's of thousands of dollars range.
It was then, we discovered Final Touch from Silicon Color.  Sure, it was still expensive – $25,000 for the 2k version, but that was affordable!  We worked on Final Touch for a few years, until Apple eventually bought them and released Apple Color.  We graded on Apple Color for a few years and then when Blackmagic purchased DaVinci, we enthusiastically made the move back to the tool set I had learned on, and purchased full seats of DaVinci Resolve.
Looking Forward
The two things I'm most proud of are, starting my own company – there is nothing like it and I highly recommend it, and the fact that 8 years later we're still going strong! We are growing while doing nothing but color and are educating people about color and postproduction. Last year, I personally graded nearly 200 hours of content – shows, films, spots, and corporate pieces and I'm on tap to do even more this year.
While in some deep part of my mind, I still have plans to be a rock star, I'm grateful that one request to help on a music video sent me down a path to a love of color and helping clients better their visual storytelling.
Comments