Day 2: 25 Insights in 25 Days New Year Marathon
Thinking Like A Colorist – Approaching Black And White
We kick off this week's insight with a review of last week's western scene and I have to say I am very impressed with both the number of comments I had and also the quality of the grades!
I also learned a couple of things about my own grade!
My jacket was too pink and the horse in the centre was a little too saturated.
I love that the learning goes both ways on Mixing Light!
I'd love to see lots of comments and your grades on this insight as well.
Footage Link
You can download some of the clips here to try grading yourself before watching my video insight below.
Before you watch my video please have a go at the clip yourself!
The clips I'm using are:
EPIC DRAGON 6K FF (6144×3160)
EPIC M-X MONOCHROME 5K FF (5120×2700)
Where can we take B&W Looks?
I love doing insights into Black and White. I could honestly do them all day every day.
I'm heavily influenced by two photographers when it comes to my grading in general especially their use of textures.
The first is Anton Corbijn: you can find a great example of his work here.
The second is Ansel Adams who I've had a fascination with since I was young thanks to my Dad.
For this insight, I'll be speaking about techniques I learned in the photography world and going for an Ansel Adams style look.
To give you an idea of his style take a look at the image below. I'd highly recommend downloading the high res version linked in the caption.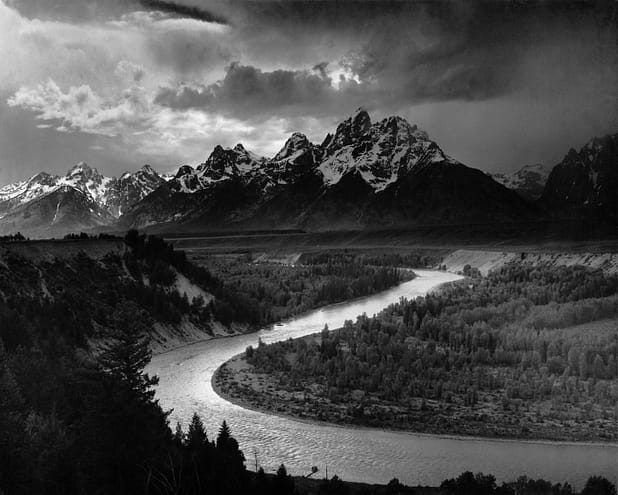 My main goal with grading is to distribute the tones in a nice way that gives us as much texture as possible.
I'll show you a couple of my approaches that apply to grading in general but more particularly Black and White grading.
I also reference a previous insight where I showed a Red filtered Black and White technique which you can find here.
 If you've got any questions, be sure to leave a comment!
-Dan
Member Login
Are you using our app? For the best experience, please login using the app's launch screen
---
Comments