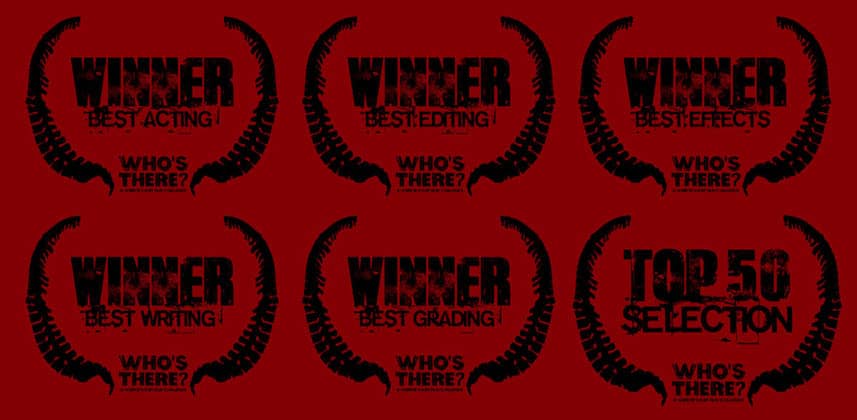 Best Color Grade: BloodyCuts Horror Challenge
Last October the team at the horror short film anthology website BloodyCuts.co.uk invited Team MixingLight.com to judge the craft category of Best Color Grade in their short film challenge, BC Horror Challenge .
Of course, we jumped at the chance!
And to raise the stakes a bit higher, we invited Flanders Scientific to donate one of their monitors to the winner of the Best Color Grade category. And they agreed! Thanks to FSI's generosity the winner of our category will receive a CM171.
The Judging Process
How did the judging process work and how did we arrive at our winner?
We started with a spreadsheet of the Top 50 entries as judged by Team BloodyCuts. And that led to our first decision… due to our scheduling challenges and the fact that Robbie and Dan are in the middle of their DaVinci Resolve training title, we decided to split the Top 50 between us and judge in two rounds.
Round 1: We'd each watch 17 shorts and the top six films from each of us would make it into the final round
Round 2; We'd each watch the top six selections from the other two judges, tally up the score and hopefully not worry about a tie breaker.
We judged on a four point scale, with excellence getting the highest score of 3 (lowest was 0). We didn't impose any rules as to how to apply those points – that was left for individual determination… just so long as each of us graded consistently using our own judgement in assigning points. we figured it'd be fair. We judged based on the following categories:
Black Level and Balance – Once a short film set its black level, was it consistent and were the blacks balanced?
White Level and Balance – Same as black level.
Shot Matching – As the name says, how well do the shots match across edits and across the piece? And if different Looks exist within a film, how consistently well do the varying Looks match each other?
Skin Tone – Similar to Shot Matching but with a focus on skin tones. We weren't looking for classically pretty skin tones – we were looking for controlled skin tones.
Grade Supports Story – Does the grade enhance that plot line of the story? Or does it get in the way? This category allowed us to reward films that didn't get aggressive with a 'Look' if that better served the needs of the story.
Bonus Points for Creativity – Let's face it, the horror genre screams of opportunity to push the boundaries of filmmaking. And short films are perfect for taking chances. We wanted to be able to reward films that took chances, even if those efforts didn't work out in the other categories.
 The Judges
Very early in the judging process it became clear that the three of us had three distinct judging styles:
Robbie Carman – Robbie's process was clear: Every film started with 3 points and were deducted for mistakes.
Dan Moran – Dan took the exact opposite approach from Robbie. He started by giving every film a score of zero and added points for success.
Patrick Inhofer – I took the middle ground. Every film started with a base score of 2 in each category and I'd add or subtract points for success and failure.
After the first round we had quite a few funny conversations as prodded each other about our scores.
Judging the Winner
We had a good time with the 2nd round of judging since we could do direct comparisons between our scoring styles.
Robbie's batch of short films (randomly generated) had the most consistently highest scoring short films – with Dan and myself giving our highest scores to that batch of films. And it was from Robbie's batch the our first, second and third placed shorts were selected.
In the end, our winner was clear. Sorta.
Two points separated First and Second place. Our #2 selection was scored very highly by Dan and Robbie – but not so much by me. So I went back and re-watched it, then checked my final scoring. I was happy with my judging – giving the #2 film solid 2's across all the technical categories. Basically, I like the grade but felt they didn't commit to the Look strongly enough to change my score and add additional points in the Bonus categories to push them over the top.
Winner: Play Time
The highest scoring short film was Play Time. Each of us agreed that while individually we all had our personal favorites from a grading stand-point, this film managed to consistently impress each of us enough that it crawled its way above the other submissions and took the top prize… Best Grade and a FSI CM171 display.
Congratulations to the filmmakers of Play Time. Team Mixing Light feels you did a great job producing a classic looking horror film that also echoed the BloodyCuts style of horror. We didn't start out to select a film based on that criteria but we weren't surprised that it was that style of film which won our craft category.
Second Place: Invectum
All three of us loved this short film. It has the classic BloodyCut element of starting off in one genre and finishing in another. As mentioned earlier, if not for my feeling that they could have committed more firmly to their Look they might have taken First Place.
Third Place: A Four-way tie!
These films all had one of us as its champion, scoring it highly and is worth the honorable mention. Listed in no particular order.
Comments