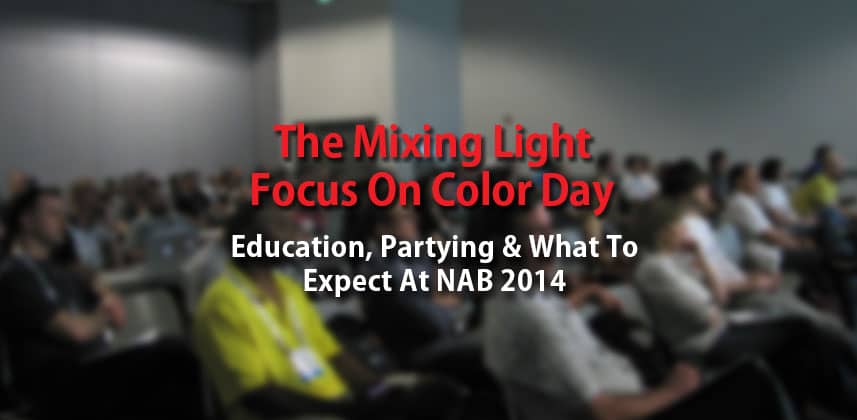 Education, Partying, & What To Expect At NAB 2014
NAB 2014 is almost upon us!
The annual pilgrimage by nearly 100,000 production and post professionals—and all the companies that cater to the them—is a sight to be seen to be believed.
Outside the crush of humanity that you'll find in the Las Vegas Convention Center's South and North Hall show floors there is a lot of other things going on.  Including the Post | Production World conference that Team Mixing Light is proud to be a part of once again.
And if you've been to our event over the past two years, read on to discover how we've changed things up from prior years—including a Color Correction Keynote presentation you won't want to miss!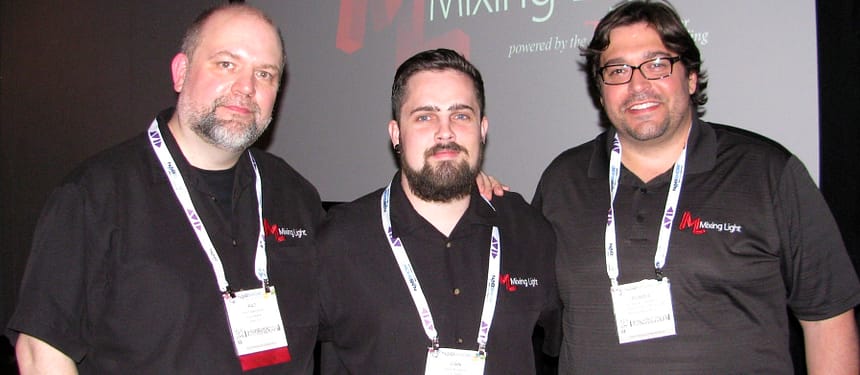 What's Post | Production World?
Post | Production World is one of the largest educational conferences focused on video and audio production and post.
With dozens of top tier speakers, and hundreds of attendees it has a session for nearly every interest. It's an an extremely popular event at NAB and has been for the past 10 years.
Post | Production World starts on Saturday April 5th this year and goes until Wednesday April 10th.
Some of the tracks include
Motion Graphics and VFX
Digital Publishing
Final Cut Pro X
Adobe Premiere Pro & Creative Cloud
Avid Media Composer
Boot Camp, In-Depth & Focus On Sessions
Director Of Photography Sessions
REDucation and Adobe Certification classes
Put simply – Post | Production World is kind of the Super Bowl of training – there is something for everyone !
Focus On: Color Correction
Have you ever wanted to just sit down and watch colorists explain how they go about their jobs? And in the process walk away with ideas, techniques and concepts you could apply immediately to your business? That's what Focus On: Color Correction 2014 is all about.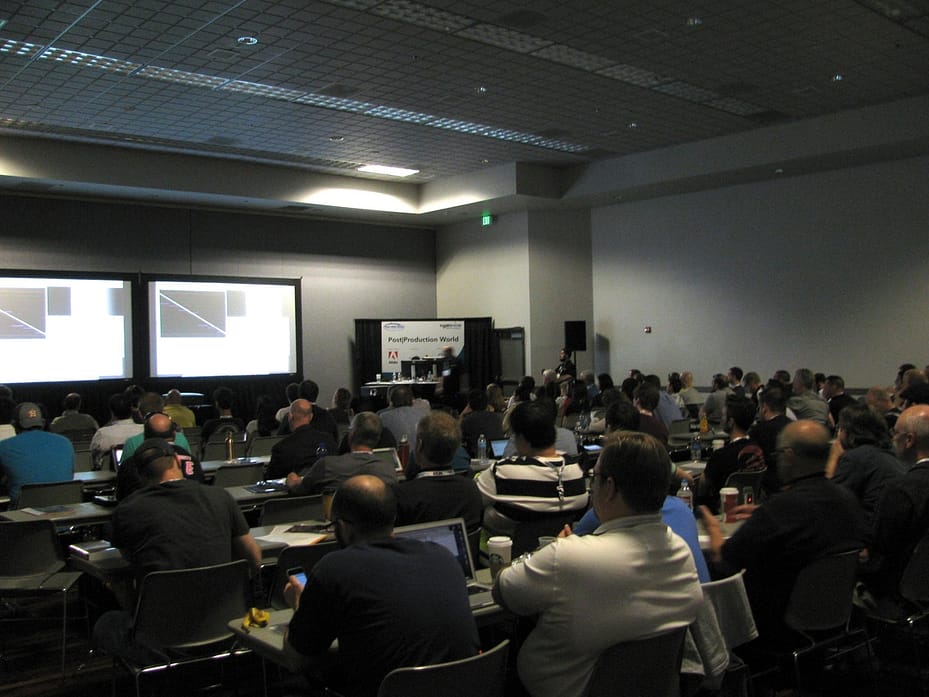 For the 2nd year in a row (and a third year for Robbie and Patrick), Team Mixing Light is presenting this full day of color training. It's geared to users of all levels (and has been one of the best attended sessions at Post | Production World for the past few years). Attendees include colorists, editors, DPs, producers and of course the all encompassing preditor.
2014 Focus On: Craft and Clients
If you've attended our track in prior years, you'll notice we've changed things up a bit! This year the Focus On: Color Correction day is about the art, craft, and technique of color grading—including how we handle our clients and run our grading sessions.
Why did we change things up? In previous years, this day-long event was the only session centered around Color Correction. As a result, we focused heavily on technical concepts like primary & secondary corrections, developing looks, LUTs and so on.
That's not true this year. This year, you'll find several color correction sessions, including: a one-day plus an additional half-day session teaching DaVinci Resolve and a half-day session focused on Adobe SpeedGrade CC—all taught by one or two Team Mixing Light founders. Trust us, there will be plenty of time to talk about foundational grading concepts.
Collectively, these other sessions give us the opportunity to take a totally different approach to the Focus On: Color Correction Day.
1 Day, 5 Sessions (and a Special Keynote Colorist Presenter)
The day is broken into five 75 min sessions—and the theme of the day is Case Studies. We'll be using real world case studies to show what color grading is all about and how we perform our jobs across several different types of color grading jobs and clients.
And we're super-psyched to announce a VERY special guest presentation covering a Grading Breakdown of the Sci-Fi hit film, Elysium from director Neill Blomkamp starring Matt Damon. It was color graded by the amazingly talented Andrea Chlebak of Digital Film Central and she'll be joining us, breaking down her workflow, offering insights and discussing how the high-end color grading system Baselight was used on this feature film.
Breaking Down the Focus On Day
The Focus On: Color Correction track is a full day event.
How you attend the day is up to you!  For a comprehensive view of different types of grading, and different grading approaches stay for the entire day. Or come for the session that most interests you. Post | Production World attendees sign up for the entire conference, not specific tracks. You can stay with us the entire day – or just drop in on one or two color correction sessions you find interesting and then also learn about audio. Or budgeting. Or lighting.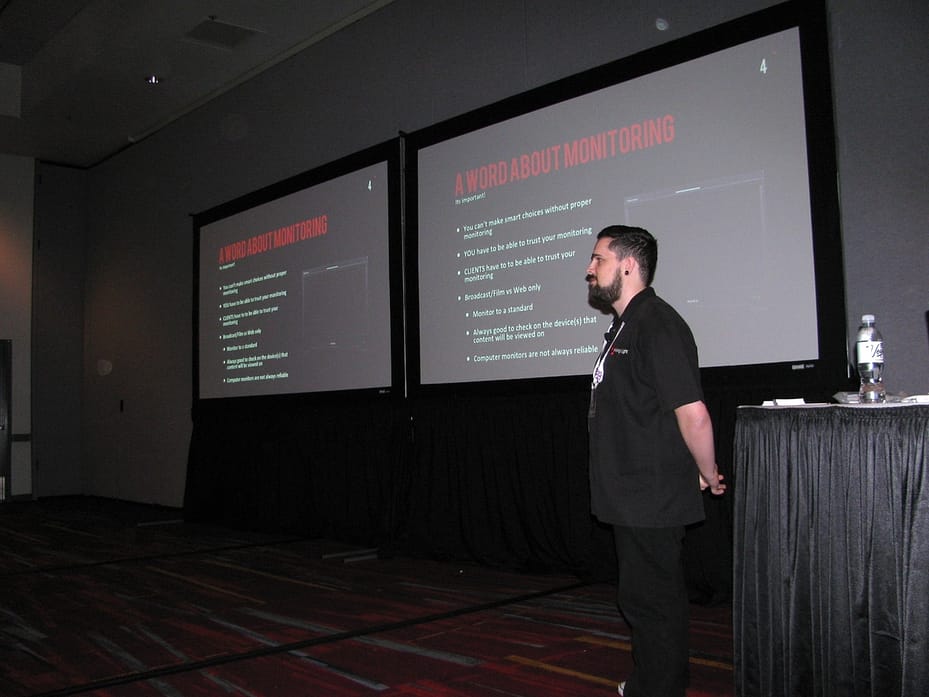 Here is an overview of each session:
Session 1: Why is color correction so hard? 
Start out the day with an in-depth exploration of the disjointed link between human perception and reality. Discover why colorists are so insistent about the tools they use, about how they arrange their color correction suites and how all of this circles back to the fact that you don't see images the way you think you do. By the end of this session, you'll understand how a colorist thinks and works to create rich, balanced and compelling shots—and be able to use the same tools they use to improve the consistency and quality of your color correction work.
Session 2: Keynote – Elysium: Crafting The Future in DI
Spend 75 minutes learning about the progressive workflow and color grading approach of Neill Blomkamp's 2013's sci-fi feature film, Elysium.
Presented by Andrea Chlebak, Senior DI Colorist at Central, discover how Elysium was color graded, including a breakdown of the unique workflow that addressed the film's creative challenges, and elevated client collaboration to provide the maximum creative experience for the Director, VFX teams and the DI crew.
Graded in ACES on FilmLight's Baselight system, Andrea will discuss the many novel Baselight features used in color grading this hit feature, and you'll see how Baselight Editions can bring FilmLight's high-end tools to your own editorial environment.
Session 3: The Proxy workflow and 'Film-Style' Color Grading 
In this session, Colorist Patrick Inhofer presents his color correction workflow and shares his grade breakdowns for the short film, Mother Died. Learn  time-saving techniques he uses when color grading feature-length indies using this beautiful short film (set in the end of the world) as our science lab.
Filmed on a Red Epic, edited on Final Cut Pro X and color graded on DaVinci Resolve 10, you'll learn the grading workflow from creating dailies for editorial, then relinking back to the camera originals. Learn the various approaches used to create several different 'Looks' and how Patrick used the new OpenFX feature in DaVinci Resolve 10 to further develop unique looks and interesting grades.
Session 4: 'Perfect Product' Commercial Color Grading
How do you grade when you have 12 clients observing and critiquing every pixel and decision? London-based commercial colorist Dan Moran will be sharing how he approached a commercial he graded recently.
In this session learn how to dive deep into a grade when time isn't an issue and spending up to an hour grading one shot is expected of you.
Dan will be breaking down some of his complex grades and sharing his techniques when rotoscoping, matching up multiple camera, building a natural but filmic look, using blending modes creatively and how to approach a grade when you have two full working days to grade only 90 seconds of footage.
Session 5: 'Show me something new' Color Grading 
Fun, hip, current, creative and Instagram were just a few of the descriptors that colorist Robbie Carman got from his clients on a recent job. Where do you start when given those directives?
In this session, learn the process of discovering clients desires, likes, wants and needs and how to best translate those onto screen. Discover several color grading techniques for creating heavily stylized grades and the subtle differences between a good grade and a little too much.
Also discussed will be how grade management can be a make or break for very intense grading sessions and how to handle your client's client.
Other Color Training
As mentioned above – this year Post | Production World has a ton of more color correction and grading sessions.  Most of which are taught by Team Mixing Light.
Saturday April 5th
12pm – 3pm Bootcamp: Getting Started With Adobe SpeedGrade With Patrick Inhofer
12pm – 3pm Bootcamp: Shooting For Color Correction & Grading With Hector Berrebi
4pm – 7pm Bootcamp: Getting Started With Blackmagic DaVinci Resolve With Robbie Carman
Sunday April 6th
Full Day Focus on Color Correction and Grading!  
Monday April 7th
2pm – 3:15pm  Get The Most From Your Footage: Why RAW & LOG Recording Is So Important With Robbie Carman
3:30pm – 4:45pm Color Faster Lumetri & Direct Link Color Workflows with Premiere Pro & SpeedGrade With Robbie Carman
Tuesday April 8th
3:30pm – 4:45pm Calibrating Your Monitors For Accurate Color With Robbie Carman
Wednesday
10am – 6:15pm In-Depth: DaVinci Resolve Color Grading Workshop with Dan Moran and Patrick Inhofer.
The 2nd Annual Colorist Mixer
Last year, Team Mixing Light and our pals at the International Colorist Academy thought it would be fun to get together with fellow colorists and the folks we know on Twitter and Facebook and have a couple beers and talk shop.
That's how the NAB Colorist Mixer was born!  Last year we had about 50 people at a very informal event.  This year we're taking the Mixer to the next level.
Through the generous support of our Sponsors we've been able to plan an awesome evening.  Including a raffle of over $10,000 worth of hardware and software!
The event "sold out" 10 days after it was announced on both the Tao Of Color weekly newsletter and by the ICA newsletter, but you can still sign up for our waiting list and if a spot opens up then please join us!
The Mixing Light Show Floor Guide – Coming Soon!
While NAB has done a much better job on the show website as well as on the actual show floor helping you find various company booths (or stands for our European friends) wouldn't it help if you had a guide to color specific ones?
We think so! Check back here on the blog next week for an annotated show floor guide for those interested in color correction, including booth numbers and a reason visit the booth.  Of course if there is a booth you think others in our community would like to visit please use the contact form and let us know! We'll be happy to spread the word.
Comments