New membership levels, new members-only discounts page, and how it affects existing members (if at all)
For 10 years, Mixing Light has had the same basic membership structure: Two tiers (Streaming and Premium), three payment terms (Monthly, Quarterly, and Annual). The difference between Streaming and Premium Memberships was the ability to download our video and audio Insights. Otherwise, it was mostly a payment preference.
Did you want monthly payments? Go Streaming. Do you hate those monthly payments but don't like one big payment each year? Go Premium, with quarterly payments.
Starting today, everything has changed. Mostly.
But first: Announcing the new Steals & Deals page!
Just in time for Black Friday and Cyber Monday, Mixing Light has a new members-only discounts page! We are teaming up with software developers, hardware manufacturers, and trainers to offer discounts to our members. We call these Deals.
Some of those discounts are so steep, so generous, they're in a category of their own. We call these Steals.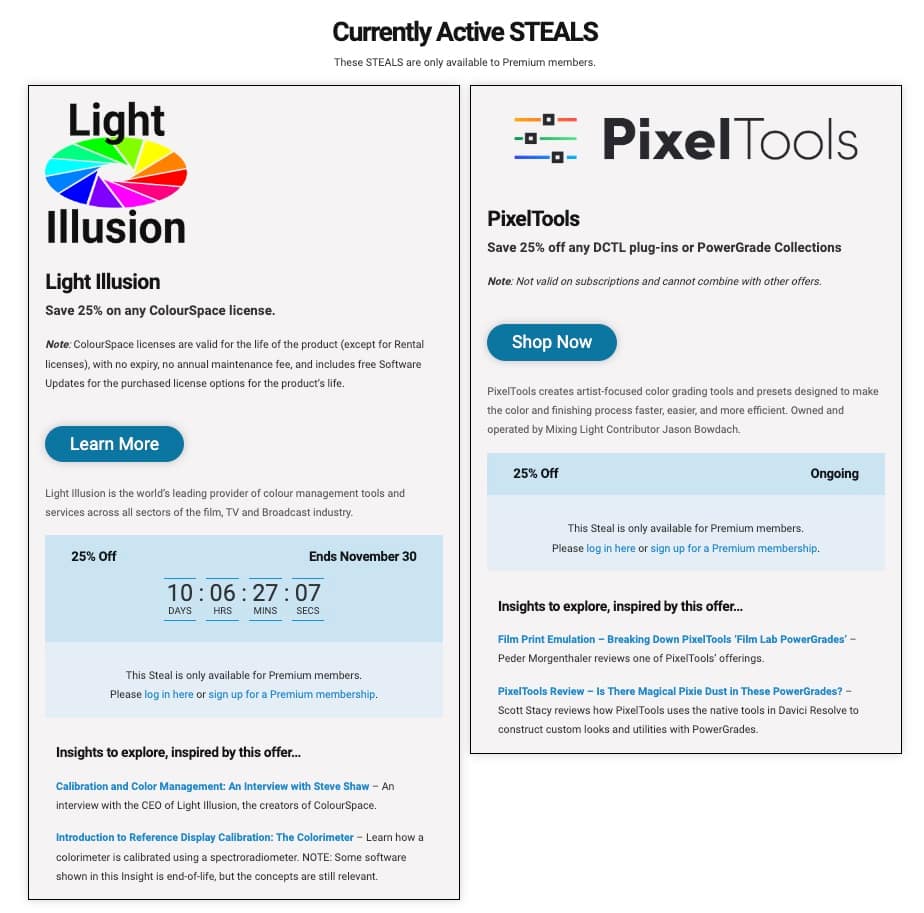 Discover+, legacy Streaming, and Premium members can access Deals. But the big money-saving Steals? Those offers are only available to Premium members.
One final thought – in conversations with vendors, we asked that if they have an Affiliate program, we prefer to give the entire Affiliate percentage back to our members for deeper discounts to make these Steals & Deals as amazing as possible (and to keep our members returning, year-after-year).
In a few cases, we've kept a partial Affiliate payout. Any offers with Affiliate payouts to Mixing Light are clearly marked (and rare)!
NEW: Discover and Ascend/Discover+ membership levels
Before explaining the two new membership levels, I have to say this:
For existing members – nothing has changed!
Existing Streaming and Premium members won't notice any change to their memberships. And in our new membership structure, we still have Premium plans. BUT – it's only available as an Annual payment. No new Quarterly payment plans are available. Streaming plans are no longer offered for sale. In both cases, the Price Lock Guarantee is in full effect.
The legacy Streaming plan is replaced with the Ascend/Discover+ plan.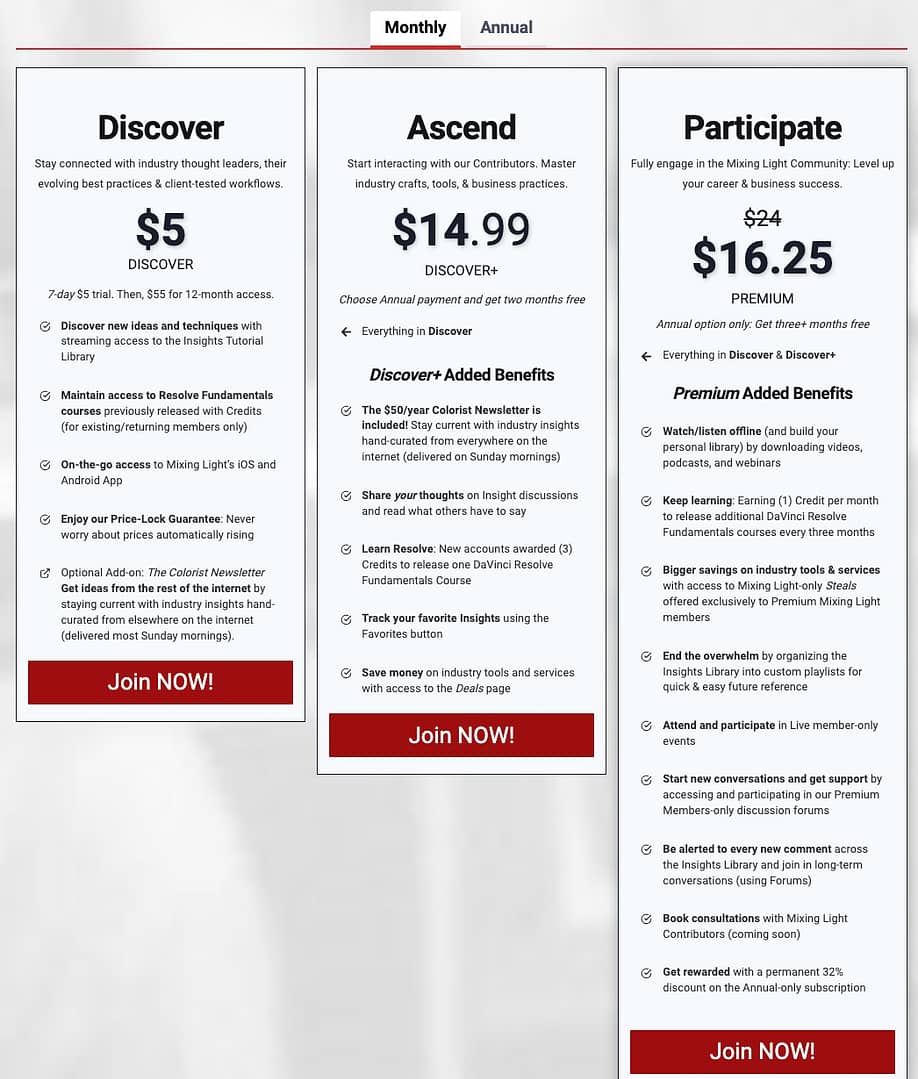 In an effort to make Mixing Light available to more people (i.e., less expensive), we decided to create more distinctions between membership plans. The slimmed-down Streaming plan is now the Ascend/Discover+ plan. A new entry-level Discover plan is a 'Mixing Light as a magazine' tier. You can head over to the pricing page for a full run-down of the benefits and features of the Discover and Discover+ plans. But here's a quick summary…
Mixing Light as a magazine: The Discover membership plan
The Discover plan is the lowest-cost plan we could develop. It's $5 a month, payable in one annual payment (with one month free). Essentially, it's a read-only membership level. Here's what it doesn't have:
No Insights comments (reading or replying)
No forums
No attending live webinars or Office Hours LIVE!
No access to Steals & Deals
No Credit system to release DaVinci Resolve Fundamentals or accrue credits
A few other features are also unavailable to Discover members (detailed on the pricing page)
No monthly subscription.
What do Discover members get? Access to the Insights Tutorial Library. You can stay current and in the know. Full stop. Period. Read, watch, listen. At your computer or on the go with our iOS or Android app.
This is as basic as we could get it. Like… a magazine. 🙂
Comments, a Course, and Deals: The Discover+ membership plan
Comments are valuable.
Great discussions happen at the bottom of those Insights pages, providing additional links, context, and workflow updates. The Discover+ membership adds access to Insights comments.
Pick a Course, any Course
New Discover+ accounts are also awarded three credits that can be used to unlock one (and only one) Resolve Fundamentals course (you choose which). But only Premium members can accrue credits to continue unlocking our full library of stand-alone Resolve Fundamentals courses.
Note: Existing members who cross-grade to a Discover+ membership can keep access to previously unlocked courses. But only Premium members can spend Credits to unlock additional Courses.
Access to the Deals & Steals page
Ascend/Discover+ members can access the Deals on the Steals & Deals page.
Conclusion – New discounts, new membership plans
In designing these new membership tiers, I hope we found the right mix of benefits and features that support the varying price levels. The Discover membership level is a bit of a leap of faith that it doesn't undervalue all the amazing content created by our Contributors. I met with our Contributors earlier this year, and there was a strong, heartfelt desire to find a way to make Mixing Light more widely available.
I hope that we've achieved that goal of helping more people from more countries and more backgrounds find and accelerate their growth in video and cinema post production.
Help spread the word!
Mixing Light is a boot-strapped operation. We rely upon word-of-mouth as our main form of marketing. This holiday season is a great time to spread the word on socials, in your companies, and across your networks.
If Mixing Light has impacted your career – then let your peers know! Don't just tell them we're awesome. Tell them one specific thing you're doing now that you learned from our Contributors. The more Mixing Light grows, the more Insights we can produce, the more our careers accelerate, and our lives improve.
Enjoy the holidays!
– Patrick