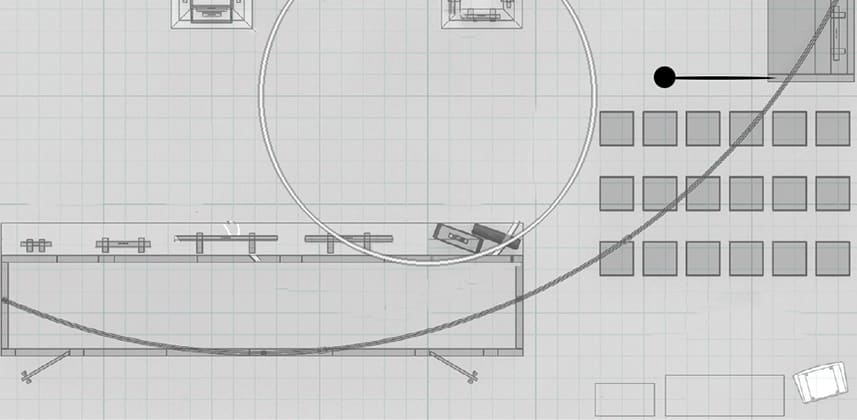 It's tough to teach HDR gotchas and techniques over SDR channels, like our website. This is a great opportunity for our team to demonstrate what we've learned as professional colorists tackling HDR in client-driven sessions
Herndon, VA, USA – May 19, 2019 – Mixing Light is proud to announce a full teaching roster of post production pros at the Mixing Light Presentation Theater in the Flanders Scientific booth in the Lower South Hall at NAB 2019. This free teaching series features presentations on the finishing and color grading side of post production. The three Mixing Light co-founders are joined by five regular contributors to the color grading continuing education website. Presentations start every morning at 10:15am from Monday, April 8 through Thursday, April 11, 2019.
The Presentation Theater is co-sponsored by Flanders Scientific, distributors of reference and monitoring displays for the production and post production community, and Gaiamount, the mainland China training arm of Zunzheng (the manufacturer of Flanders Scientific displays).
"We gave Mixing Light an open invitation to present at our booth," said Bram Desmet, CEO of Flanders Scientific. "We made no demands on their teaching topics but made available to them our 3,000 nit displays – if they decided to do HDR focused presentations. Of course, we're pleased they are teaching these emerging HDR workflows, including Dolby Vision. At FSI, we field many questions about HDR and it's great having Mixing Light educating everyone on the show floor, based on their hands-on experiences."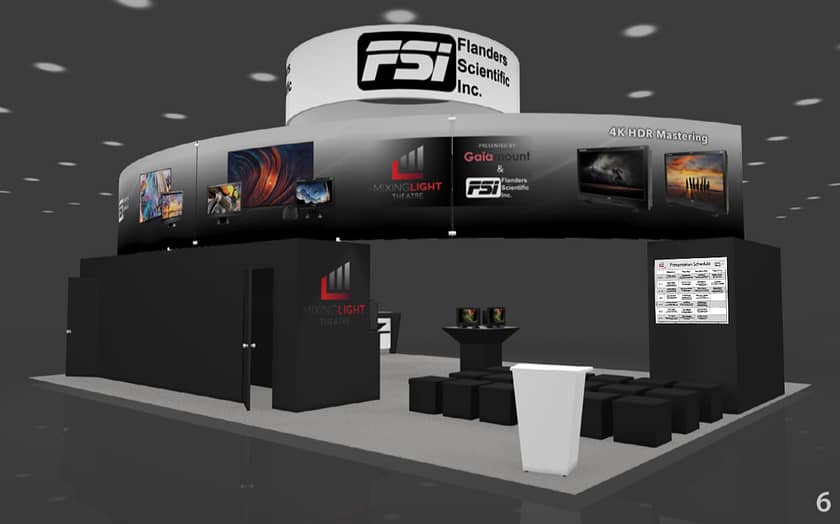 "HDR is a big focus in our teaching grid," said Patrick Inhofer, co-founder of Mixing Light. "It's tough to teach HDR gotchas and techniques over SDR channels, like our website. This is a great opportunity for our team to demonstrate what we've learned as professional colorists tackling HDR in client-driven sessions – using professional reference grade HDR displays. But it's not our only focus. We also have sessions on Fusion, the future of post production, moving metadata from set to post, setting up high-quality finishing in Premiere Pro, color managed workflows, and many other topics I think finishers and colorists will appreciate."
4-Day Teaching Grid: Mixing Light Presentation Theater at Booth SL6328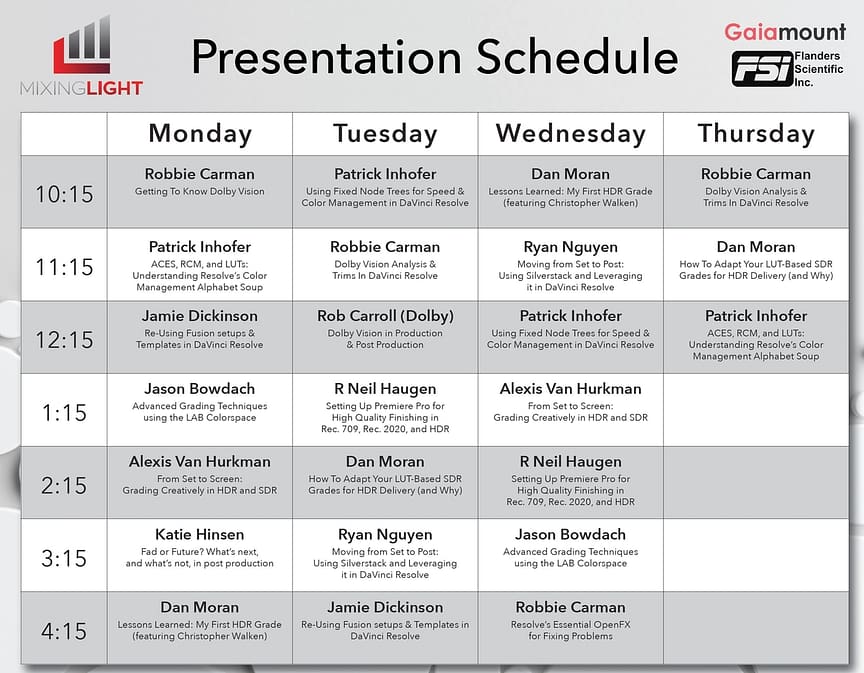 "We're really excited about this lineup," said Robbie Carman, co-founder of Mixing Light. "We made a call to our website contributors to see if anyone wanted to participate – their responses were both congratulatory and very excited to take part in the presentation theater! We made only had one request of them for their topics – to aim higher than intro-level presentations. At NAB this year we want to help working pros stretch their careers. I think this grid does that. And if on Day 1 you miss a session you really wanted to see, it'll repeat itself later in the week."
Dan Moran, the third co-founder of Mixing Light, adds, "We're also super-excited about our two special guests Rob Carroll from Dolby and colorist, director, and uber-writer of the DaVinci Resolve User Guide, Alexis Van Hurkman. It will be cool to have Rob from Dolby giving a talk about Dolby Vision and their workflow suggestions as well as answering questions on HDR. Alexis Van Hurkman – a good friend of Team Mixing Light also joins us. Alexis, besides being the ultimate resource on DaVinci Resolve, he's been exploring HDR for several years on his own short films. I can't wait to hear about his experience and suggestions in the new HDR landscape."
The Mixing Light Theater is located at Booth #SL6328 within Flanders Scientific. Presentations begin 15 minutes after the start of the hour and run up to 30 minutes, including audience Q&A.
# # #
EDITOR'S NOTE:
Mixing Light's Press Logo Package is available for download as a zip file from https://mixinglight.com
A Press image of the three co-founders of Mixing Light is available at https://mixinglight.com
About Mixing Light
MixingLight.com is the premiere online resource to learn the art, craft and business of modern video color correction and grading. Founded by three working colorists with a passion for color & education, our training comes from real-world experience not the pages of user manuals.
Our main product is a subscription to the Insights Library, which features hundreds of videos, articles, & audio podcasts. With 9-14 items added each month, you can stay on top of cutting edge techniques, strategies and business practices used by professional colorists.
We cover an ever-growing selection of popular tools like DaVinci Resolve, Premiere Pro, Final Cut Pro X and Avid Media Composer. We also offer stand-alone training titles for DaVinci Resolve, without subscription, for those that want to jump into learning color correction software.
For more information, please visit mixinglight.com or follow us on Facebook (facbook.com/MixingLight) or Twitter (twitter.com/mixinglight).
Media Contact:
Patrick Inhofer
Co-Founder & Colorist, Mixing Light, LLC
team.ml@mixinglight.com
+1.517.308.2914