Does DaVinci Resolve make you feel unTalented?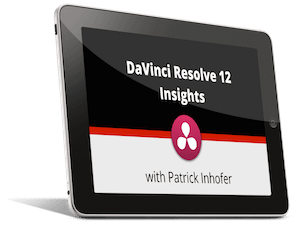 Talent Walks Hand-in-Hand With Confidence
You won't be confident (or feel talented) if you don't know the basics  of DaVinci Resolve or color correction. There are fundamentals concepts you should know in Resolve to end that untalented feeling.
Get on the road to feeling talented by knowing how to… 
Easily import footage while maintaining the folder structure of the source hard drive
Sort and tag your footage using metadata and create Smart Bins and Smart Filters
Edit your footage into a timeline and properly set Audio and Video track targets
Color correct your timelines with confidence and a minimum of fumbling
Use (not just read) the Vectorscope, Parade or Wavform displays to speed up your color correction decisions
Customize the Render Cache to maximize real-time playback on your computer (or laptop)
Render out the final timeline for delivery to your client (as individual clips) or to YouTube (as a single clip)
Stop feeling un-talented.
Learn a repeatable color correction workflow, tailored to DaVinci Resolve.
Learn to see like a professional colorist
Embedded throughout this training are lessons on Colorist Lingo, image evaluation, using waveform monitors, shot matching and Look creation. Using feature unique to DaVinci Resolve, you learn techniques for communicating more effectively with Directors, Producers and Cinematographers.
Not just 'button learning'
This beginner-to-intermediate training series progresses logically through DaVinci Resolve and moves you beyond the buttons. As you achieve new depths of understanding, our 'In Action' chapters let you pause and apply your new knowledge to professionally shot footage—included as part of this training series.
Learn on the free or paid versions of Resolve
It doesn't matter if you're working with the DaVinci Resolve Studio or the free version, you can follow along. When we talk about paid features, we explain them so free users can decide if they need (or want) to upgrade to the paid version.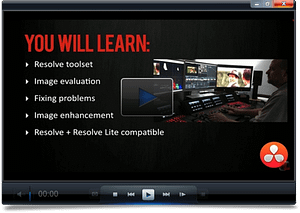 At Mixing Light we do more that teach you the interface. We teach you workflow; from image evaluation through creating the final Look.
For Editors, Directors, Cinematographers, Colorists
(and their Assistants)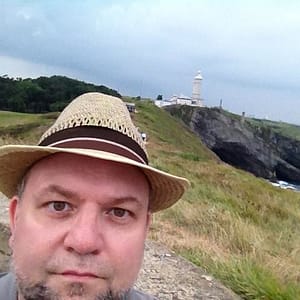 Learn from Patrick Inhofer, CSI—a professional colorist with 16 years color grading experience. His specialty is long-form projects, working under tight deadlines (and tighter budgets).
Created for Professionals, by Professionals
MixingLight.com is a website created by three professional colorists. Between us we've had several decades of experience working with editors, directors, cinematographers, producers and their assistants.
Don't repeat our mistakes
We make mistakes. Usually with clients sitting next to us (often with hard deadlines hanging over us). Learn techniques and workflows to avoid our mistakes and make the craft of color grading much easier to execute.
We also succeed – learn useful insights we apply every day with paying clients on professional jobs. These techniques are born out of theory but they are battle-tested and colorist-approved.
Learn to speak 'color grading'
Having hearts of teachers, Team Mixing Light knows how to explain color grading in the language of the craft. This training is the culmination of our careers. Patrick, your teacher on this title, doesn't hold back any tips or tricks. If he thinks some kernel of truth is essential to teach you – it gets taught.
Beginners Aren't The Only Ones Feeling unTalented
Did you learn DaVinci Resolve through Trial & Error?
Guess what? You missed something new. And that 'something' is about to become your new new favorite feature. Maybe it's hidden away in a right-click menu? Or maybe it's a feature you tried but it didn't do much and you never went back to figure it out?
Get ready to find your new favorite feature
A 14-hour Course like Resolve 12 Fundamentals reinforces everything you already know and teaches you the new features, workflows and opportunities you missed. Today is a great day to brush up on your Resolve skills. All it takes is a few new tips to save you thousands of mouse clicks over the next 12 months.
Start Feeling (More) Talented On DaVinci Resolve
Get started (or brush up) on DaVinci Resolve
DaVinci Resolve 12 Fundamental Insights
This is Mixing Light's core DaVinci Resolve 12 training. From setting up a Resolve system to understanding Colorist Lingo to learning a repeatable color correction workflow; this title is everything you need to get started.
At 14+ hours, you'll get the core knowledge you need to feel good about using DaVinci Resolve 12 (and the craft of color correction).
Additional features in all our courses:
Tagged with iTunes metadata and organizes into a single Television Show
PDF Guides with short summaries of every movie – great for doing a 'find' on keywords you're trying to learn
iPad-ready
Color correct the camera original source footage used in the training
DaVinci Resolve project files to follow along with the training
If your internet isn't reliable enough to download the full-sized camera original footage then download the much smaller proxies
Download the PDF Guide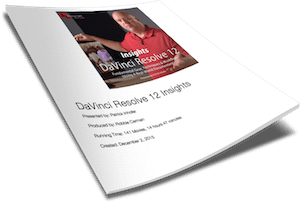 Table of Contents: DaVinci Resolve 12 Fundamentals
Click, download and read the full Table of Contents for the Insights training. It includes summaries of each video, broken into Chapters.
Sample Videos from Resolve 12 Fundamental Insights
(click to play, then click the 'expand' button to see each movie full-screen)
https://media.s3bubble.com/embed/hls/id/XnxB29999
https://media.s3bubble.com/embed/hls/id/QPWG29998
https://media.s3bubble.com/embed/hls/id/hhbK30002
https://media.s3bubble.com/embed/hls/id/BBww30003

Bonuses With This Course
But wait… there's more…
Bonus #1: 70+ Power Grades
What is a Power Grade?
More than Presets… these are Resolve 'Node Trees' that allow you to deconstruct our work and modify them to perfectly work on your specific footage.
You'll understand the incredible usefulness of Power Grades by the end of this Course… and then you'll LOVE these 70+ PowerGrades, hand-crafted by Mixing Light. They are organized by category (Looks, Utility, etc) and are full color corrections you can modify for your purposes.
Bonus #2: 17 Additional Mixing Light Movies
Why 17 Additional Movies?
The Insights Color Library is the membership side of this website. New videos, articles and podcasts get posted every week – for a color correction continuing education experience.
We've ripped 17 movies to give you additional updates about DaVinci Resolve 12. You'll learn additional features and workflows we couldn't fit in to this Course.
---
Bonus #3: Free 45-Day Test Drive of the Insights Color Library
If you're a non-Member of MixingLight.com's Insights Library, then we've got an exclusive treat for you… you can do an extended version of our 7-Day Test Drive! You can Test Drive the site for 45 days… and we don't take your credit card information. You can join at the end of the Test Drive. Or not. It's completely up to you!
If you are a Member of the Insights Library then if your membership ever expires, use the 45-Day Test Drive – before re-subscribing for on-going access.

A Message From Patrick To You...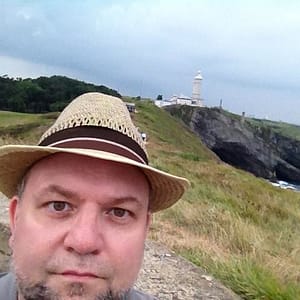 Thank you for considering this Resolve 12 Fundamental Insights Course!
DaVinci Resolve is such a huge app, the challenge isn't deciding what to include… the challenge is figuring out what to leave out. I've done my best to focus on the core functionality of DaVinci Resolve without leaving big gaping holes. That's why this title clocks in at 14+ hours.
That's also why I've including the Flight Paths playlists (used in iTune's compatible media players). Flight Paths let you get started in just a few hours with several different quick cut-downs of the whole Course. And then once you know the core of what you're looking for, you still have the full title to dig deeper.
I've also worked hard to go beyond the buttons and focus on workflow and the language of color correction. It's those additional movies that move you beyond that unTalented feeling.
Color correction is an amazing skill. It's both technical and creative – with an immediacy of results you don't get in many other crafts. And when executed competently, it adds tremendous value to the final result. I'm excited to help you start building (or further refine) your DaVinci Resolve skillset!
Sincerely,
Patrick
P.S. – In case you're wondering, here's my IMdB profile of my feature film and documentary work

Course Overview
Skill Level
Beginner / Intermediate
Total Running Time
14 Hours, 44 Minutes
---
Details
| | |
| --- | --- |
| Ship Date: | Available NOW! |
| Type: | Project-based, follow-along video training. Downloadable tutorials & source footage from a professional documentary. |
| Access: | Not included in Insights Library Memberships. Current Members receive substantial discount. |
| Prerequisite: | None. Follow along with the Free or Studio versions of Resolve 12 or Resolve 12.5 |
Get Up To Speed with DaVinci Resolve 12
You can dig deep or just learn the basics of DaVinci Resolve (in only a few hours). Using our multiple Flight Plans (iTunes playlists), select a Quick Start playlist to cut down on the learning curve. When you're ready, take this full Course and start building your Resolve skills by downloading our Project files, Databases, and camera footage. Learn the differences between DaVinci Resolve Free and DaVinci Resolve Studio – plus the components of building a pro-level DaVinci Resolve rig and color correction suite.
Note: Are you using DaVinci Resolve 12.5? This Course was recorded in DaVinci Resolve 12 but you can still follow along. In 12.5 menu items were moved and new functionality was added – but all the basics you're learning in this Course are precisely the same!
Course Pricing
Purchase Course
---
Our Color Correction Courses are stand-alone training titles. Pay once, own them forever. If you have ever purchased one of our other Courses (or are a paying member of our Insights Color Library) then log in to activate your discounted pricing.
What's Included
Complete set of Projects, Databases, and Exercise Files for you to import and follow-along with the training
Download light-weight ProResLT practice footage from the documentary, "Tanzania: A Journey Within" and follow-along
Optionally download the ProRes422HQ camera original footage (4.17 GB) to see how it feels to color correct a high-quality codec
Tagged for iTunes-Compatible media players & self-organizes into a single TV Show
Get Flight Paths: iTunes-compatible Playlists for 'Quick Start', 'Quicker Start'; 'Understanding LUTs' and more...
Bonus: Get 70+ Power Grades to use on all of your projects
Bonus: Activate the 45-Day Insight Color Library Test Drive... available only as Bonus to our Resolve 12 Courses
30-Day No Questions Asked refund policy
Bundle Options
Save by bundling with other courses!
---
The Complete DaVinci Resolve 12 & 12.5 Course Bundle
Purchase Course Bundle
---
If you want to seriously level-up your DaVinci Resolve and color correction skills - then this bundle is what you want. It's three complete training courses for one unbeatable price. Start with Resolve 12 Fundamental Insights, then move to Resolve 12 Advanced Insights and finish up on Resolve 12.5 Updated Insights.
What's Included
Get access to all THREE of our DaVinci Resolve 12 stand-alone training courses
Follow along the whole Resolve 12 series even if you're using DaVinci Resolve 12.5
Every course has its own set of Project or Databases for you to import and follow-along
Each Training Course is tagged with iTunes Metadata and self-organizes as individual TV shows on your computer (when imported into an iTunes-compatible media player)
Get all the Bonus materials from each of the individual Courses
30-Day No Questions Asked refund policy