Are You Ready To Level Up Your Skill with DaVinci Resolve 14?
Watch the overview movie for this course
Is it time to stop searching the internet with your DaVinci Resolve questions?
If you're constantly haunting forums or searching the internet then maybe it's time to sit down and intentionally 'level-up' your skills with DaVinci Resolve?
Because at version 14, DaVinci Resolve is a really deep app. And it's hard to know what's important to learn, right away, versus what's nice-to-know – if you're learning it on your own?
This Resolve 14 Add-On Course goes beyond the bare DaVinci Resolve essentials and provides the insight, tips, and tricks you can only pick up from an experienced, professional DaVinci Resolve specialist – but presented in an easy to understand manner.
Build Your DaVinci Resolve Confidence
Take a deeper dive into essential Resolve features you know you're missing
Click to download the Resolve 14 Certification Add-On PDF: It lists every movie with summaries, so you know precisely what you're getting. This course covers dozens of common questions people ask about on forums, in Twitter, and in Facebook groups:
Understanding Databases, Projects, and how do you move projects between computers?
Working with XMLs and how do you use offline reference movies?
How to import, export, apply, and organize your Look Up Tables (LUTs)?
Multicam workflows: Including creating, syncing, and editing multicam clips
Advanced editing tips for working more quickly and efficiently in the timeline
Working with audio on the Edit page (including keyframing)
A deeper dive into many Color page tools for primary and secondary color corrections (including: what is a 'primary' and 'secondary' color correction?)
How to pull and refine keys?
Create more sophisticated node trees for more advanced corrections (that save you time)
Get an understanding of how to use Resolve Color Management
Using the Media Manager to Copy, Trim, and Archive projects and timelines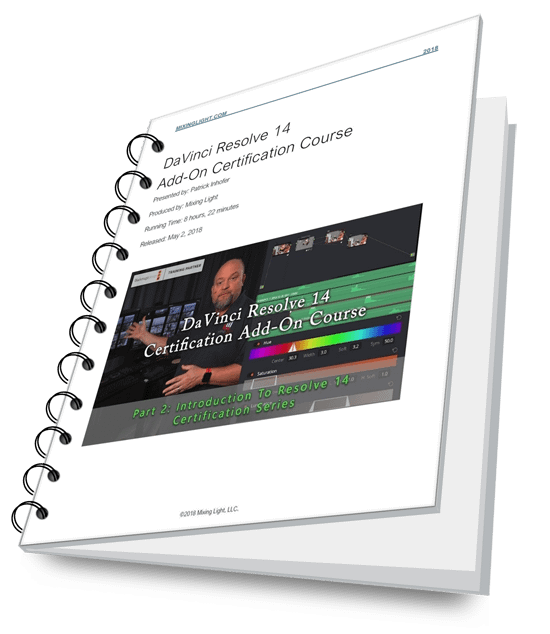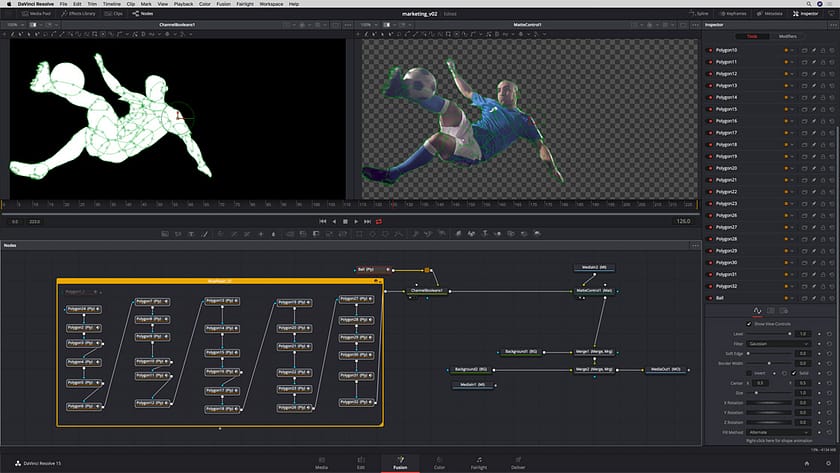 Get prepped (for Resolve's future)
This course also prepares you for when DaVinci Resolve 15 comes out of Public Beta. Why aren't we training you on the DaVinci Resolve 15 Public Beta right now? Because how do you tell the difference if you're making a mistake, or if the software feature you're using isn't fully implemented (or is broken)? Learning new tools on Beta software is a setup for frustration and abandonment.
Instead, we recommend you use the most recent version of the stable, battle-tested DaVinci Resolve 14. Because when Resolve 15.1 is finally released, you'll already understand the core elements of Resolve (which stay consistent for many many years) and be ready to upgrade. Enjoy a much more pleasant learning experience using the more mature v14 software release (note: we recorded with Resolve 14.3).
Integrates with the optional
In The Shadow Of Giants documentary
(a Mixing Light color correction practice project)
Since its introduction, Mixing Light's color correction practice projects have proven an extremely popular solution for a common problem: How do you build up your color correction skills if you don't have access to a high-quality project? We are now starting to integrate our Practice Projects into our training courses. If you already own the necessary Practice Project, you don't have to buy it again. And since we're not always having to license new projects to include in our courses, we don't have to charge extra for them. So…
To save you money on this Course, we're using our In The Shadow of Giants practice project as follow-along  media.
If you have your own footage to follow along then you don't need to buy this Practice Project! But if you do need footage, then purchase this Practice Project after unlocking this course. In The Shadow of Giants is an 11-minute documentary:
Shot match 4 different cameras (C100, OSMO, Blackmagic Cinema Camera, Canon5DmkII)
1080p @ 23.976
Source footage is all camera original
After you unlock this Course, get a special discounted price on this Practice Project!
You Have More Training Options Than Ever.
Why Choose Mixing Light?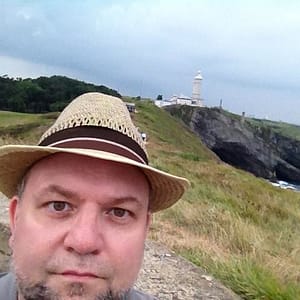 Learn from Patrick Inhofer—a professional colorist & mentor with 16+ years color grading experience. His specialty is long-form projects, working under tight deadlines (and tighter budgets). He's a Blackmagic Certified Trainer.
Created for professionals, by professionals
MixingLight.com is a website created by three professional colorists. Between us we've had several decades of experience working with editors, directors, cinematographers, producers and their assistants. Two of us spent a combined 20+ years as editors, as well.
Don't repeat our mistakes
We make mistakes. Usually with clients sitting next to us (often with hard deadlines hanging over us). Learn techniques and workflows to avoid our mistakes and make working in DaVinci Resolve much easier to execute.
We speak 'DaVinci Resolve' (in a way you can understand)
Having hearts of teachers, Team Mixing Light knows how to explain working in DaVinci Resolve in plain language. This training is the culmination of our careers. Patrick, your teacher on this title, doesn't hold back any tips or tricks. If he thinks some kernel of truth is essential to teach you – it gets taught.
We are a Blackmagic Certified Training Partner
Very few websites are trusted Training Partners for Blackmagic. We wear this badge with honor.
You can be sure that everything we do holds up to the strictest standards of integrity and accuracy. Our certification Courses are carefully designed to meet every learning goal that Blackmagic lays out to its Training Partners. We hold ourselves accountable to you, to Blackmagic, and the community we serve.
Watch Movies Ripped From The
Introduction to DaVinci Resolve 14 Add-On Course
---
Frequently Asked Questions
Is ANY follow-along media included with this Course?
Yes, absolutely. An 11-camera project is included for the Multicam chapter. In addition, the companion (and free) QuickStart course also has media you can use to follow along. But if you want to follow-along 100% with everything in these tutorials, you'll need to purchase the In the Shadow of Giants practice project.
Why isn't this Course using Resolve 15?
This course follows BlackMagic's educational program for certified training and has not yet provided guidance for Resolve 15. Plus, Resolve 15 is in Public Beta and we strongly believe that new users should NOT be learning on Beta software. Because if the software crashes or tools don't work as expected, they don't know if it's a problem with the software or them!
Can what I learn in this Course be carried forward to Resolve 15?
Of course. These are all fundamental concepts being taught (with a few advanced 'candy' features dropped in for fun). Most of the concepts carry back to older versions of Resolve and will carry forward to many future versions of Resolve.
Is the QuickStart Course the same course as the Lynda / LinkedIn 'Getting Started with Resolve 14' Course?
Yes. Some of Mixing Light's training is licensed to Lynda / LinkedIn. Mixing Light's free DaVinci Resolve 14 QuickStart is identical to that Course. If you're one of their members and have completed that course, our QuickStart is functionally identical (with the exception of a few introductory and concluding movies). If you've completed the course on their website, you can proceed directly to this Certification Add-On course.
What's the deal with this Certification thing?
Mixing Light is an official Blackmagic Training Partner. The DaVinci Resolve 14 QuickStart course and our DaVinci Resolve 14 Certification Add-On combine to form our official Introduction to DaVinci Resolve 14 series. This series is designed to specifically prepare you to take the official Blackmagic Assessment Test for Blackmagic certification.
As a training partner Blackmagic specifies to us all the concepts we need to teach you to pass that Assessment. We believe this online Course is the first online offering designed around the specific requirements of Blackmagic's educational training program.
Is the Certification Add-On course also on Lynda / LinkedIn?
No. The Add-on Course of this Certification Series is available exclusively on Mixing Light. Currently, there are no plans to license it to any 3rd parties and the only place you'll find this full Certification Series is here on Mixing Light.
Do I need to do the QuickStart if I want to take Blackmagic's Certification Assessment Test?
Yes. Neither Course alone fully prepares you for that test. The QuickStart is offered for free on this website, to get newcomers familiar with DaVinci Resolve. The Certification Add-On builds upon the QuickStart foundation for a comprehensive introduction as specified by Blackmagic Design's educational program.
How much does the Assessment Test cost? Is the Test an exam? What is the process to obtain the Certificate?
The Assessment Test for Certification is free and delivered by Blackmagic Design. On this website  we provide a link to the online, open-book, timed Assessment Test – a link provided to us by Blackmagic. You have 60 minutes to answer the questions. If you pass, then you get an immediate download of a personalized Certificate issued by Blackmagic Design.
Course Overview
Skill Level
Beginner / Intermediate
Total Running Time
8 hours, 22 minutes
---
Details
| | |
| --- | --- |
| Ship Date: | Shipping NOW! |
| Type: | Project-based, follow-along video training. Downloadable tutorials, projects + source footage for multicam. |
| Access: | Requires Purchase (not included with Insights Library Membership) |
| Prerequisite: | Mixing Light's 'DaVinci Resolve 14 QuickStart' or equivalent knowledge. 'In The Shadow of Giants' Practice Project requires separate purchase. |
Level up your skills
and get proficient on DaVinci Resolve.
You will need to download these assets to your computer:
Exercise Files: 3.8 GB
Video Tutorials (1080p tagged with iTunes metadata): 16.4 GB (split into five ~3 GB download packages)
Optional Download – Camera Original Exercise Files: 34GB (split into eleven ~3 GB download packages)
Optional Purchase – 'In the Shadow of Giants' Practice Project: 27GB (purchased separately)
Course Pricing
Purchase Course
---
This Introduction to Resolve 14 Add-On Course is designed to raise your skill and comfort level on each DaVinci Resolve 14 page. To completely follow along you will need to purchase the associated Practice Project (available at a discount on the download page of this course)... or use your own footage to replicate the tutorials.
What's Included
Get immediate download access to this course
Download Projects, Databases, and Exercise Files for you to import and follow-along with the training
Download light-weight h264 practice footage to build your DaVinci Resolve muscle memory
Tagged for iTunes-Compatible media players & self-organizes into a single TV Show
Part 2 of our 2-Part Introduction to DaVinci Resolve 14 certification series
Get a discount on the In the Shadow of Giants color correction practice project