Are You Ready To Get Started With DaVinci Resolve?
Quickly? From Scratch?

(for free*, like YouTube)
Is it time to stop learning Resolve
from random internet tutorials?
There's tons of free content trying to help you use DaVinci Resolve. But the internet is hit-or-miss. And there are way too many misses, with no one you can hold accountable.
That's why Mixing Light is offering a properly designed, produced, and free QuickStart tutorial series for DaVinci Resolve 14! If you're a newcomer to DaVinci Resolve then get a complete training series you can trust!
*Use this discount code at checkout:
QuickStartFREE
Get these DaVinci Resolve tutorials for the price of YouTube videos: Zip. Zero. Nada.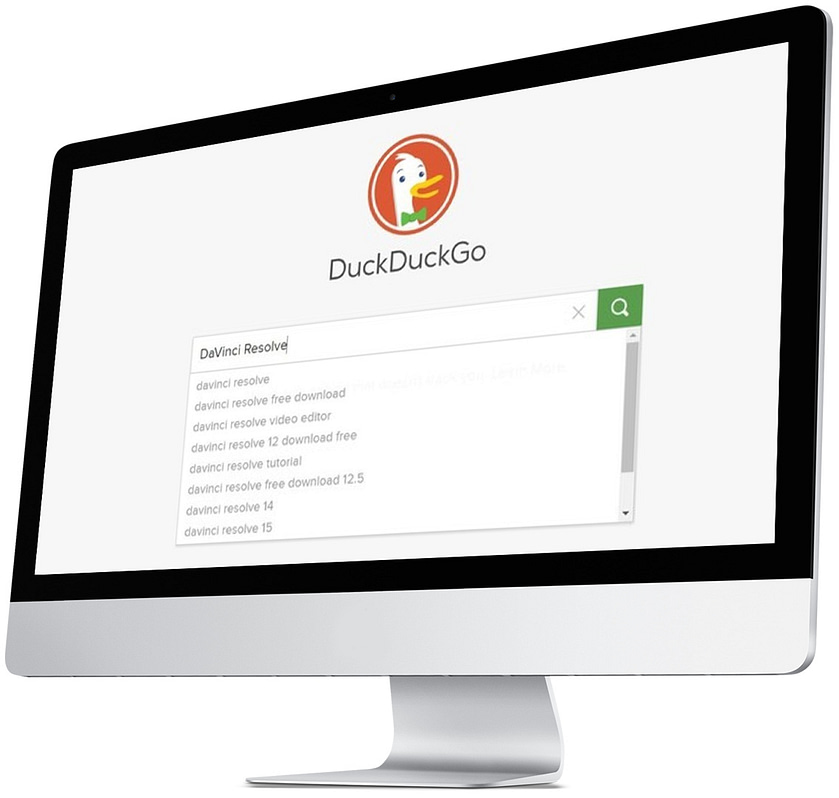 Get started with DaVinci Resolve. Properly.
With everything you need to follow along, step-by-step.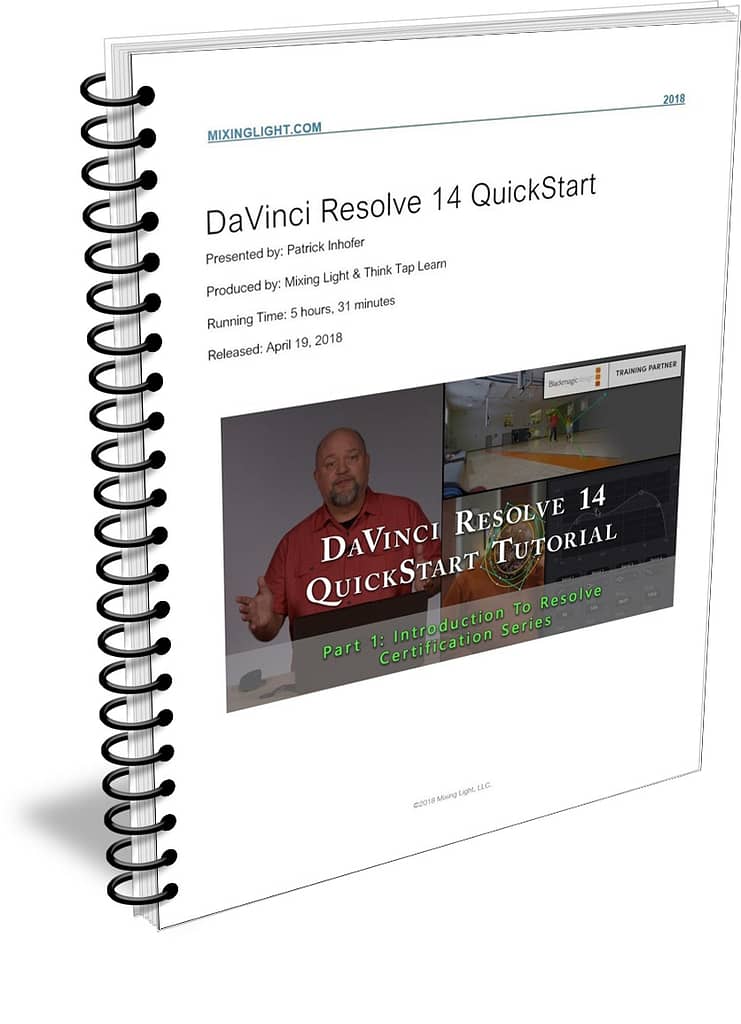 This is an organized approach to learning DaVinci Resolve.
Click to download the Resolve 14 Quickstart Course Guide PDF: It lists every movie with summaries, so you know precisely what you're getting. The 62 movies are broken into two parts.
Part 1: The QuickStart's QuickStart – In 95 minutes you'll touch every Page in DaVinci Resolve and understand its workflow. These (16) movies give you a complete tour of the DaVinci Resolve interface, while building out a rough cut of :60 second commercial for a not-for-profit. You even get the shooting script, the voice over script, and the full VO session files – to help you build your DaVinci Resolve muscle memory by doing (not just watching).
Part 2: Getting Comfortable in DaVinci Resolve 14 – The next (42) movies are organized into six Chapters. From big-picture DaVinci Resolve concepts to the specifics of working in each of Resolve's 'Pages'… by the time your reach the concluding Chapter you're well prepared to start organizing and working with your own projects.
Get prepped (for Resolve's future)
This course prepares you for when DaVinci Resolve 15 comes out of Public Beta. Why don't we want you to jump into the DaVinci Resolve 15 Public Beta right now? Because how do you tell the difference if you're making a mistake, or if the software feature you're using isn't fully implemented (or is broken)? Learning new tools on Beta software is a setup for frustration and abandonment.
Instead, we recommend you use the most recent version of the stable, battle-tested DaVinci Resolve 14.3 (or later). Because when Resolve 15.1 is finally released, you'll understand the core elements of Resolve, which stay consistent for many many years. So, enjoy a much more pleasant learning experience using the more mature v14.3 (or later) software release.
---
Discover if you enjoy the power of DaVinci Resolve
The QuickStart isn't watered down. It doesn't hold back. You'll have a good idea if you want to keep learning DaVinci Resolve.
Besides teaching the fundamentals, we make sure you get a taste of using Power Windows, the Tracker, adding OpenFX, and sweetening your audio. You only continue on with this Certification Series if you decide it's right for you.
This QuickStart is part of a Certification series
(so you can keep learning)
By its very definition, all QuickStarts leave out many important features, concepts and workflows. The point of this Course is to get you started competently – but in a minimum of time.
But what if you want to dig deeper with a more complete education into the capabilities of this full-featured software?
There's a Part 2 to this Course! If you like our style of training then you can purchase our inexpensive Introduction to DaVinci Resolve 14 Certification Add-On Course. It's a stand-alone Course that builds upon this QuickStart with an additional 117 movies. After taking both Courses you'll know everything you need to take the official Blackmagic Introduction to DaVinci Resolve 14 Assesment Test.
Once you pass that assesment, you'll get an Introduction to DaVinci Resolve Certificate issued directly by Blackmagic.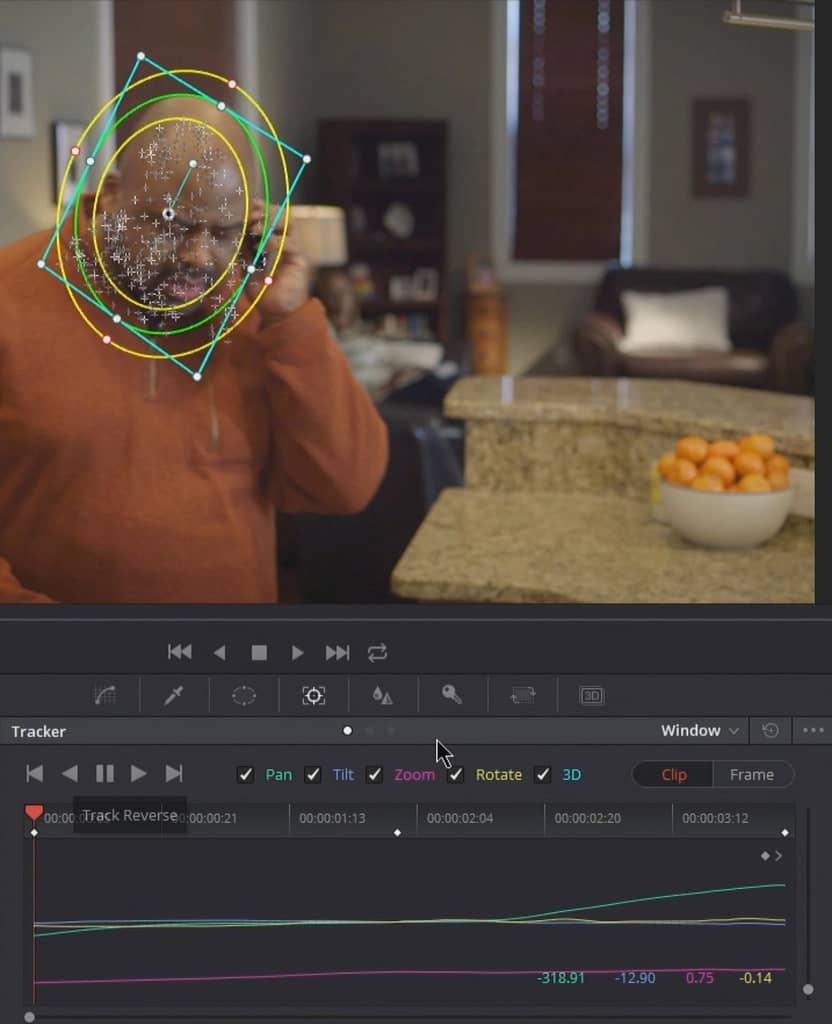 You Have More Training Options Than Ever.
Why Choose Mixing Light?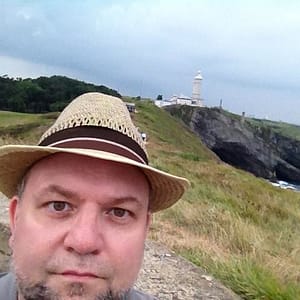 Learn from Patrick Inhofer—a professional colorist & mentor with 16+ years color grading experience. His specialty is long-form projects, working under tight deadlines (and tighter budgets). He's a Blackmagic Certified Trainer.
Created for professionals, by professionals
MixingLight.com is a website created by three professional colorists. Between us we've had several decades of experience working with editors, directors, cinematographers, producers and their assistants. Two of us spent a combined 20+ years as editors, as well.
Don't repeat our mistakes
We make mistakes. Usually with clients sitting next to us (often with hard deadlines hanging over us). Learn techniques and workflows to avoid our mistakes and make working in DaVinci Resolve much easier to execute.
We speak 'DaVinci Resolve' (in a way you can understand)
Having hearts of teachers, Team Mixing Light knows how to explain working in DaVinci Resolve in plain language. This training is the culmination of our careers. Patrick, your teacher on this title, doesn't hold back any tips or tricks. If he thinks some kernel of truth is essential to teach you – it gets taught.
We are a Blackmagic Certified Training Partner
Very few websites are trusted Training Partners for Blackmagic. We wear this badge with honor.
You can be sure that everything we do holds up to the strictest standards of integrity and accuracy. Our certification Courses are carefully designed to meet every learning goal that Blackmagic lays out to its Training Partners. We hold ourselves accountable to you, to Blackmagic, and the community we serve.
Watch The First Two Introductory Movies
For An Overview Of This Quickstart
---
---
Selected Reviews From Facebook
Frequently Asked Questions
If this Course is free, what's the deal with the $39 price tag?
Yeah, it's a limitation of our membership software – which finds it hard to believe we'd want to make anything actually, truly free. So we have to assign a price to it. But using the coupon code that's scattered throughout this page makes the Course free (and you don't have to enter any financial information). But, if you've got the cash and want to thank us by not using that discount code? That works too!
Why isn't this QuickStart using Resolve 15?
Because Resolve 15 is in Public Beta and we strongly believe that new users should NOT be learning on Beta software. Because if the software crashes or tools don't work as expected, they don't know if it's a problem with the software or them!
Is this the same Course as the Lynda / LinkedIn 'Getting Started with Resolve 14' Course?
Yes. Some of Mixing Light's training is licensed to Lynda / LinkedIn. This QuickStart is identical to that Course. If you're one of their members and have completed that course, this course is functionally identical (with the exception of a few introductory and concluding movies).
Can what I learn in this Course be carried forward to Resolve 15?
Of course. These are all fundamental concepts being taught (with a few advanced 'candy' features dropped in for fun). Most of the concepts carry back to older versions of Resolve and will carry forward to many future versions of Resolve.
What's the deal with this Certification thing? Mixing Light is an official Blackmagic Training Partner. If you combine this QuickStart with our forthcoming 'Intro to Resolve 14 Certification Add-On' you'll be 100% prepared to take the official Blackmagic Assessment Test for Blackmagic certification.
As a training partner Blackmagic specifies to us all the concepts we need to teach you to pass that Assessment. The two courses combined form Mixing Light's 'Introduction to DaVinci Resolve 14' certification course. We believe this online Course is the first specifically designed around the specific requirements of Blackmagic's educational training program.
Get this Course for FREE.... with the Discount Code:
QuickStartFREE
(Copy, and at the Checkout window, paste the code.
No credit card details are required with this code.)
Course Overview
Total Running Time
5 hours, 25 minutes
---
Details
| | |
| --- | --- |
| Ship Date: | Shipping NOW! |
| Type: | Project-based, follow-along video training. Downloadable tutorials & source footage from a not-for-profit :60 commercial. |
| Access: | *FREE! With discount code - QuickStartFREE - at checkout. No credit card required. |
| Prerequisite: | The free version of DaVinci Resolve 14.3 installed. Some understanding of post-production terms and practices is useful. |
Get Started Quickly With A Structured Course
You will need to download these assets to your computer:
Exercise Files: 1.5 GB
Video Tutorials (1080p tagged with iTunes metadata): 12.1 GB (split into four ~3 GB download packages)
Privacy Disclosure: This free QuickStart is produced jointly by Mixing Light, LLC and ThinkTAPLearn. As a condition for making this available to you at no cost, we share the name and email address of those who sign up for the QuickStart (and only the QuickStart) with Think Tap Learn. This is the full extent of what we share with them. You may unsubscribe from either list at any time.
Course Pricing
Purchase Course
---
Get this Course for FREE! Cut and paste this code at checkout: QUICKSTARTFREE (no credit card required with this code).
What's Included
Get this course for FREE with the discount code: QUICKSTARTFREE on the Checkout page
Complete set of Projects, Databases, and Exercise Files for you to import and follow-along with the training
Download light-weight h264 practice footage to build your DaVinci Resolve muscle memory
Tagged for iTunes-Compatible media players & self-organizes into a single TV Show
Part 1 of our 2-Part Introduction to DaVinci Resolve 14 Certification Course (Part 2 requires purchase)