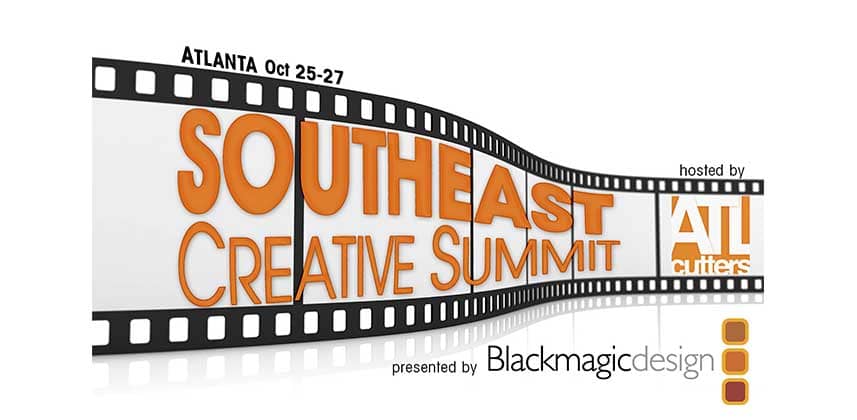 All the members of Team Mixing Light speak regularly at industry events like NAB, IBC, Editors Retreat, and the LA/NY Post Production conferences. So, you could say we know a good industry conference when we see one!
Recently, our friend Walter Biscardi and the team at the amazing Atlanta Cutters Postproduction Users Group asked us if we'd like to participate in a conference that they are producing called the South East Creative Summit. After one look at the website for the event we knew this was going to be a fantastic conference and we're proud to announce that both Patrick and I (Robbie) will be leading multiple sessions on color grading at the event along side an amazing line up of presenters and interesting sessions on business, production, audio, editing and of course color.
What the Summit Is All About
The Atlanta Cutters Post Production User Group has for the past few years been gaining attention as one of the premiere user groups in the country. Indeed, due to their amazing leadership (Walter Biscardi, Dan Daube, Kris Merkel and TJ Jaglinski) everywhere we go, we hear about the Atlanta Cutters.
Vets of the production/post scene and industry events like NAB, the Atlanta Cutters team wanted to bring the same excitement of training at NAB and the social aspects of events like the Media Motion Ball to the South East.  Here is the official description of the event
[blockquote]
The Atlanta Cutters Post Production User Group is bringing the South East Creative Summit to Atlanta!   Creative professionals have a dizzying array of tools available today.  Knowing what to DO with all those tools to complete a task, create something original, improve on in-house concepts and please your bosses & clients….. that's the knowledge that puts you ahead of the curve.   That's what the Southeast Creative Summit is all about.
The Summit will be three days of workshops across a wide array of topics presented by actual working professionals in the business.   These people have to meet deadlines, build up new clients, and stay up on the latest industry trends.
We are expecting up to 500 creatives to attend the Summit so this will be an incredible networking, social and knowledge sharing event.   You'll probably get as much knowledge out of the time you spend with your fellow attendees as you will from each workshop.
[/blockquote]
An Amazing Group of Presenters & An Amazing Array Of Sessions
It's not very often that presenters at industry events are dying to go see other presenters. Well, for this conference I can tell you I'm dying to see some of these presenters! From  Editors like Scott Simmons, Jesse Averna and Brian Mulligan to technology gurus like Gary Adcock, Ken LaRue and a plethora of audio magicians, the presenters at this event are simply amazing.
In terms of the actual sessions offered – this event has an amazing variety – there is absolutely something for everyone to learn! Check out the list of sessions here.
Let's Party!
Taking a cue from NAB events like the Media Motion Ball, the summit will also feature the Atlanta Creative Ball. There will be dinner and presentations from The Diamond Bros, and Creative Cow founders Ron and Kathlyn Lindeboom as well as an amazing raffle, which as of this writing features $20k+ of giveaways. Don't miss this event!
Register Now
Registration is filling up fast for both the South East Creative Summit and the Atlanta Creative Ball, so be sure to register today!
CLICK HERE FOR SOUTH EAST CREATIVE SUMMIT REGISTRATION  Be sure to use the code mixlinglight2013 now thru September 25th to save $100 off the registration price for all three days!
CLICK HERE FOR ATLANTA CREATIVE BALL REGISTRATION
Comments