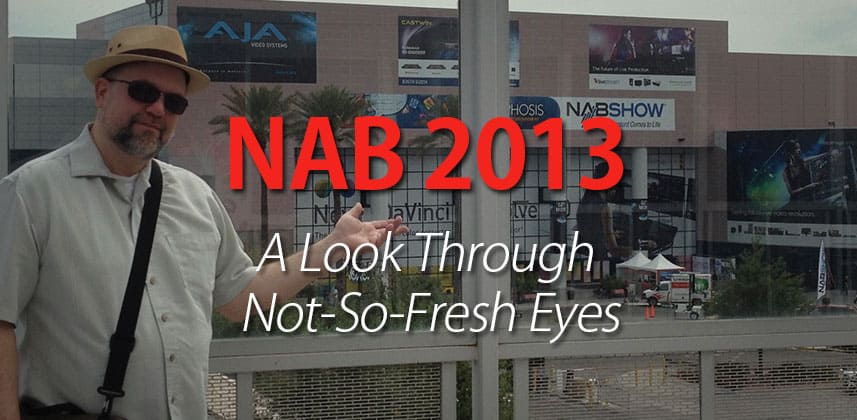 Musings of a Colorist Wandering Las Vegas
NAB 2013 was a interesting show for me on several levels – which I think are worth sharing to inspire discussion and thought. If I write something that strikes you, be sure to leave a comment.
The Big Lesson
My number one Lesson Learned this year? I learned the value of starting out fresh… which I did not.
And by fresh I mean: Well rested.
My wife, the Tao Treasurer, and I arrived in Las Vegas on Friday having gotten 90 minutes of sleep the night before—largely due to booking a 6am flight and not finishing packing until 2am earlier that morning.
We never fully recovered, having a jam-packed schedule from the moment we arrived. We never got to bed early enough and always had to get up before we were well rested.
Arriving in Vegas fully rested and energized would have gone a long way to mitigating the wear and tear of working NAB. I was exhausted before I even started. And by the following Wednesday I was fried!
Lesson. Learned.
2013: The Year of Refinement
As I zombied about on the show floor, it seemed to me 2013 wasn't the Year of Big Announcements as much as it was the Year of Refinements.
Sony introduced a refinement of their OLED line of reference monitors. According to their specs, they doubled the field of view on these OLEDs – allowing a colorist to reach for the phone and not see their colors shifting about. But – I suspect – still not wide enough for a room of clients to all see the same colors at the same time. My Mixing Light partner in crime Robbie has picked up the new

second generation BVMF250A OLED

so I look forward his and other real-world reports from our peers on this.
DaVinci Resolve 10

offered a range of refinements that went well beyond their hero feature (a new editorial toolset)
Three new features really caught my attention: OpenFX support; a new YUV / HSL / RGB Split Channel node; and resizing within a node. Combined, Resolve 10 promises to be a coloring grading tool with a strong subspecialty in visual effects and basic repairs… a significant refinement.
I saw interface tweak after interface tweak that removed two clicks here, three clicks there. It's maturing into a more streamlined app that's giving me faster access to my tools
The 'Live' mode is designed to strengthen its on-set functionality
Baselight One / Baselight Slate – 

The newly introduced Baselight One is an entry level system allowing small to mid-sized facilities to get in on the Baselight action. But FilmLight could be giving Baselights away for free and still they wouldn't get any new takers if the only option to operate a Baselight was to buy the gorgeous $70,000US Blackboard control surface.

[spacer height="1em"]Baselight's real refinement this year was

the introduction of the $12,000US Baselight Slate

… essentially a Tangent Element but designed specifically for Baselight using the exact same technology that makes the Blackboard so drool-worthy.

[spacer height="1em"]For a total package price of around $60,000US any facility that's in the market for Scratch… there's a Baselight priced for them as an alternative. I think FilmLight nailed their positioning with the BaseLight One / Slate combo.
SpeedGrade

–

SpeedGrade did show some UI tweaks and new functionality

plus limited integration of Mercury Transmit (enabling AJA and Matrox external display support… yet BlackMagic support wasn't announced). But the real refinement was on the Premiere Pro side, allowing Premiere to apply Looks generated from SpeedGrade. This app has a quite a bit more refining to do before we can say it's truly integrated into the Adobe ecosystem – most of the refinements this past year seems to be under the hood to allow things like the Premiere Pro and Mercury Transmit functionality to happen.

Tangent Element

– Okay. So this year's Tangent Element is exactly the same as last year's Tangent Element. The refinement?

It's shipping and was everywhere!

If you saw a booth that had a control surface on display… there was a 90% chance it was using the Tangent Element.
Avid Media Composer

– Refinement is pretty much the name of the game for the past two decades when it comes to Avid's non-linear editing apps. But as I discuss below, this year Avid did some consolidating.
2013: Innovation Clarity
This year was also the first time I felt comfortable surveying the landscape after the implosion of Final Cut Studio and its aftermath. And while doing so I starting thinking about all the major postproduction apps that I use which have undergone major innovations the past few year. I think we might finally be seeing a trend emerge:
Innovating Without Alienating
The apps seeing the most success right now are those that innovated without alienating their user base. In particular I'm thinking about:
Innovating But Alienating
The app that seemed to have the toughest time getting noticed at all (at least in the Lower South Hall which is where most of the post-production tools were located) is the one innovating but also alienating:
Holding The Course
Then there are those apps trying to hold the course and pick up alienated FCP Studio users:
Adobe Premiere Pro

Avid Media Composer
In the circles I travelled, the feeling about Premiere is it  seems to be about 18 months away from being Final Cut Pro 8 – whereas a year ago they seemed about 24 months away. Progress… but limited.
Premiere keeps getting closer to offering the full feature set of the old FCP but everyone seems to have that One Missing Feature that holds back a large number of FCP Studio users from embracing it. At least, that's my perception of the chatter.
Innovation Winners
In my mind, DaVinci Resolve and Autodesk Smoke are shining paradigms of how it's possible to transform your app without completely alienating your existing client base.
Resolve managed to completely redesign their interface – yet it takes an experienced Resolve user only a day or so to figure out that most of the redesign was on getting footage into and out of the box… the core tasks of the full-time colorist didn't change that much and the transition from Resolve 8 to Resolve 9 was easy. Resolve 10 isn't about transitioning existing users but making refinements that broaden its appeal.
Smoke is a great example of how a company managed to hide the complexity of its toolset. Smoke was a very difficult app to grok. Autodesk completely redesigned their timeline – which allowed new users to slowly wade into its 'pool'. Yes, Power Users complained that the app didn't really change that much (thus not alienating them) but they welcomed the broadening of the user base knowing it was necessary for Smoke to have a future. The result: Smoke 2013 has achieved its goal of broadening its base while gaining mindshare with industry thought leaders. They are on a positive glide slope and everyone is looking forward to where Smoke goes from here.
Innovation Losers
I know I'm about to be tarred and feathered as an FCP X hater… but FCP X has to be the loser in this list of postproduction apps. Besides the significant Slice X powered by Mocha Pro plug-in announcement it was hard to find anyone talking about FCP X. And I mean, at all. Even at social events – the topic of FCP X barely ever came up. And when it did, it would be as a quick aside as no one really felt compelled to say anything at all about it.
You know that line about the opposite of love being ambivalence?
NAB 2013 was The Year of FCP X Ambivalence.
Aside: Why FCP X Still Has A Chance
Now – before you start hating on me (and I'm sure someone is jumping to the comments before reading this paragraph)… I actually think FCP X has a bright future as long as Apple has the courage to stay the course. I believe it's on the same 8-year trajectory to NLE dominance that the original FCP had to endure. From what I hear from trainers teaching FCP X – newcomers to the craft are grokking it with amazing ease… which I believe is the tell-tale sign of an app well-designed.

But FCP X is starting from scratch… having to build a whole new generation of believers and evangelists before it can take the industry by storm. That will take years of persistent support from Apple. Are they up to it? We'll have to revisit this topic at NAB 2016.
The Downgraded App
And then there's Avid Symphony – which Avid finally admitted is a plug-in to Media Composer but has to be bundled with Boris Red / Avid FX for it to seem worth the $1500 upgrade. Yikes.
What a bummer for anyone hoping that toolset would be updated or enhanced in ANY manner. How long can Symphony hold its own with its relational toolset being its only defining feature?
Closing Thoughts
Those are my take-aways from my time mostly at NAB's South Hall this year:
A strong finish requires a fresh start.
Vendors seem to be building upon trends they introduced in the past 24 months, rather than relying on big splashy new products
Innovation without alienating is extremely difficult – but a goal worth pursuing. Is your favorite app walking on its same tired path from the fear of alienating its user base? If so, NAB 2013 suggested to me that's not looking like a good long-term strategy.
Comments