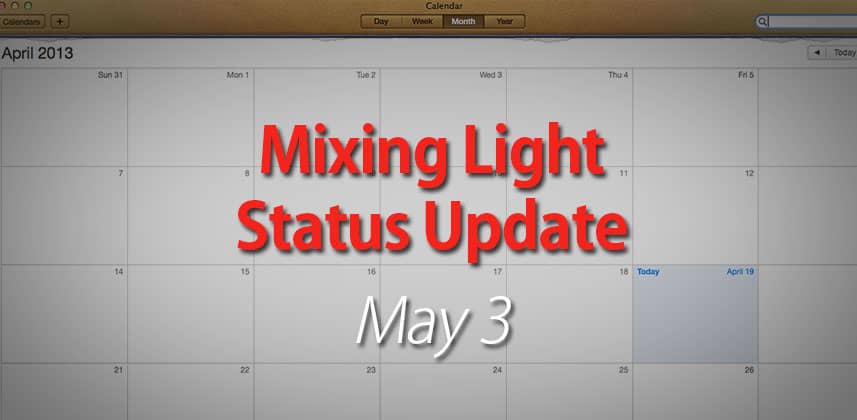 What's New on Mixing Light – May 3
New to the Insights Library
ML 0032: Custom Render Cache for Guaranteed Playback – Dan Moran: Having problems with reliable playback in DaVinci Resolve? Use this 'trick' to build your own custom cache using your codec of choice.
ML 0025: Splitting Your Channels – Dan Moran: DaVinci Resolve 10 promises to make it easy to split our video signals into its RGB channels so that we can perform corrections on those channels and then put them back together. But while we're still on Resolve 9, how can we do that now?
ML 0026: PreConformed Workflow – Dan Moran: Are you looking for an easy way of getting a project into DaVinci Resolve? I this 3 minute video, Dan walks you through the process of having the software automagically slice up your a single clip into individual shots.
ML 0024: FCP X Color Board Fundamentals, Part 2 – Pat Inhofer: In Part 2 we explore FCPx's Color board using the same techniques from Part 1. The end goal: Figure which controls to work first and minimize bouncing back and forth between the Exposure and Color Boards.
Membership News
Membership Price Increase in 2 Weeks! – If you haven't signed up for Mixing Light as a member… then time is running out to lock in our Launch Special pricing. As the Insights Library grows the membership becomes more valuable – and the price will rise. Sign up now to lock in your pricing… for life! (as long as you maintain a continuous membership)
Website Changes – Our programmer has implemented a few changes this week to make it easier for members to find the Insights Articles they want to read:
Insights Library: The 'New' Banner – To help you find the Newest Articles added to the Library, any article less than 7 days old will have a 'New' banner across its thumbnail on the main Insights Library page.

'My Profile': As promised, you can now change your password via the

Member Home > My Profile

menu item. This is also the page where you check the date when your membership renews.
Navigating Series Articles: Yup – we like to do multi-part articles. Nope – you don't like having to bounce back to the main Insights Library page to navigate between Parts 1, 2 and 3. We've implemented a new navigation feature allowing you to move between Series Articles directly from within each article. Unfortunately, when we activate this feature it bypasses the Membership wall and makes all articles in the Series free to watch – even if you're not logged in to the website. For now we've removed this feature as our programming goes back to the drawing board on this feature that came directly from a member request.
Insights Library: Sort by Release Date: Coming Soon, a feature that allows you to sort the Insights Library by 'newness'… displaying the Articles by newest to oldest.
Happy Grading!
– Team Mixing Light
Comments