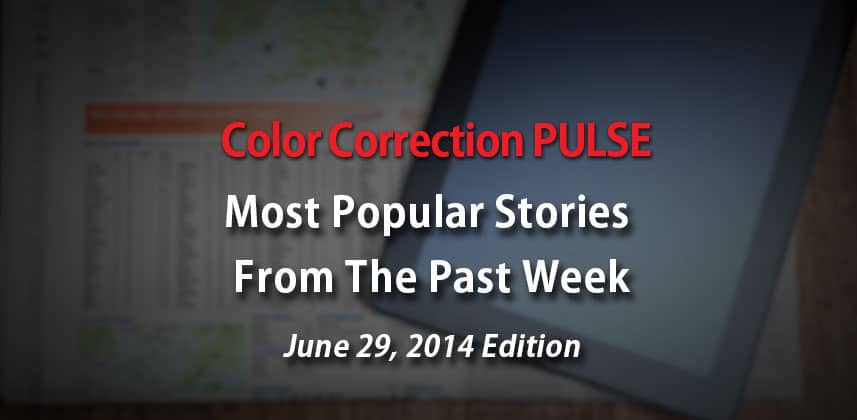 Color Correction News: Top Stories Last Week
MixingLight's sister website, TaoOfColor.com, publishes a weekly color correction newsletter. Every Wednesday, here on MixingLight we let you know what your peers found most interesting by sharing the most popular stories (not listed in any particular order). Enjoy!
[separator]
Article: Resolve v11: The Features 
You might want to take a short break from using v11 to read what Alexis van Hurkman thinks about the new Resolve. After writing version 11's User Manual, he's got a good perspective on this new release and the features you'll notice the most. [read_more_button link="http://vanhurkman.com/wordpress/?p=2974/"]vanhurkman.com/[/read_more_button]
[spacer height="1em"]
Video: Through the Lens 
Sit down for a 21 minute chat about the craft of Cinematography with DP Adam Kimmel. There is a lot to like in this video, including the way it begins – worrying about changing light conditions. [read_more_button link="https://www.youtube.com/watch?v=YZEug_wn7pA"]youtube.com[/read_more_button]
[spacer height="1em"]
Article: Filmmaking Pointers 
Oliver Peters discusses some of the key things that a good indie filmmaker needs to know. We like #4[read_more_button link=" http://digitalfilms.wordpress.com/2014/06/22/filmmaking-pointers//?hq_e=el&hq_m=2896746&hq_l=5&hq_v=0bcce9fd1b"]digitalfilms.wordpress.com/[/read_more_button]
[spacer height="1em"]
Never miss a week: Sign up for the TaoColorist Color Correction Newsletter. It's Free.
Comments